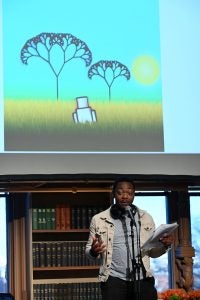 On March 15, Kelvin Doe (C'23) stepped onto a stage in Riggs Library to present an animation he had created. He was nervous. He had spent weeks designing this animated short, in which he synced all the movements in the animation with one another. 
For Doe, presenting this animation was much more than an extracurricular project — it represented his relationship with his disability. 
"For as long as I could remember, people would ask me, 'why are you moving around so much?' I would look down and realize my legs fiercely moved up and down as my hands shook side to side,'" Doe said in introducing the video. "This art piece is my visual representation of a sensation I feel constantly. It is a celebration of disability culture because part of recognizing my disability was coming to terms with my ever present need for movement."
Doe was one of 15 Georgetown students who presented their art in a student showcase that celebrated disability culture and community. "ACDC: Art Celebrating Disability Culture," an event hosted by the university's Disability Cultural Initiative (DCI) and sponsored by the Division of Student Affairs and Office of the President, featured art from a wide variety of mediums, from song to spoken word and sculpture. 
"Art is transformative. It invites us into someone else's lived experience and the way that someone else experiences the world, and it expands our notion of what disability is and can be," said Amy Kenny, associate director of the DCI, which supports, educates and empowers disabled community members. 
"It allows us to not be objects of pity but subjects of our own stories, and it's multifaceted and diverse in itself. I wanted the Georgetown community to get to revel in the richness of this creativity."