Omoyele Okunola (C'20), 2019 McTighe Prize winner, will advise the incoming Class of 2023 on the importance of advocating for others and self care during New Student Convocation.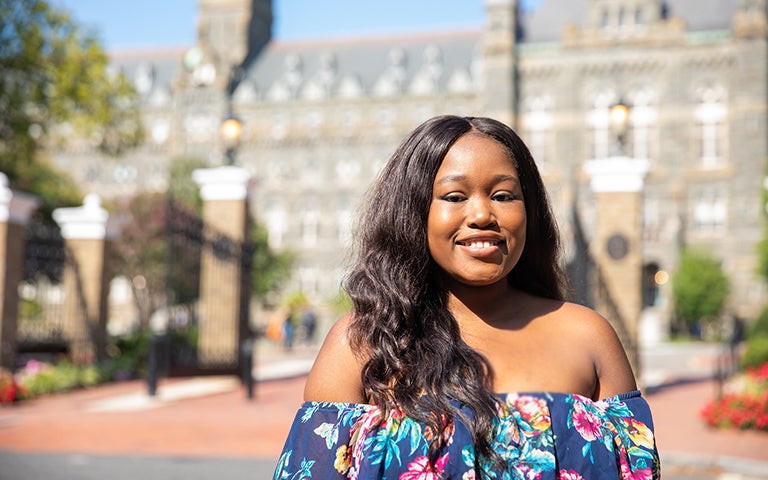 Aug. 19, 2019 – Omoyele Okunola (C'20), 2019 McTighe Prize winner, will share her journey of advocating for others and promoting self-care as she advises the incoming Class of 2023 during New Student Convocation Aug. 25.
Hometown: Bronx, New York
Major: American studies and government
Summer in DC: The Georgetown senior spent the summer in Washington, DC as a U.S. Department of Justice intern with the Disability Rights Section of the Civil Rights Division.
"I drafted press releases, researched how electric scooters impact the disabled and gained further knowledge about the Americans With Disabilities Act and the struggles faced by people living with disabilities," Okunola explains.
Interest in Disability Rights:
"I'm a big believer that regardless of someone's physical or mental ability, they have just as much right to life, to love, or anything else as anyone else capable of achieving that goal," she adds.
Okunola understands some of the struggles faced by people with disabilities. She lives with sickle cell anemia, a life-threatening genetic disorder that causes a continual shortage of red blood cells.
She has persevered despite the obstacles she has faced and has risen as a leader on campus.
"My identity as a black woman living with a disability is such a salient part of who I am," says Okunola, a first-generation Nigerian American. "My disability caused me to grow up rather quickly. It's been hard living with this disorder, but it makes me stronger."
Campus and Community Activities: Okunola is vice president of Georgetown University Women of Color, and a participant in the Baker Scholars Program and the Georgetown Scholars Program. She also has worked for the Academic Resource Center and is a member of the Justice and Diversity in Action Living and Learning Community.
Career Goals: With early admission to attend Georgetown Law next fall, Okunola plans to become a lawyer and focus on the intersection of disability rights and juvenile justice.
Advice to Incoming Students:
"The quality of your work is more important than the quantity," she says.
"I think all college students, but especially Georgetown students, have this belief that if they are not participating in 10 different organizations, volunteering, working and maintaining at least a 3.5 GPA, they somehow are failures," the New Yorker explains. "I believe overextending yourself is a major reason college students face a number of mental health issues that are often ignored or poorly treated."
A Professor's View: Maya Roth, Georgetown's Della Rosa Distinguished Professor of Theater, led the McTighe Prize Committee that selected Okunola to address the incoming class of first-year and transfer students later this month.
"Omoyele manifests the award's mutual commitments to academic excellence, service and reflective engagement," Roth says. "The committee was struck with her emotional maturity, her wise insights about navigating a life at Georgetown and her deep commitment to whole person care as well as pluralism."
Why Georgetown?
"I initially chose Georgetown for its prestige, but the school also awarded me a full scholarship – removing a significant financial barrier to higher education," the senior says.
Okunola visited Georgetown during the Georgetown Admissions Ambassador Program (GAAP) Weekend, like many of the first-year students who will listen to her convocation address.
"There was something about the environment that gave me this feeling of calmness and sense of being at home. I knew this was the school for me," she recalls.
Her Major:
"Being an American studies major not only made me a better student, but I have become a scholar," Okunola says. "Through my self-designed curriculum path, my critical thinking and analytical skills have vastly improved, and I can see how present-day issues remain connected to past historical circumstances."