Title:

Senior's Determination Moves Her From Homeless to Hope for Impacting Community
Date Published:
May 17, 2019
Rashema Melson (C'19), who enrolled at Georgetown as a homeless high school valedictorian from Southeast Washington, DC, wants to inspire hope for underresourced communities as she prepares to graduate from Georgetown.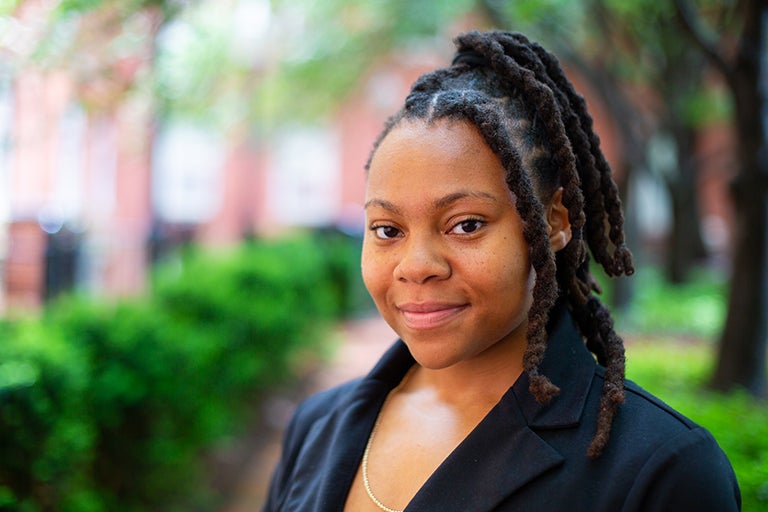 Rashema Melson (C'19), who enrolled at Georgetown as a homeless high school valedictorian from Southeast Washington, DC, wants to inspire hope for underresourced communities when she graduates May 18.
"Since I was 10 years old, it was clear to me that education would be my way out of poverty and my way to give back to my community," says Melson, who plans to take a gap year serving the DC community before applying to law school. "It was my answer to everything."
"I come from a community that is impoverished and underserved, and we don't have a lot of hope or a lot of resources," Melson explains, "I want to give people in my community hope."
Justice and Peace
The justice and peace studies major says that includes advocating for prison reform policies for incarcerated and formerly incarcerated individuals – something she learned about from two of the prison and justice courses taught by government professor Marc Howard.
She credits the courses as the game-changer that led her to switch her major from biology.
"Rashema contributed so much to the classes," Howard says. "What impressed me most was her ability to straddle two very different worlds while remaining deeply and genuinely connected to both. She is a wonderful, warm and intelligent young woman who will continue to inspire me and many others. I can't wait to see what she does next."
Accepting Support
Melson, the first in her family to graduate from college, found a home at Georgetown in 2014.
While she was offered support from faculty, administrators and her peers, it wasn't an easy journey.
"I had a hard time accepting support when I first arrived here," recalls Melson, a justice and peace studies major. "My achievements had spread widely in the media. People I knew or sometimes strangers would tell me how amazing I was or have the same expectations of me to make all the A's I made in high school in college."
Running Away
She participated in the Georgetown Scholars Program and the Community Scholars Program, which both provide a range of support to the university's first-generation and underrepresented college students.
Melson, raised by a single mother with her two brothers, says she was so used to being self-sufficient that she questioned the motives of people providing support.
"I just wasn't used to that kind of support, so I decided to leave," she recalls. "I was running away from something I thought I couldn't handle."
After leaving Georgetown in spring 2016, she married her longtime boyfriend, who was serving in the military, and later moved with him to Clarksville, Tennessee, where he was stationed.
Not a Quitter
Yet focus on education remained. She transferred to a local college but soon realized she missed the experience Georgetown had to offer.
"I told myself 'I'm not a quitter,' " she says. "I had my little brother looking up to me. Most importantly, I let myself down."
Georgetown accepted her petition to return to her studies in fall 2017.
"Her return really is a testament to that academic yearning for a liberal arts education and Jesuit community of caring for the whole person," says Keshia Woods, associate dean in Georgetown College.
Bright and Determined
Woods and Melson first met when the graduating senior was a high school student in a program that exposed DC students to the university's academic rigor.
"She's intellectually curious and a service-minded young woman who is full of promise and determined to be a role model for her family as well as her broader community," says Woods.
Melson is grateful for the support Woods and others have shown her and says she's looking forward to having her family and many others at graduation – especially her younger brother, Edward Hendrix,a rising sophomore at Syracuse University.
"My little brother is my biggest inspiration in life," she says. "I'm not sure what I will feel when I walk across the stage, but it's important for him to see me. I want to include my people on this come up."