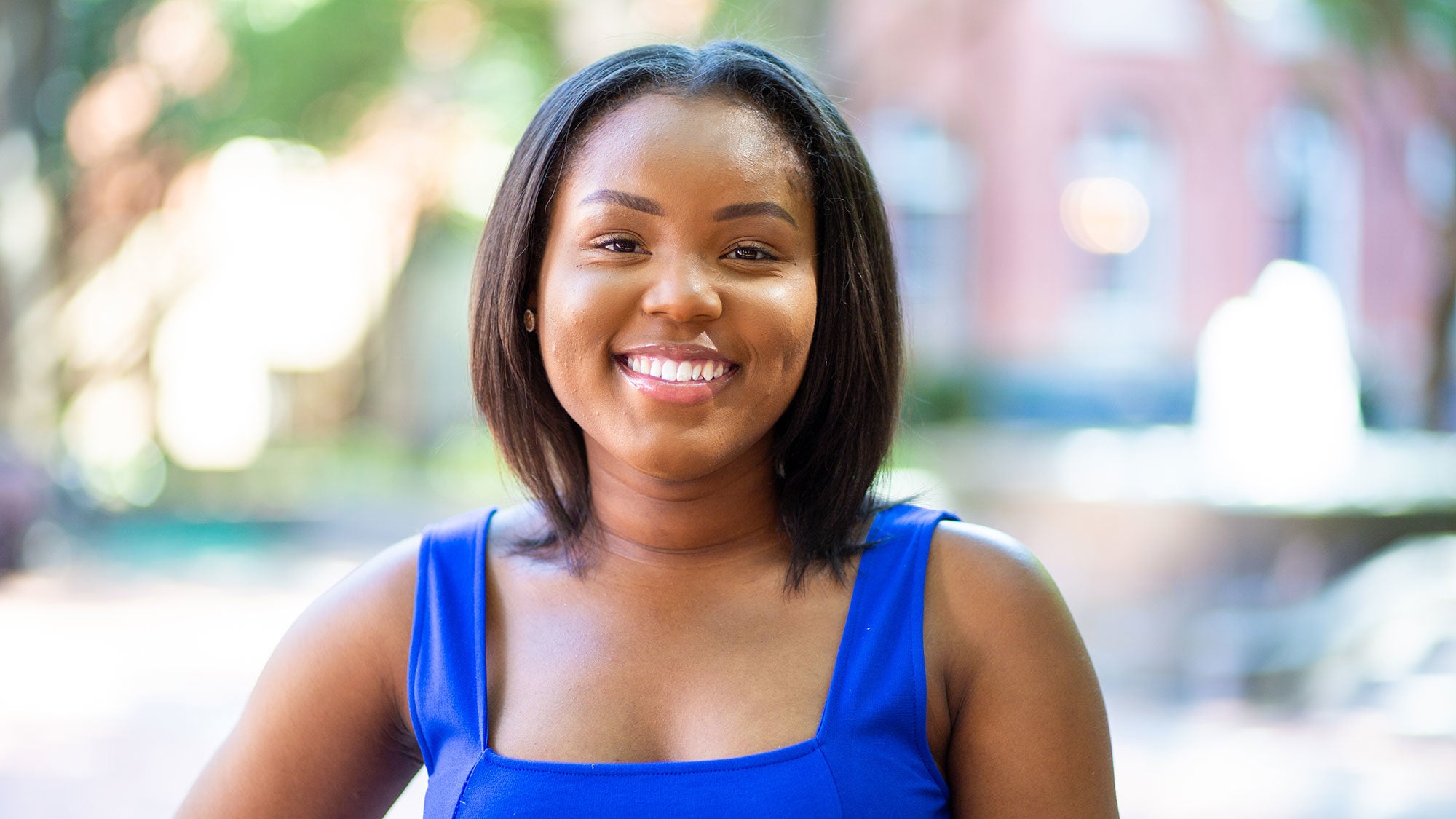 Category:

Student Experience
Title:

Senior, Racial Justice Advocate Sets Sights on Nonprofit Work, Law School 
Date Published:
May 15, 2020
Taurjhai Purdie (C'20) has developed a commitment to racial justice work through her service, advocacy and scholarship. She hopes to continue that commitment as she takes a gap year to work at a nonprofit before pursuing a law degree.
Hometown: Baltimore
Major: Government and African American studies; Spanish minor
Honors: Purdie was recognized as a 2019-2020 Newman Civic Fellow and awarded the 2018 Patrick Healy Scholarship by Georgetown's African American Advisory Board. Inducted into the Jesuit honor society Alpha Sigma Nu and the political science honor society Pi Sigma Alpha, she also was selected as a Patrick Healy Fellow in 2018.
Internships: "By nature of being located in Washington, DC, Georgetown made it possible for me to work at the Office of Barack and Michelle Obama as a press and communications intern and the Washington Lawyers' Committee for Civil Rights and Urban Affairs as a prisoners' rights intern," she says.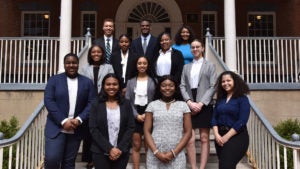 Community Involvement: The Georgetown senior volunteered with ONE DC, which addresses the impact of gentrification and development on communities of color, during her sophomore year. She became familiar with the nonprofit through African American studies professor Rosemary Ndubuizu's intro class.
"The gentrification of what was once 'Chocolate City' has led not only to an affordable housing crisis, but also the forced displacement and criminalization of many black Washingtonians," says Purdie, who wants to become a civil rights attorney. "I want to defend and protect black voices and lives. We matter."
She also wants to have a direct impact on her hometown, which she describes as a place where African Americans "are abused by law enforcement officials at alarming rates, lack access to adequately funded public schools and are being displaced as Baltimore City has the fifth-highest rate of gentrification in the nation."
Research: Purdie spent the past three years as a research assistant for Soyica Colbert, professor of African American studies and theater and performance studies.
The senior contributed to two dramaturgy protocols for submission to Arena Stage – August Wilson's Two Trains Running, which ran in 2018 and Eduardo Machado's Celia and Fidel, scheduled to run this spring but rescheduled for Oct. 9-Nov. 22 due to the pandemic.
Colbert trusted Purdie so much that she asked her to assist her in preparing an edited collection – Race and Performance After Repetition (Duke University Press, 2020) – that will be released in September.
The professor researches and writes about the legacy of slavery, racism in contemporary institutions and revolutionary African American artists of the 19th to 21st centuries.
"It has been not only intellectually stimulating to conduct research with her, but it's been rewarding to have participated in theater discussions and contributed to soon-to-be-published works," the senior says.
A Professor's View: Colbert, who is also vice dean of faculty for Georgetown College, describes Purdie's research over the past two years as outstanding.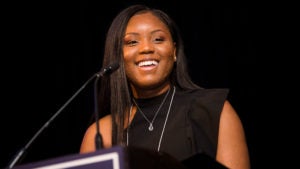 "She is exceptionally capable and responsible," the professor says. "Her tact, leadership, attention to detail and ability to multitask distinguish her as a Georgetown student. Her ability to  produce work that not only meets all of the qualifications of the assignment with excellence,  but also intervene in unanticipated areas, demonstrates her innovation and insight as a thinker."
Colbert taught Purdie as a first-year student in her Writing Black Lives course.
"Before I had the opportunity to get to know her personally, Taurjhai's intellect and ability to communicate clearly in writing stood out in a class filled with upperclassmen," the professor recalls.
Campus Activities: Purdie says her courses and campus involvement helped mold her focus on social justice and equity.
"The moment I stepped foot on campus, I knew that as a black woman, finding and building community would be crucial to my success and well-being," Purdie says. "Georgetown University Women of Color not only affirmed my identity, but also allowed me to empower, encourage and uplift other women of color on this campus through dialogue, healing events and more."
She has served as president of Georgetown University Women of Color, as secretary for the Georgetown University Minority Pre-Law Association and as a "Know Your Rights" coordinator for the university's ACLU chapter. She also was a member of the speakers' committee for Georgetown's annual BRAVE Summit, a daylong conference dedicated to black female empowerment.
Why Georgetown?
"As a low-income, first-generation college student, I viewed mentorship and support to similarly situated students as an important factor in deciding what school to attend," Purdie notes.
The Georgetown senior had three main criteria for her dream school.
Support for low-income, first-generation college students
Located in an area that afforded the opportunity to pursue political and legal internships
A strong alumni network
She found that the Georgetown Scholars Program and the Community Scholars Program offered mentorship programs, academic and career counseling services and spaces where she could simply exist without fear of judgement.
It didn't take Purdie long to understand the value of being part of Georgetown's alumni network.
"There's a Hoya within almost every industry who is in arm's reach and ready to assist me with accomplishing my career goals as best they can," she says.  "Though Georgetown can be stressful, I cannot imagine having chosen another institution."