Georgetown President John J. DeGioia, three area college presidents and student leaders made an urgent call today for Congress to pass a bipartisan DREAM Act to continue protections for students under the Deferred Action for Childhood Arrivals (DACA) program.
"Since arriving as children, DREAMers have become part of the fabric of our nation,said DeGioia, who moderated a panel discussion with college presidents from the Washington, DC area.
"Today their contributions and service, their aspirations and accomplishments strengthen our communities, our national economy and our global competitiveness. We must do our part to ensure that their paths to learning and prosperity are not undermined by failure to enact the DREAM Act."
This week, the American Council on Education and colleges and universities around the country are speaking out in support of protecting DREAMers through dialogue, advocacy and the shared goal of getting Congress to pass a DREAM Act.
"On each of the occasions that I have met with our undocumented students here at Georgetown I have sought to reassure and remind them of two things first, that each one of them belongs here – their membership in our community is not only welcomed, but vital," DeGioia said. "And second, that they are a part of a community that is committed to ensuring they can succeed in an environment that is free from constraint or fear."
DeGioia joined Ángel Cabrera, president of George Mason University; DeRionne Pollard, president of Montgomery College; and Scott Ralls, president of Northern Virginia (NOVA) Community College in a conversation about the contributions of the nearly 2,000 undocumented students on their campuses.
The college leaders, representing public and private as well as two- and four-year institutions in Virginia, Maryland and Washington, DC, also called on Congress to pass a DREAM act in an opinion piece featured in The Hill newspaper today.
Advocating for Safety
Last month President Trump announced his administration would terminate the DACA program as of March 5, 2018, unless Congress passed legislation before that time to provide a statutory basis for the initiative.
DeGioia said students and their families deserve to thrive without worrying about getting deported"in an environment that is free from constraint or fear."
"We have a role to play as colleges and universities in seeking to advocate for the safety of our students," he said.
More Than Justice
Cabrera noted that he is an immigrant from Spain.
"This whole issue of DACA is not just an issue of justice – if we don't find a solution we are hurting our own interests," he said.
Cabrera said business leaders tell him they are looking for talented people who work hard, have overcome obstacles, are multicultural and can build bridges in other parts of the world, traits that most DREAMers have.
Pollard said she advised her DREAMer students to apply through the 2012 Maryland DREAM Act, since DACA was an executive order that could disappear at any time. But she said she was nonetheless surprised by the White House's move to end DACA.
"We're seeing young people making choices that we never thought we'd be revisiting," she explained. "I'll never forget a student at the college. We were sending him to a conference and he was afraid to go because he said, 'If I get on this airplane can I get back home?' This is a very real experience for so many people."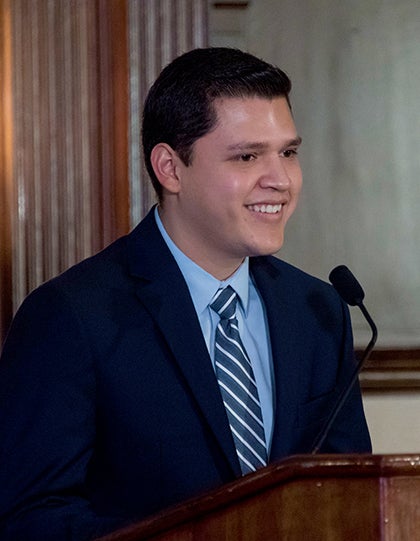 Seeking Citizenship
Luis Gonzalez (C'19), a double major in American studies and government at Georgetown, grew up in Santa Ana, California, after his parents brought him to the United States from Mexico at the age of 8.
He recalls navigating an unfamiliar environment and being in a school where he found it hard to communicate with his teachers and peers.
Coming to Georgetown
Despite such challenges, Gonzalez graduated from high school with a 4.7 grade point average, applied for his DACA status in 2014 and was accepted to Georgetown.
"DACA gave me the confidence and security I had not had before," he said. "I lived in fear and in the shadows. Thanks to the protections of DACA, however, I have been able to do things that I otherwise would not be able to do."
As a Georgetown student, Gonzalez has worked for college accessibility and has served as chair of advocacy and as a peer mentor for the Georgetown Scholarship Program and participated in the Community Scholars Program.
Planning His Future
Gonzalez hopes to return to Santa Ana after graduating to become a high school teacher.
He said asking the federal government to pass a clean DREAM Act is imperative and said Georgetown is leading these efforts by providing university resources for undocumented students and supporting advocacy efforts.
"I identify with Luis' story of education being that breakthrough, that changing point," said NOVA's Ralls, whose family immigrated from Ireland. "They don't wear badges that say they're DREAMers.We know them because of their remarkable courage, resilience, grit … they're leaders on our campuses and they contribute to our campuses in a very unique way."