At 63, Mélisande Short-Colomb (C'21) prepares to embark on her educational journey at Georgetown as she honors her enslaved ancestors.
– Mélisande Short-Colomb (C'21) held high the Georgetown College banner at New Student Convocation on Sunday as she also remembered her ancestors who lived in slavery.
Short-Colomb, 63, now an African American studies major from New Orleans, is descended from Abraham Mahoney and Mary Ellen Queen, both among the 272 enslaved children, women and men sold by the Maryland Province of Jesuits in 1838.
"I was honored and humbled by the invitation to receive the Georgetown College banner in homage to my ancestors, my GU272 descendant community and the Georgetown College Class of 2021," she said.
Oral History
The first-year student grew up with oral histories of her great-great-great grandparents.
In Maryland, Queen family members gained notoriety after suing the Jesuits for their freedom in in the late 18th century. Francis Scott Key, famous for writing the lyrics to "The Star Spangled Banner," was said to have been part of the legal team.
"I always knew who my ancestors were through the oral history tradition of my family my grandmother, my great grandmother, my great aunts," she recalled. "I was very fortunate that everyone was alive to share these stories."
It wasn't until the summer of 2016 that she realized Mahoney and Queen were a part of the 1838 sale.
Encouraged and Appreciative
Short-Colomb is a retired chef, the mother of four grown children, a grandmother of two and a widow. She said the timing seemed right to further her education.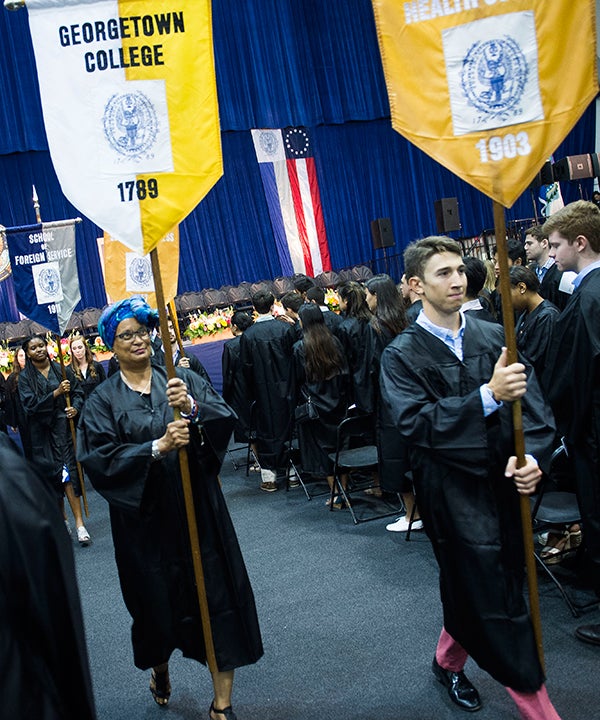 "I am so encouraged and appreciative of my classmates," she said. "There are decades between us, but I have so much to learn from them, and I think there's a lot they can learn from me."
By the time she had made her first visit to Georgetown in April for a Liturgy of Remembrance, Contrition, and Hope and the dedication of Isaac Hawkins Hall and Anne Marie Becraft Hall, she had already started her admissions application.
"My kids expect this from me. This is the typical mom move," she said, referring to her decision to return to school after several decades. "I am as unencumbered in my life as I have ever been. I have always done and pursued the things that have interested me most in life."
Preparing to Excel
Short-Colomb spent a week participating in the university's Preparing to Excel Program (PEP) before Sunday's convocation ceremony, which serves as the official welcome for all incoming first-year and transfer students.
She said getting back into the rigors of school was daunting at first, but adds that PEP has served as a training ground of sorts.
"They really try to give us a nice overview of Georgetown life in five days, and that's not the easiest thing in the world to do," she said with laughter.
'Rigors of Campus Life'
She also spent the week meeting with faculty, participating in seminars on wellness and learning the lay of the land on campus, in the Georgetown neighborhood and the District of Columbia.
The African American studies major is excited about her first semester of classes, which begins tomorrow.
"I chose African American studies because I believe it is an integral component of the larger, true context of what our history is and how we tell the story the United States of America correctly," Short-Colomb said. "When we do not know our correct history, it makes us a weaker and more divisive society."
Between classes and campus life this fall, Short-Colomb will be working in special collections in Lauinger Library.
"I have a nice quiet and peaceful job," said the new student. "I'm hoping this will give me balance for some of the rigors of campus life."
Comparing Notes
She also looks forward to comparing notes with the other members of her descendant community on campus.
One other student has enrolled this semester as a transfer student and another has been accepted for graduate studies in the spring.
Short-Colomb also has gotten acquainted with another descendant on campus, Jeremy Alexander, who discovered his ancestral link to Georgetown while working in the university's Office of Technology Commercialization.
"It is wonderful to have Meli on campus," he said. "She is among the first to attend the university as students since the April 2017 event. Hopefully, the number of descendants who will seek their undergraduate and graduate degrees will increase over the years. I look forward to getting to know her over the next year."