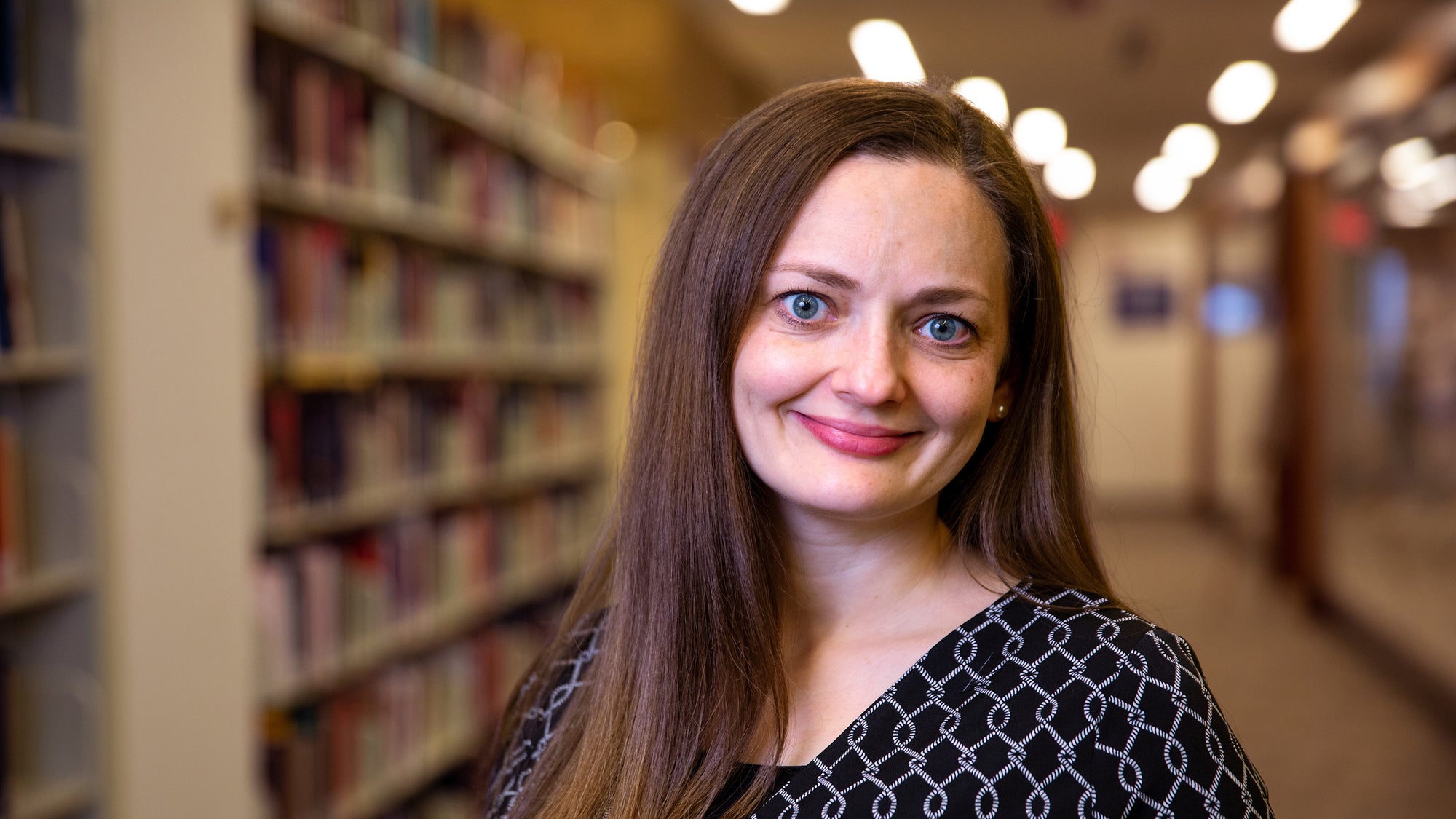 Category:

University News
Title:

Maryland Province and Georgetown Enhance Access to Archives with New Archivist
Date Published:
January 15, 2020
The Maryland Province of the Society of Jesus is ensuring that the Archives of the Maryland Province of the Society of Jesus (MPA), most of which is housed at Georgetown, will become more accessible to researchers and the general public.
The Province recently paid for Georgetown Library to hire a new archivist, Cassandra Berman, to become part of the library's team charged with enhancing access to the MPA.
"The MPA is an invaluable primary source documenting Catholicism in America, and the Jesuit order in particular, from the 17th century through the 20th century," Berman says. "It is particularly significant because it contains records of the Jesuits' reliance on enslaved labor and the slave trade, and Georgetown's complex historical relationship with slavery."
The archivist position was created under a recently updated Memorandum of Understanding (MOU).
Berman, who will receive her Ph.D. from Brandeis University in American history in 2020, holds a master of library science from the University of Maryland.
Access to Broad Constituencies
The Maryland Province and Georgetown Library are committed to making the MPA materials (which date from 1630 to 1985) more accessible to researchers by arranging and describing the collections and creating an online finding aid. A significant portion of the records up to 1900 will be digitized and available online.
Researchers will have open access to the processed MPA records created up until December 31, 1939, while MPA records after that date will require approval by the Maryland Province to access them.
The scope of the project involves emphasizing the MPA as a resource for the study of the Jesuit order as a complex organization and religious community, the Jesuits' relationship to slavery, and, more broadly, American Catholicism.
"The online and digital accessibility of the MPA will complement and enhance the work of the Georgetown Slavery Archive to ensure that broad constituencies can use the historical records at the university to research a wide range of topics, including slavery and its legacy," says Georgetown Library Dean Harriette Hemmasi.
The bulk of the collection spans 1800-1875, and includes documents related to the Maryland Jesuits' 1838 sale of more than 270 enslaved individuals to slaveholders in Louisiana.
Momentum and Research
The work comprises arrangement and description of the physical collection, digitization, with slavery-related material as a priority, and description of digital objects.
With improved organization and greater accessibility through a new online finding aid and through digitization, the MPA will present significant opportunities for faculty, student and descendant researchers, Berman explains.
"I am excited to help make such an important collection more accessible to a wide range of researchers," she says.