Former U.S. Marine Corporal Cristine Pedersen (SFS'18) displays a level of leadership and academic excellence that earns her this year's coveted Tillman Scholarship for military students.
Former U.S. Marine Corporal Cristine Pedersen (SFS'18) has displayed a level of leadership and academic excellence that has earned her this year's coveted Tillman Scholarship for military students.
Pedersen, a regional studies and comparative studies major from Portland, Oregon, joins an elite network of veterans, active-duty service members and spouses who have received the Tillman since it was first given out in 2008.
The veteran, one of 60 students nationwide to receive the award this year, is using the Tillman for her undergraduate studies.
Cristine Pedersen (SFS'18), third from left, was deployed in the Horn of Africa as a corporal in the U.S. Marine Corps before applying to Georgetown.
"As the next generation of private and public sector leaders, the Tillman Scholars are tackling challenges across national security, healthcare, technology, civil rights and education," Marie Tillman, co-founder of the Pat Tillman Foundation, said in an announcement of this year's scholars. "They believe their best years of service to our country are still ahead of them, and they are committed to making a direct impact to strengthen communities at home and around the world."
True Honor
The scholarship is named for the late Pat Tillman, a U.S. Army Ranger who put his all-star NFL career on hold to serve in Iraq and Afghanistan. He died in friendly fire while in Afghanistan in 2004. The scholarship provides outstanding members of the military-connected community with financial support for college, a leadership weekend and a network of scholars with similar experiences.
In addition to the Tillman Scholarship, Pedersen is a 2017 Truman Scholar. She has served two terms as president of the Georgetown University Student Veterans Association (GUVSA).
She also interns in digital infrastructure for humanitarian response at Care USA, a nonprofit that focuses on responding to global poverty.
LeNaya Hezel, director of the Veterans Office at Georgetown, calls Pedersen a natural leader.
"She was one of the first students I met with when I started my role in the veterans office," Hezel says, "and it has been a true honor working alongside of her with programming on campus and watching her grow as a leader and person."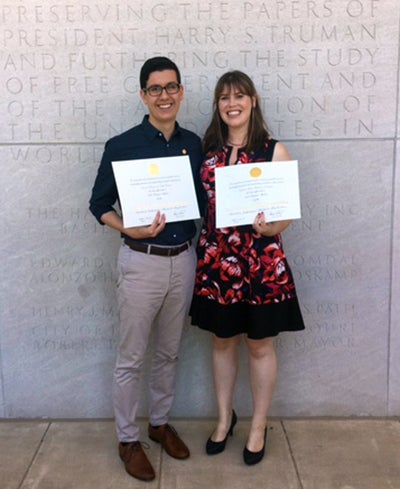 Cristine Pedersen (SFS'18) stands with fellow Georgetown student and Truman Scholar Daniel Wassim (SFS'18) as they hold up their Truman scholarship certificates.
Pedersen applied to Georgetown while deployed in the Horn of Africa working on counterterrorism missions supporting the African Union Mission in Somalia.
"Working and communicating with agencies across several different countries was often a challenge. Any miscommunication you can think of between the agencies was often amplified times 10, but I loved the diplomacy I used in that interagency and international work," recalls Pedersen, who served as an Arabic linguist in the Marines.
Choosing Georgetown
She also says she enjoyed the diplomacy and international work but didn't think she could make a significant impact as an enlisted service member.
"I applied to a lot of schools, but I really wanted to be at the university because of the Georgetown Institute for Women, Peace and Security, because of the professors, and it had a great Master of Science in Foreign Service Program (MSFS)," she explains.
Last semester, she was accepted into the MSFS program, but deferred acceptance after being awarded the Truman Scholarship for her graduate studies. She will begin the program in fall 2018.
Post-Conflict Reconstruction
"I'd like to focus on conflict and development either through the MSFS international development track or through the politics and security track or some sort of merging of the two," Pedersen says. "I really want to study post-conflict reconstruction."
She said she became interested in post-conflict reconstruction after interning at the U.S. embassy in Kosovo this past summer.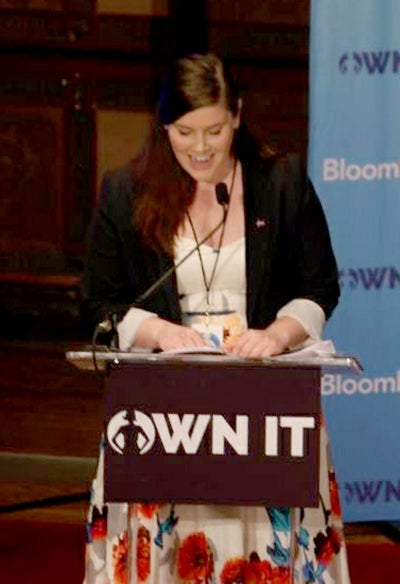 Cristine Pedersen (SFS'18) speaks during the 2016 OWN IT Summit, the annual conference designed to empower young women on campus.
"The day before I arrived, the government dissolved with a vote of no confidence," she says, recalling the beginning of her internship this past May. "I showed up and was assigned to the political section."
Since the embassy staff was small, the Georgetown senior's boss tapped her to take the lead on logistics for the June 19 snap elections.
Lots of Options
"I actually organized the embassy's election observation mission. We trained and deployed 40 teams to every municipality in Kosovo," she says. "We had some people deployed in municipalities that had to have security with them in case violence erupted at the polling stations."
Pedersen developed a new interest in democracy and governance after her summer in Kosovo and began planning her future with her husband, Bryce, whom she married in early August.
Recently, she passed the oral exam for the Foreign Service, which eventually could lead to a career as a diplomat.
"There are a lot of options up in the air. I want to get a graduate degree under my belt before I join the Foreign Service," she says. "It is all really exciting."