Veterans and Military at Georgetown
Veterans and members of the military-connected community bring their unique perspectives and experiences to Georgetown. We honor them through the resources we offer to the military community and by celebrating their stories and focusing on service and research related to their well-being.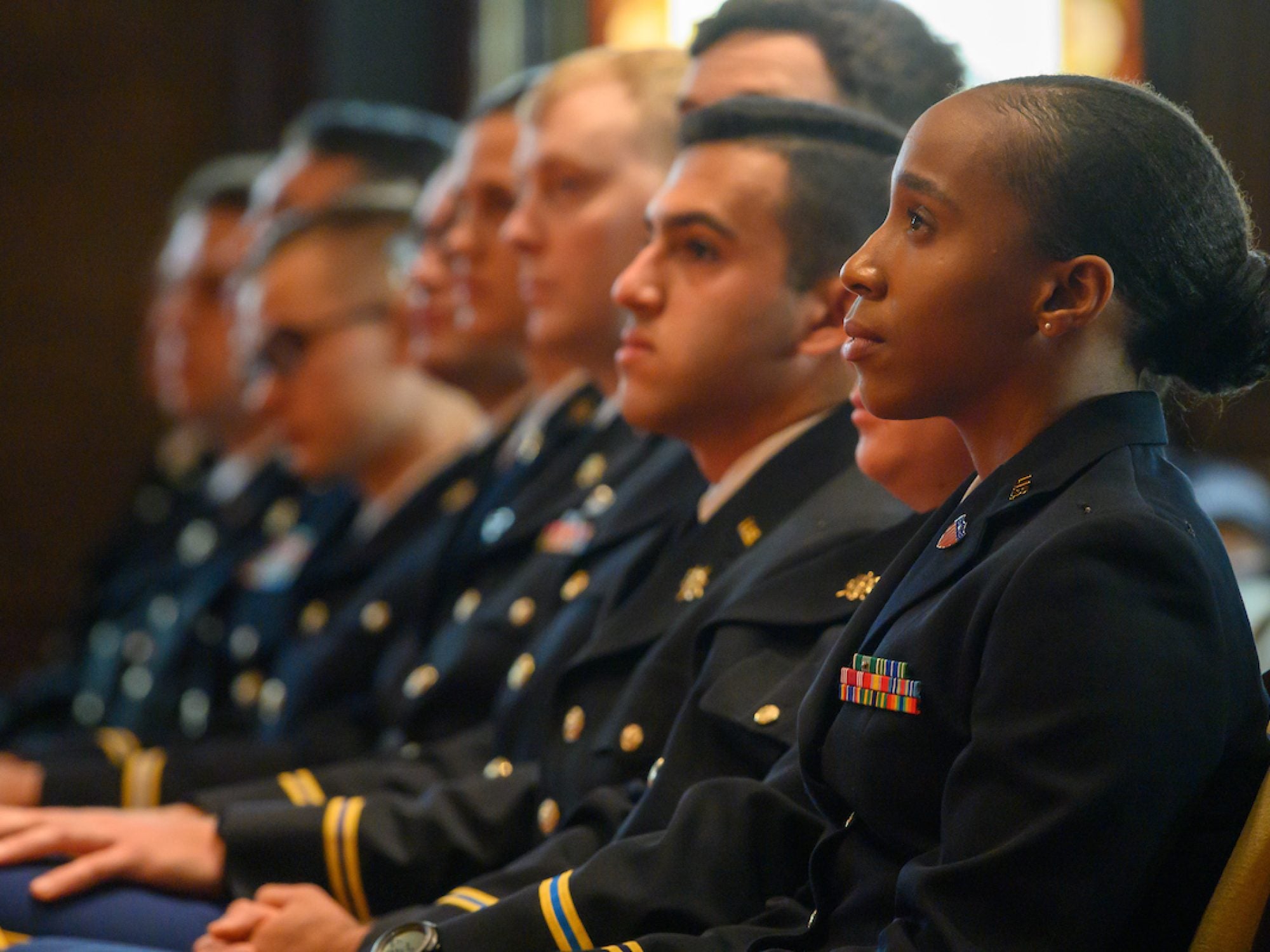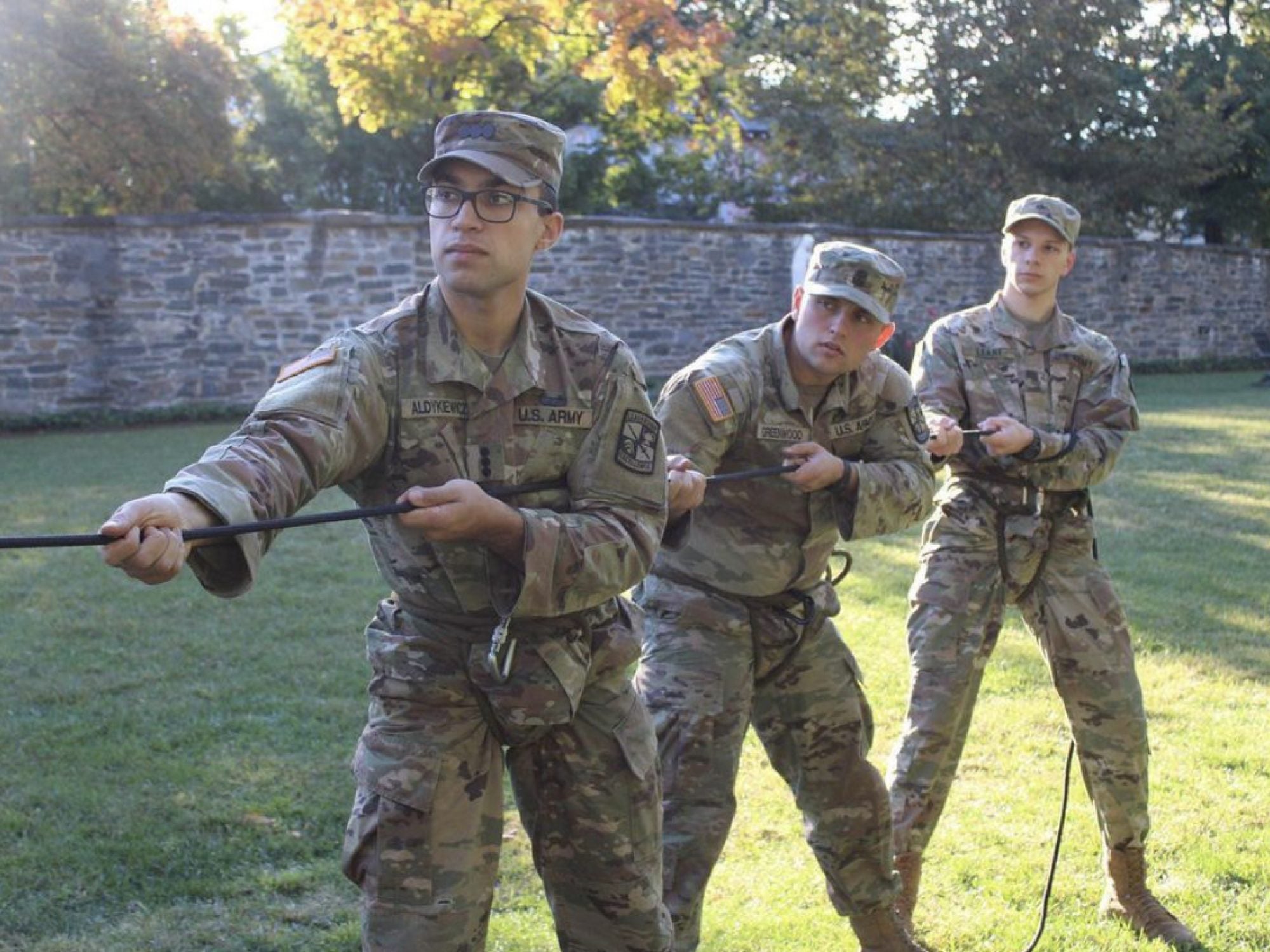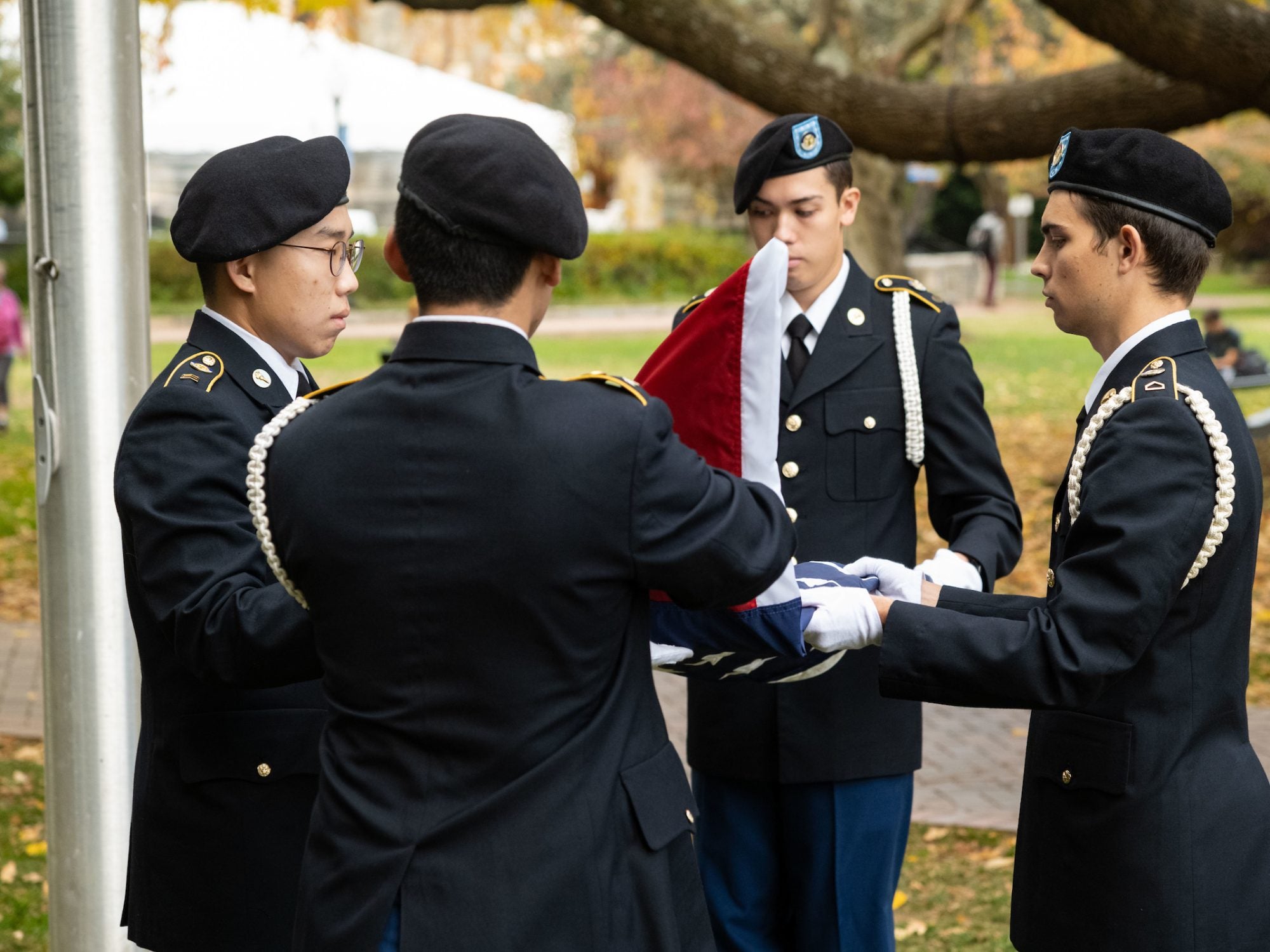 A Community in Diversity
Military-connected students — veterans, reservists, active-duty and military spouses — bring a diverse range of experiences and backgrounds that enrich the Georgetown community.
A Testimonial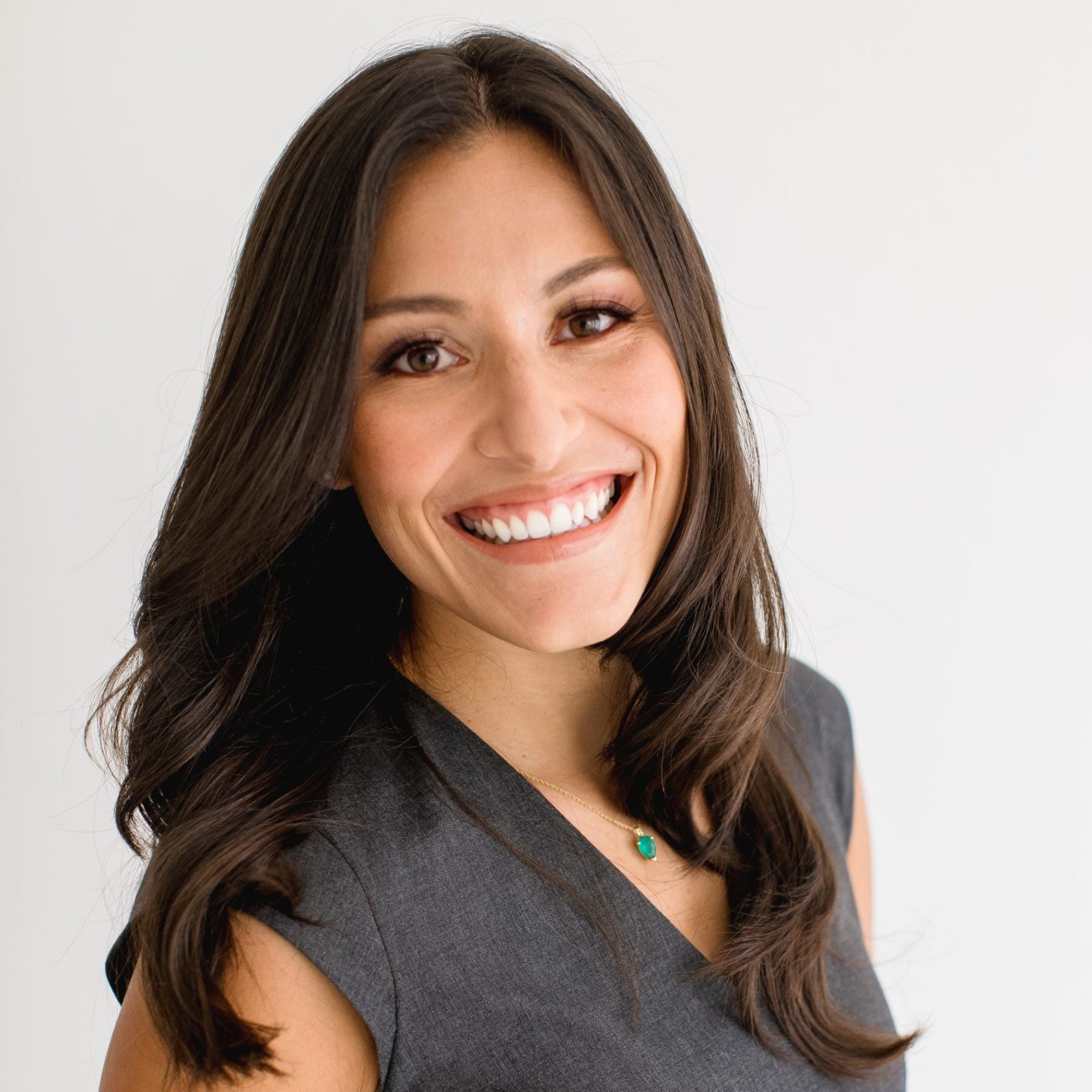 "I want to let other women veterans at Georgetown know that there is a space for us. We belong here. We're not alone."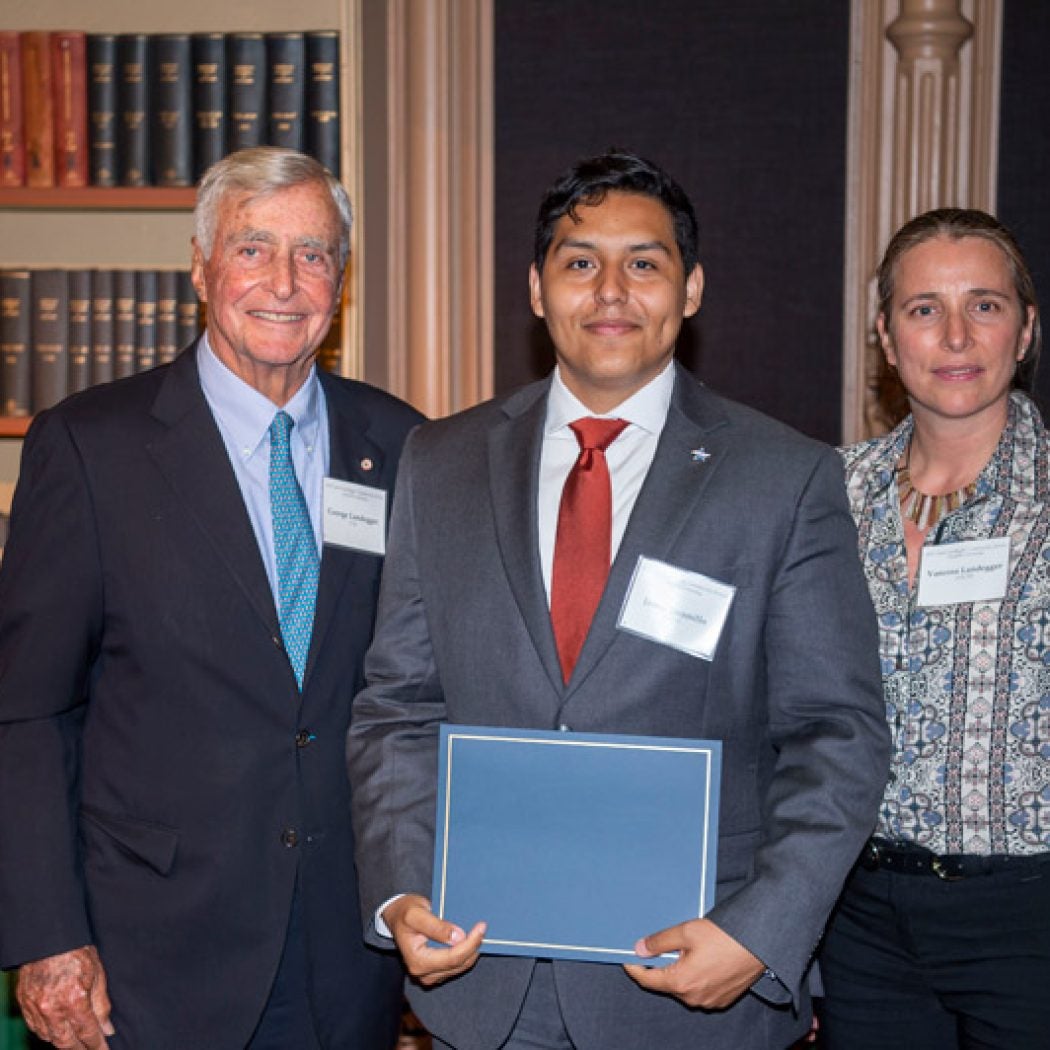 "Georgetown has helped motivate me and solidify that I want to continue to serve vulnerable populations in the future."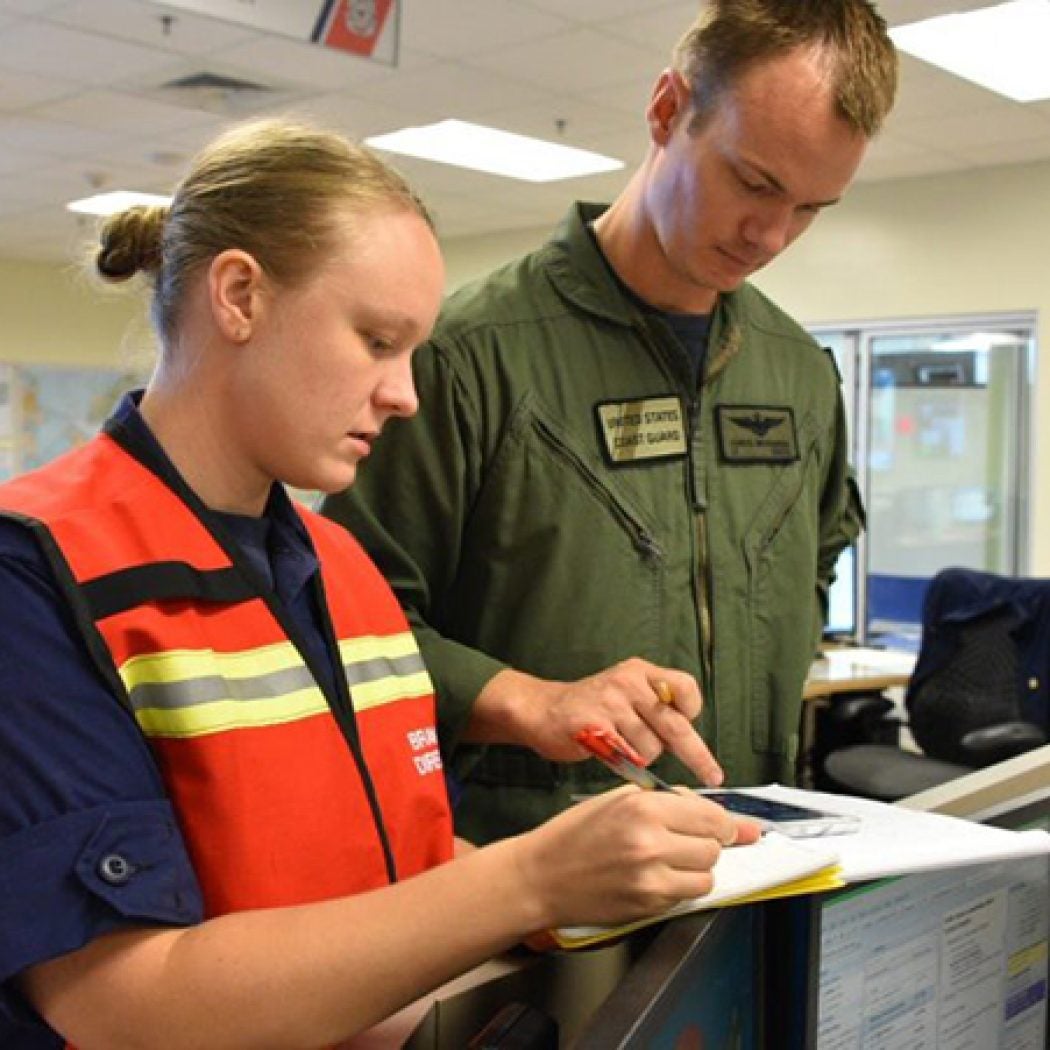 "A lot of people have reached out to me for advice, how to get help, how to seek treatment, what are the stigmas. Far too often, it's a 'sit down, shut up and swallow it mentality. I tried doing that and it didn't end very well, so I try to support everybody in the military who seeks mental health."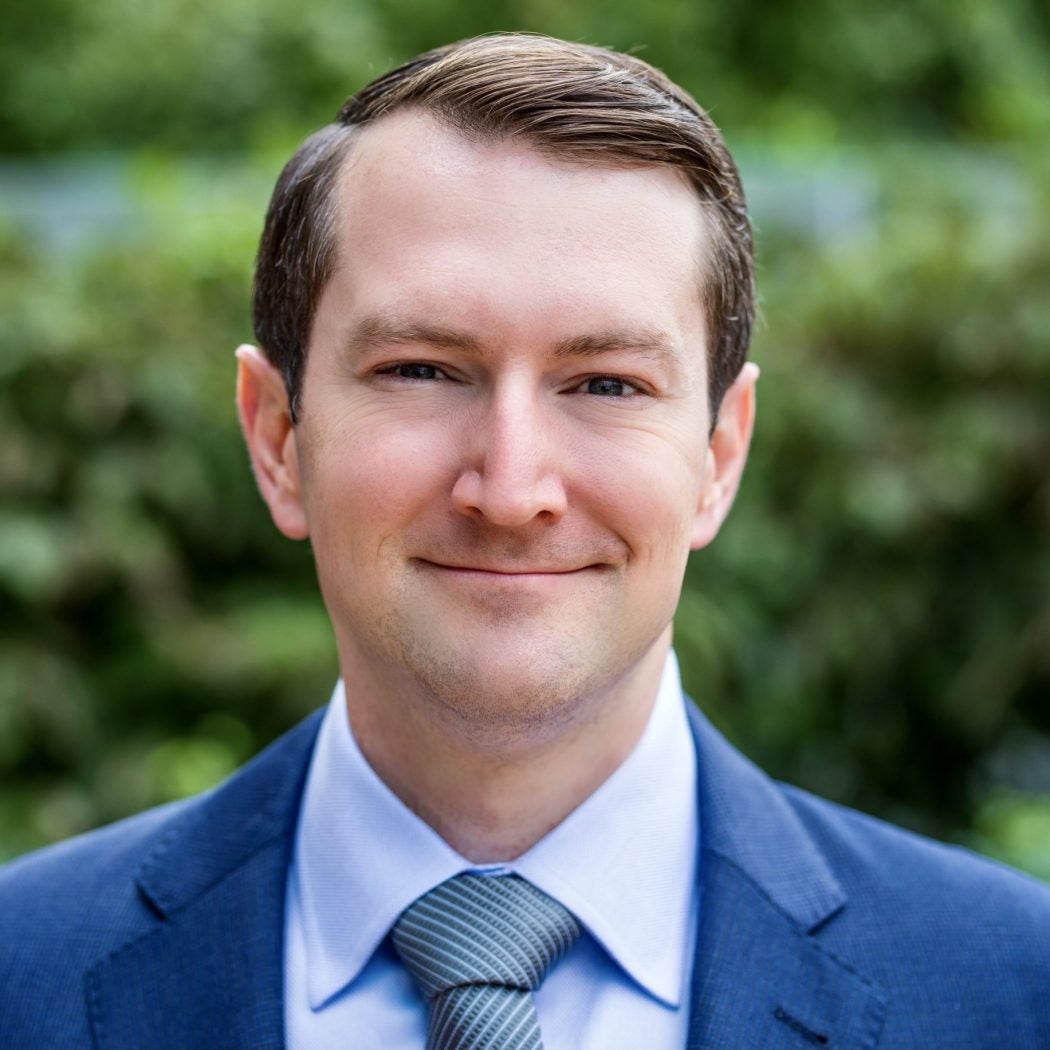 "My time in the military was an absolutely formative experience for me. After graduating from my undergraduate program, I don't think I could have been in a profession that exposed me to the challenges of leadership and life in general as much as being an officer in the armed forces."
60%
work full-time while pursuing degrees
38%
are first-generation college students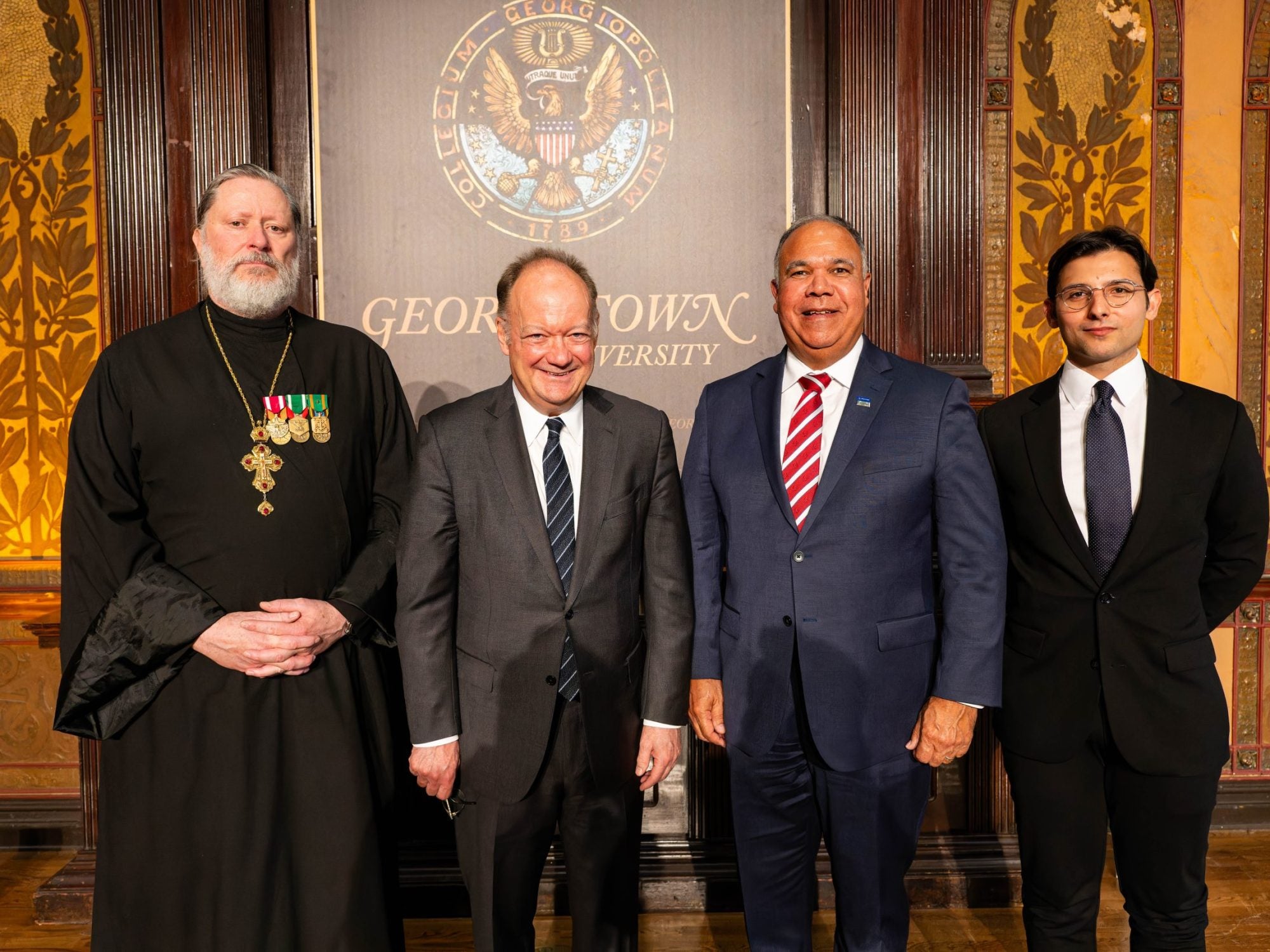 Veterans Day Ceremony
President John J. DeGioia, the Georgetown University Student Veterans Association (GUSVA) and the Military & Veterans Resource Center sponsored a Veteran's Day ceremony featuring Lieutenant General Anthony G. Crutchfield (Ret.) to honor its veteran community and celebrate their stories and diverse perspectives and histories.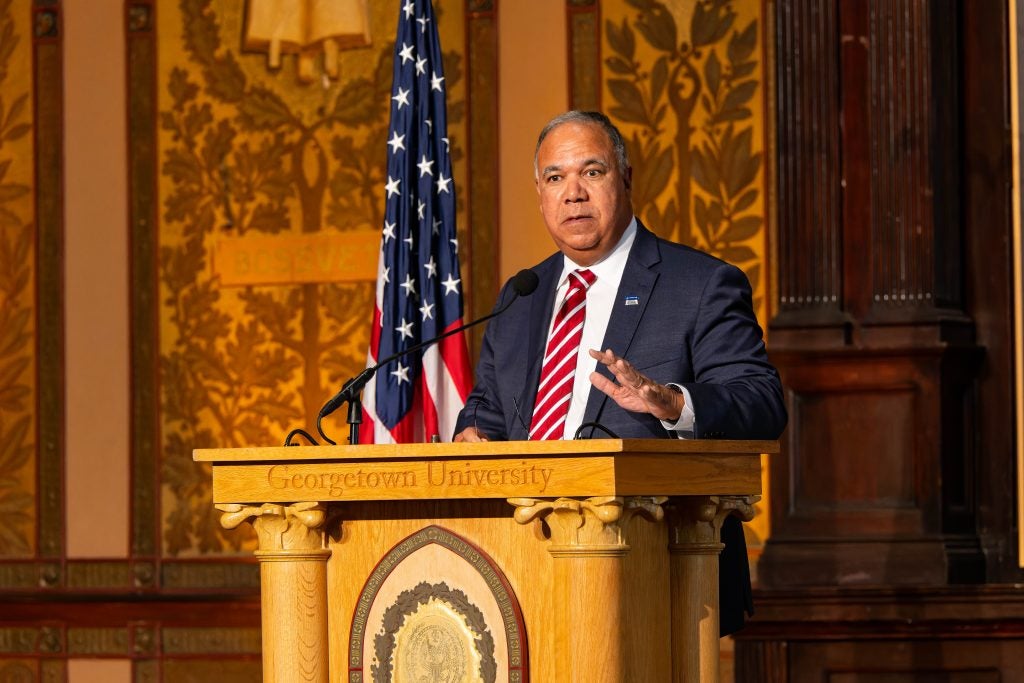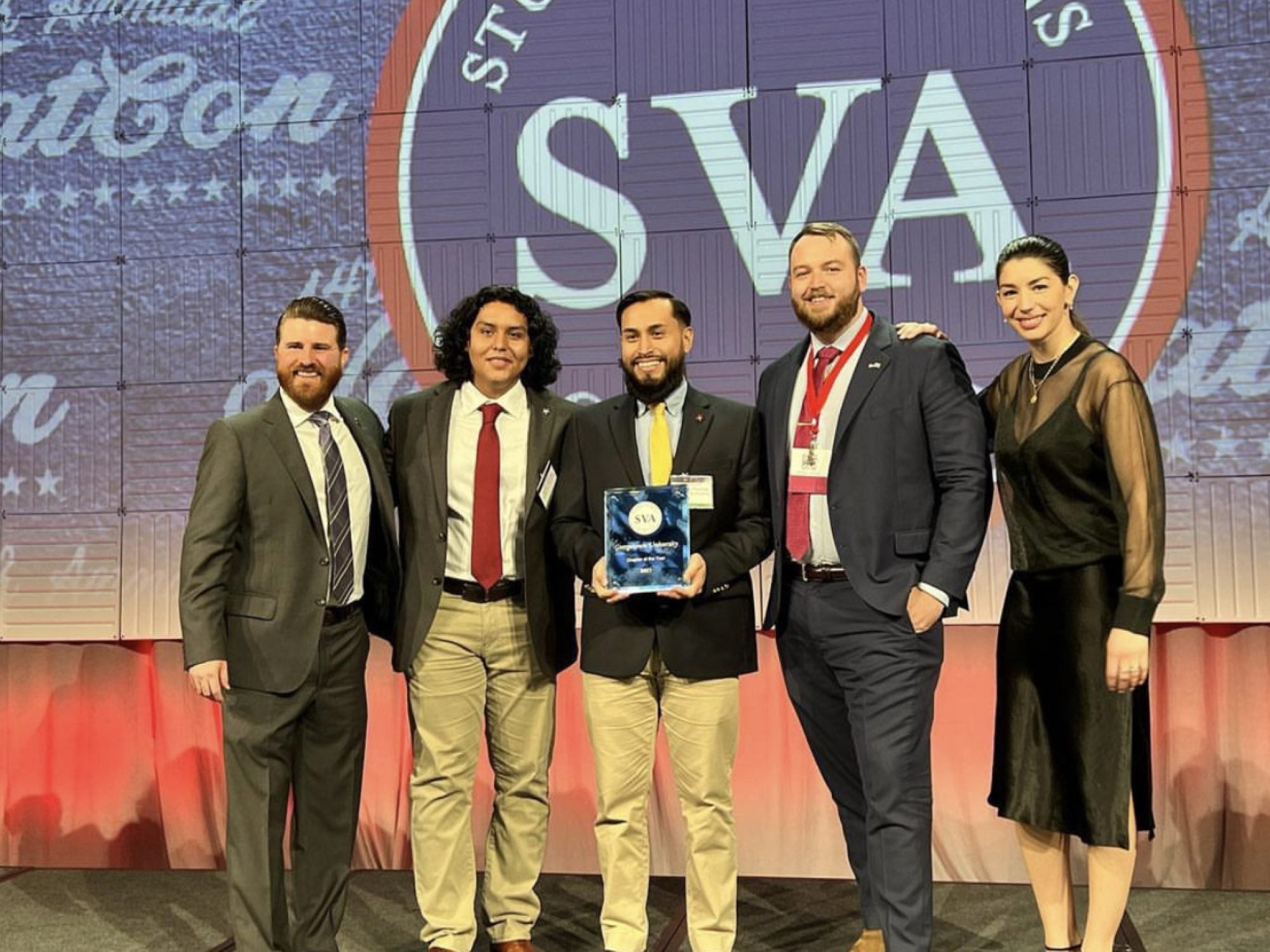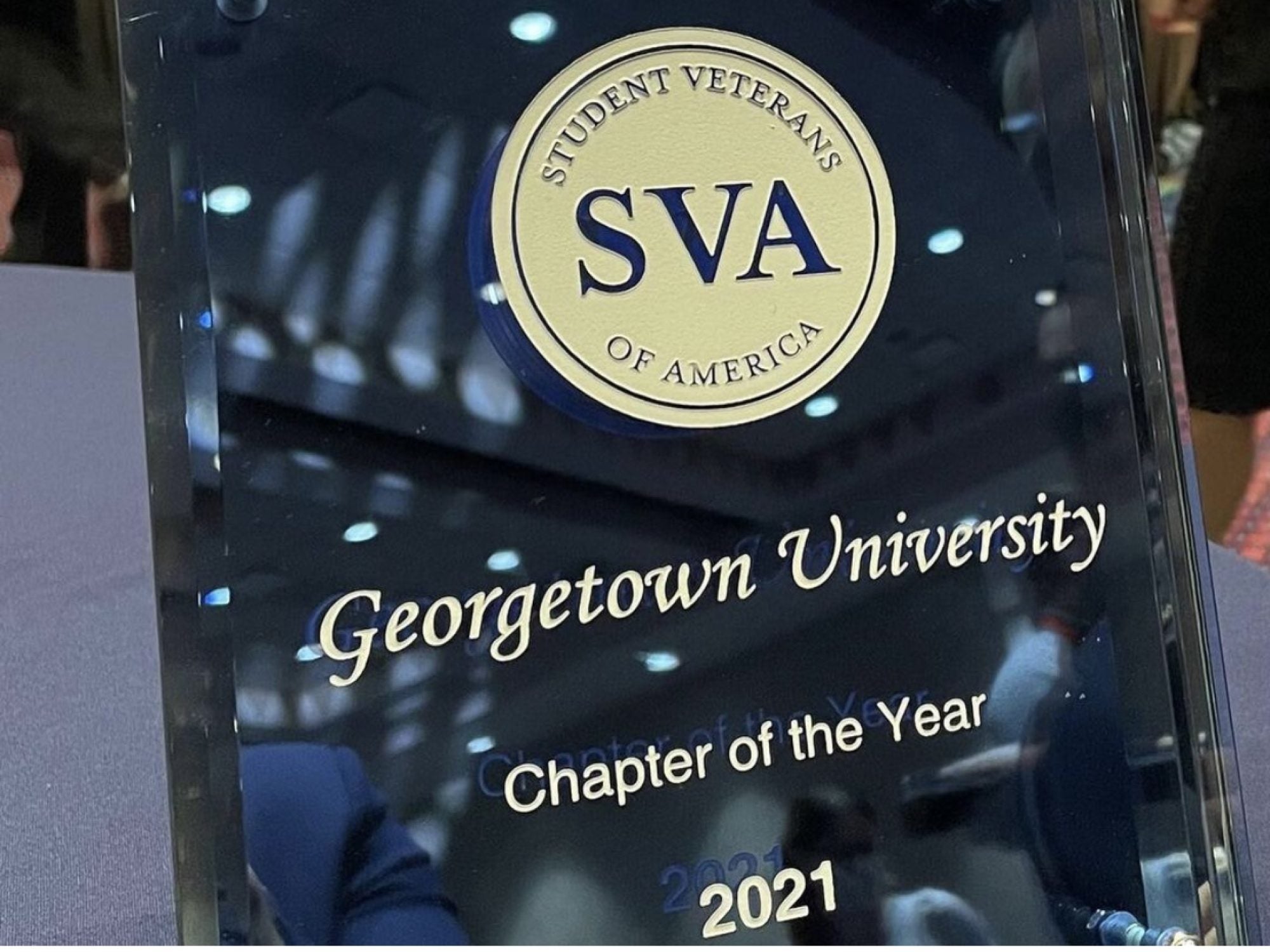 United in Service to Others
Grounded in the university's Jesuit ideal of being "people for others," Georgetown students find community and purpose through the Georgetown University Student Veterans Association (GUSVA), which received the Student Veterans of America Chapter of the Year Award in 2021.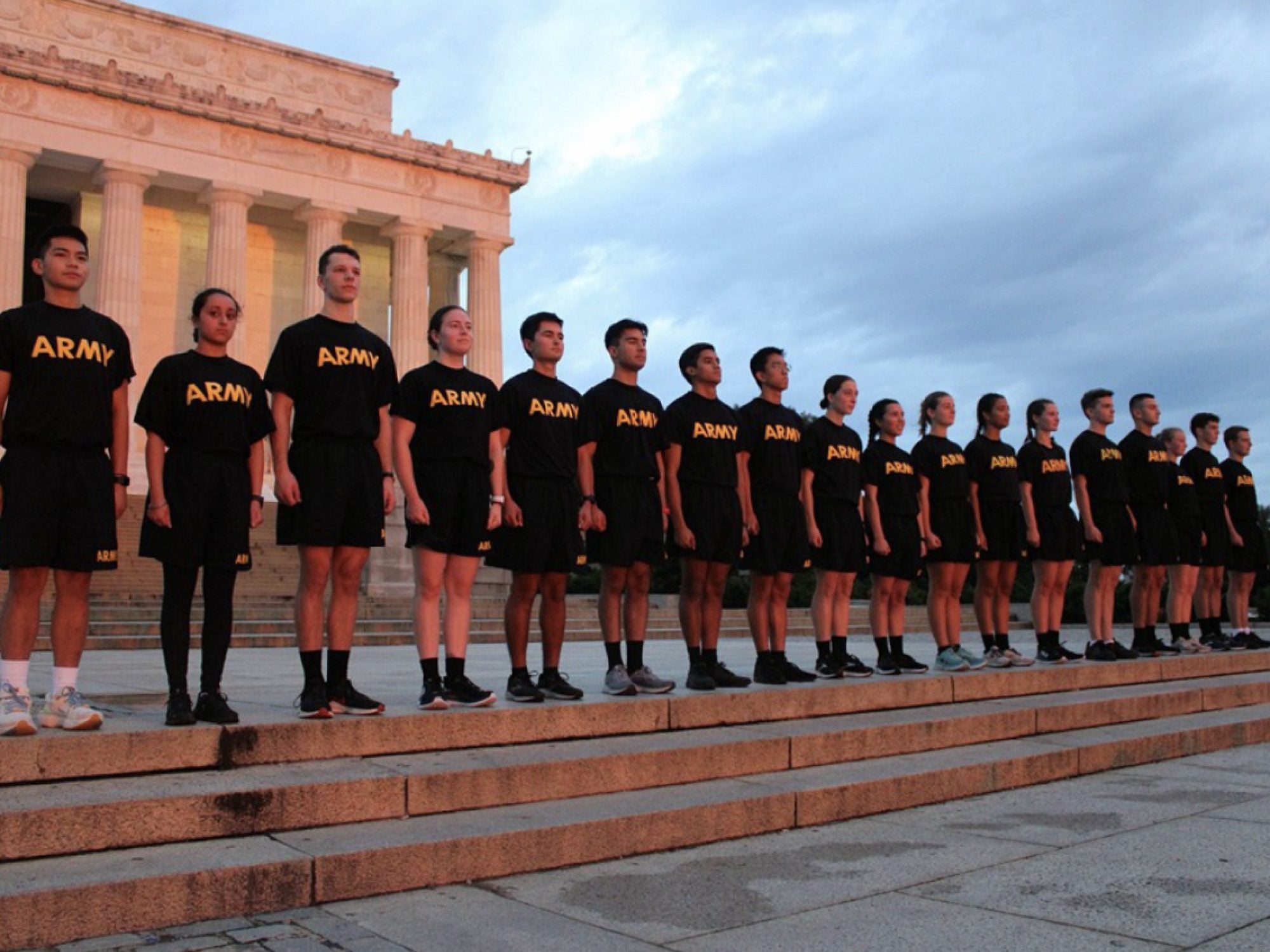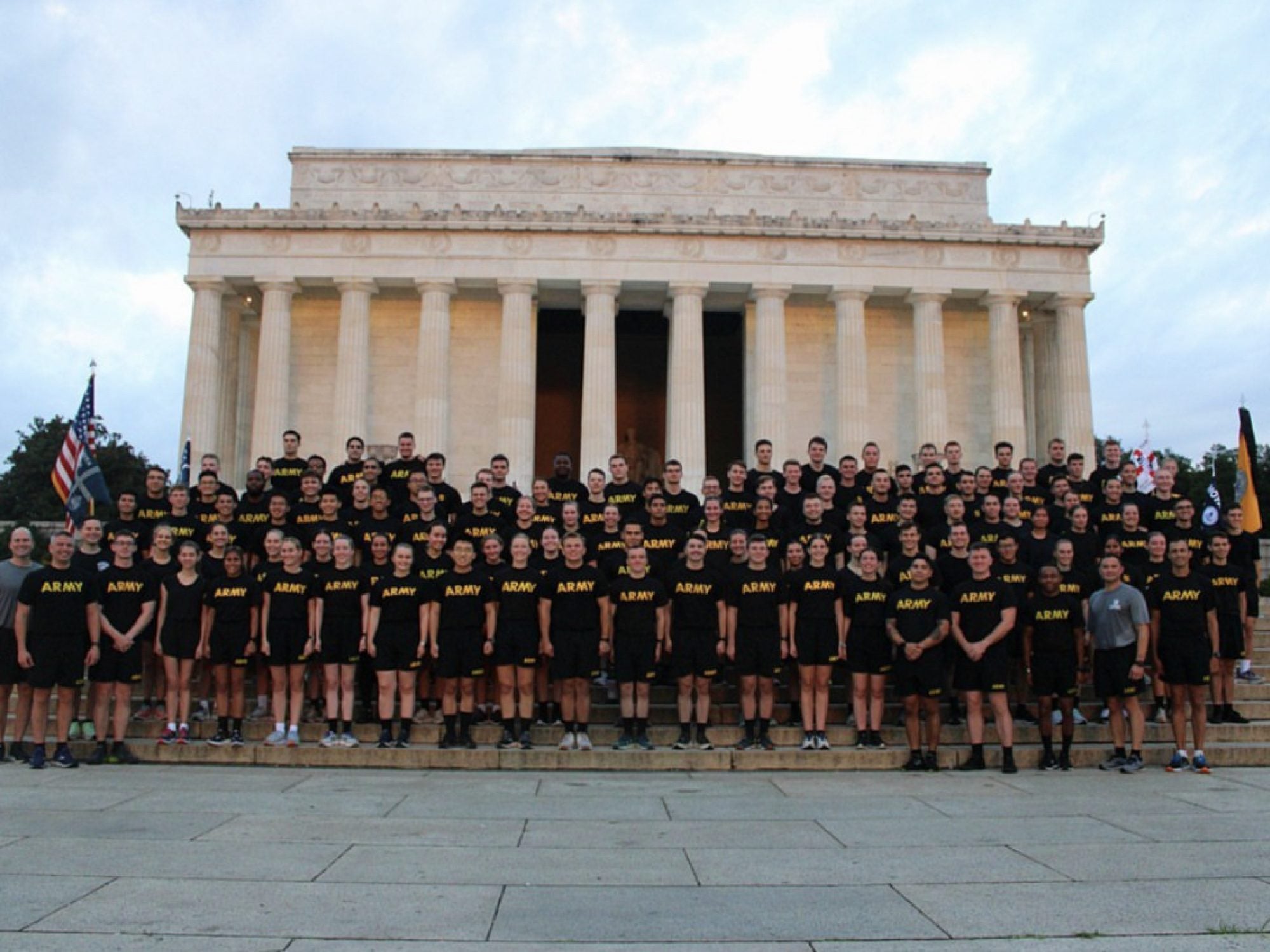 Hoya Battalion
The Hoya Battalion, Georgetown University's Army Reserve Officers' Training Corps (ROTC) Program, is steeped in a rich and enviable history that dates back to the birth of both the University and the United States of America.
A Testimonial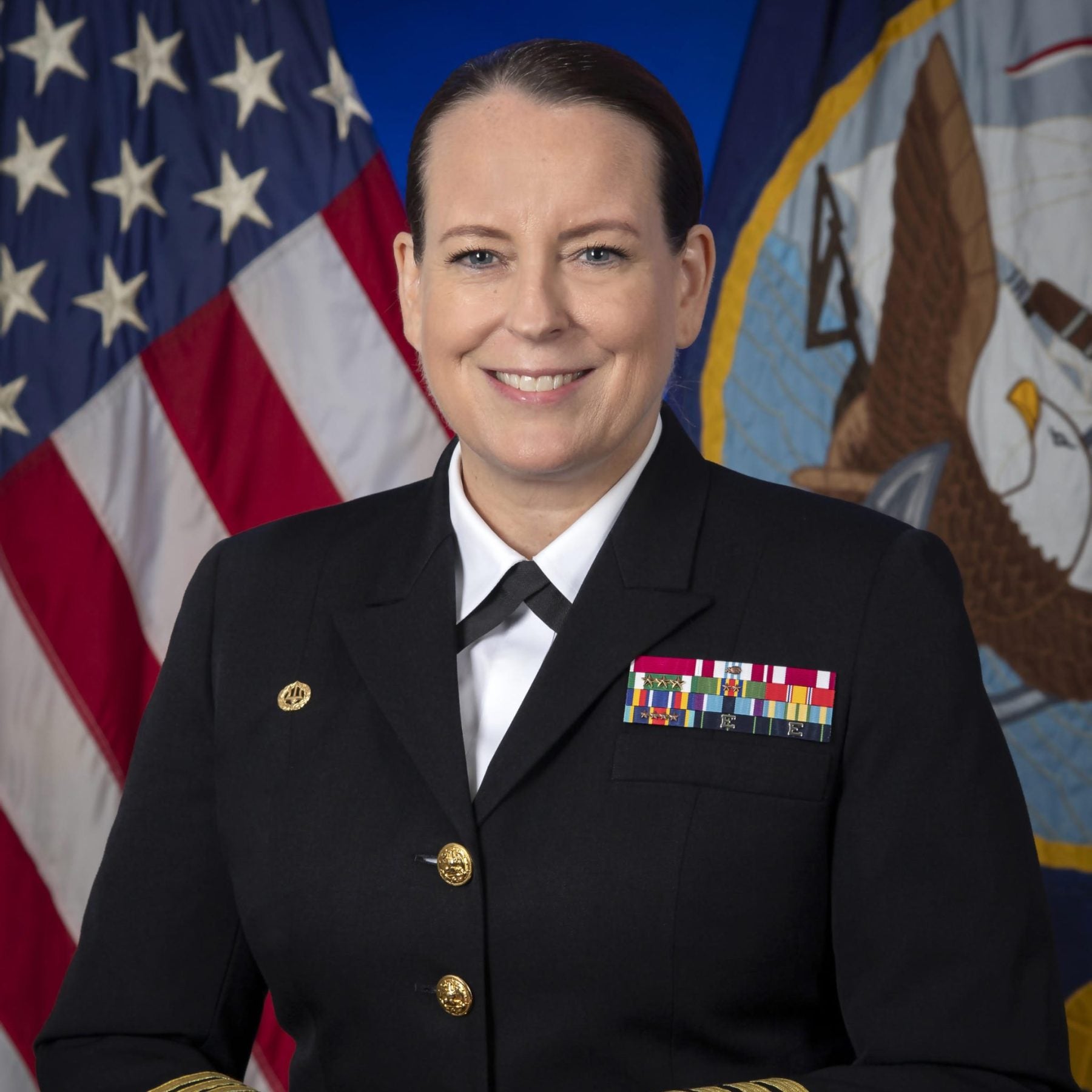 "It's what sparked my absolute passion for women's health care. The opportunity to go to the Hill and attend a health care-related hearing as part of my policy class, and to learn what evidence-based policy development looks like in our government and federal agencies, and then to take that and use it to influence policy change in the Navy and the Military Health System."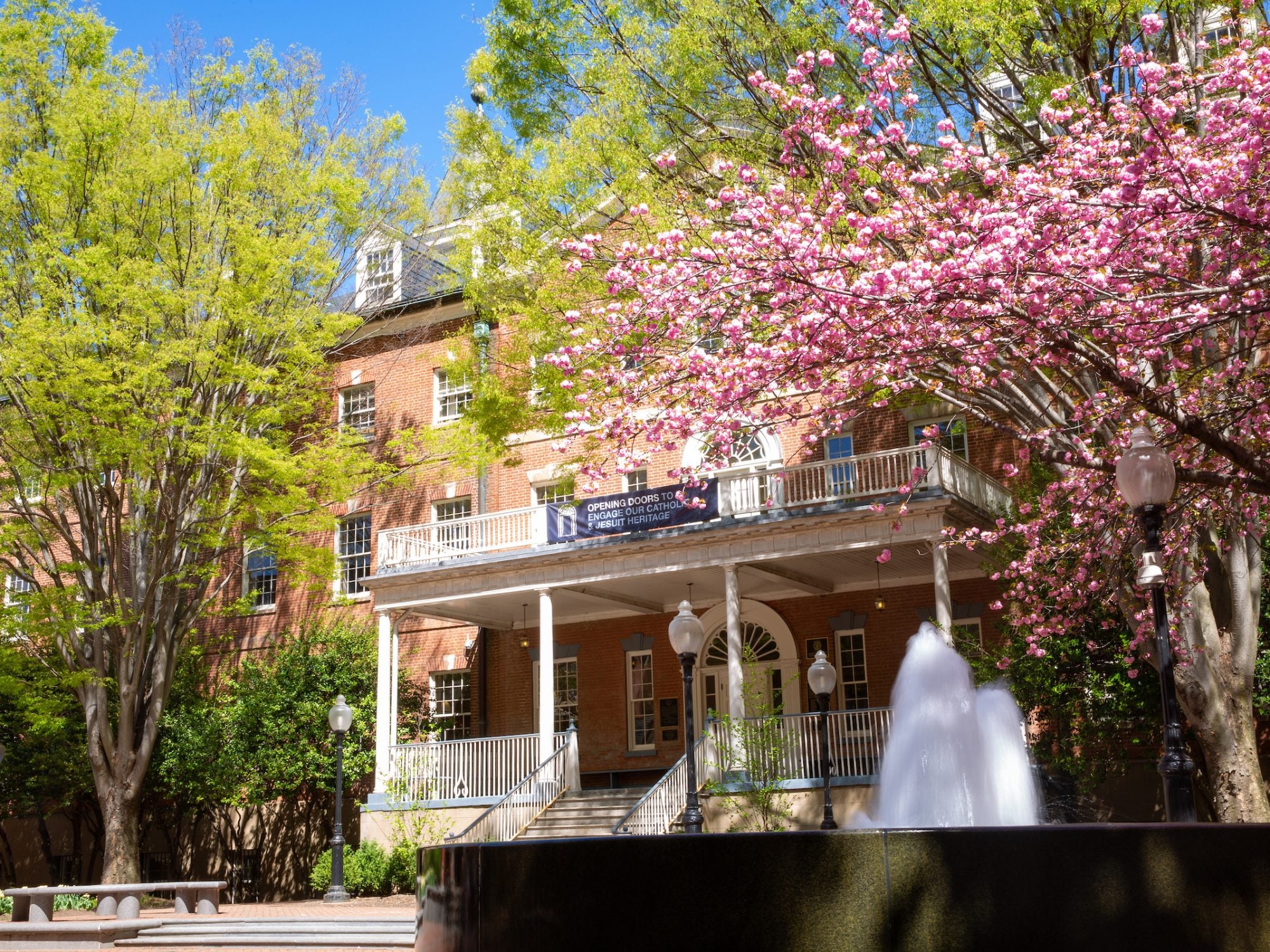 Scholarships for Veterans and Military-Connected Students
The Craig Newmark Veterans Scholarship Fund supports scholarships, experiential learning opportunities and community programs for military-connected students at the McCourt School of Public Policy.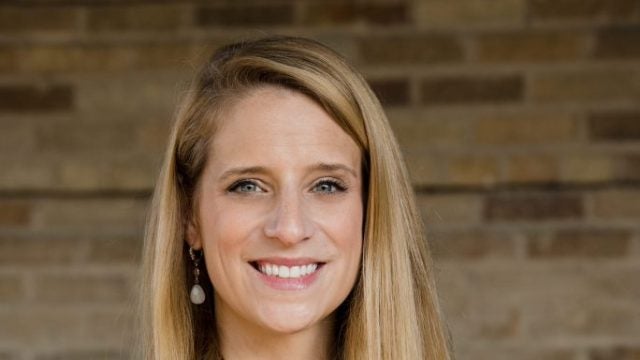 Lauren Augustine (MPM'22) brings military expertise and nearly a decade of government affairs experience to McCourt. Now, she's dreaming of policymaking at the highest level, and there's no stopping her.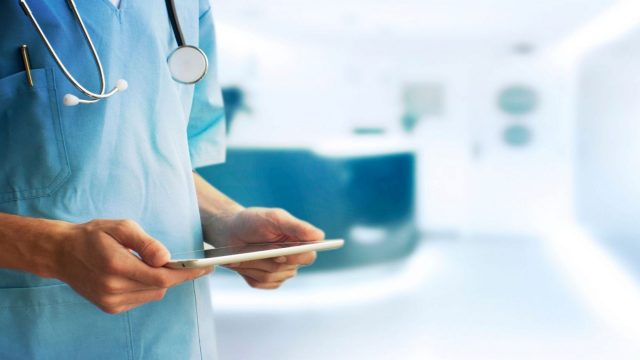 Georgetown Alumnus Nadhal Eadeh (G'18) shares how he combines decades-long experience at the U.S. Department of Veterans Affairs and a McCourt School of Public Policy education to help improve health…
Q&A With Ron Ruffin (G'24), EMBA in McDonough School of Business
Q&A With Ron Ruffin (G'24), EMBA in McDonough School of Business
How did your experience as a veteran prepare you for your time at Georgetown and your postgraduate career?

There are countless skills the military gives you that prepare you for your career. When asked this question I like to highlight a crucial, yet often-overlooked skill: grit. A mentality that emboldens a person to produce results regardless of the barriers that lie ahead. The proverbial military attitude to "get stuff done" is not only important for military life, but it sets up veterans for success wherever their journeys take them.
What would you like people to know about the life of a student veteran?

We're quite a diverse crowd! Veterans come from all walks of life. We are made up of immigrants and natural-born citizens, each with their own belief systems, cultures, political alignments, and experiences. A veteran could be sitting right next to you and you might not even know it. A veteran might converse with you about a topic and give an opinion or perspective that may surprise you. At the end of the day, we're just people like you.
What advice would you give to veterans who are thinking about pursuing a college/graduate-level education?

Go for it! The military is a great place, but it's a big world out here and there are so many places and people to learn from. I truly believe we all should continue to educate ourselves from a variety of perspectives. Graduate school is just one of the many education opportunities I encourage my fellow veterans to take advantage of.