Sarah Bryant (SFS'22) of Nashville, Tennessee, says she was frustrated by the difficulty she had during her first year at Georgetown going through the absentee voting process for the 2018 midterm elections.
"I encountered many obstacles to voting as a college student, including restrictive absentee voting regulations in my home state and challenges with finding stamps and envelopes to mail my request form and ballot," says Byrant, an international politics major.
It was that experience that led her to join GU Votes, a student-led initiative working to enhance the voting culture at Georgetown by simplifying the voting process, increasing turnout rates and directly integrating voter registration into the university ecosystem.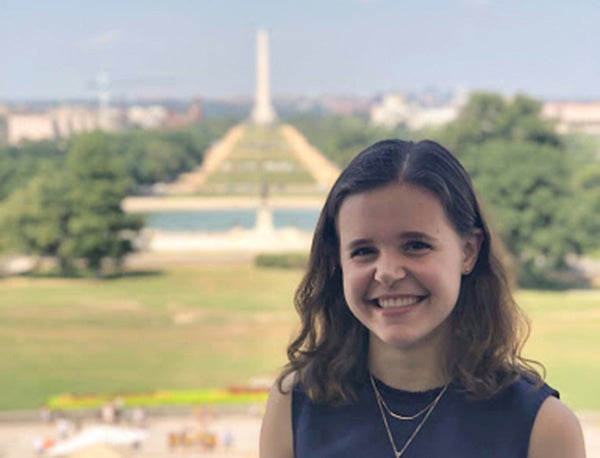 Breaking Down Barriers
Bryant says Georgetown's Institute of Politics and Public Service (GU Politics), part of the university's McCourt School of Public Policy, has provided "indispensable support and resources" to GU Votes – advising virtual outreach efforts and helping the group promote its initiatives to a wider section of the student body.
"In my role, I aim to break down the barriers that keep young people from voting and institutionalize voter engagement as a part of campus culture," notes Bryant, who hopes to one day work on migration and refugee policy for a nongovernmental organization.
GU Votes is one of numerous efforts at Georgetown aimed at promoting the right to vote – from paving the way for students to register to vote when they sign up for classes to voter drives, to setting up panel discussions and partnering with outside organizations.
Improving Voter Culture
The student-led initiative sponsored a virtual "Voting Happy Hour," this fall that allowed participants to encourage friends, family and other eligible voters to make sure they're registered and to have a plan to vote. It also held a career workshop on increasing the number of female candidates running for office.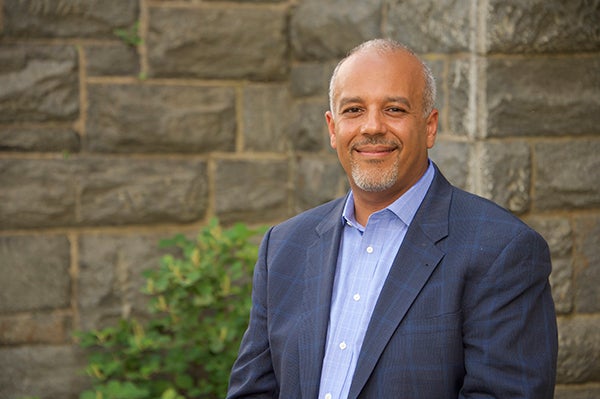 "Of all the programs we've helped launch through the Institute of Politics and Public Service and the McCourt School, GU Votes has been one of the most impactful," says Mo Elleithee, GU Politics executive director, a longtime political strategist and Georgetown alumnus. "This entirely student-run initiative has helped increase student-voter participation by 143 percent in the two elections since its founding."
Elleithee applauds the proactive nature of GU Votes and its ability to reach students in all the Georgetown schools across campuses – regardless of their political affiliations.
"Their goal of improving the voting culture at Georgetown has been a big part of our efforts to create a cohesive civic and political community on campus that all Hoyas can be proud of," he says.
Panels and Partnerships
GU Politics has presented numerous virtual events with political experts on both sides of the aisle, on preserving democracy, mail-in voting and other topics.
Prior to the pandemic, Georgetown hosted #ClimateForum2020 – a multiday forum spearheaded by GU Politics, MSNBC, Our Daily Planet, and New York Magazine in September 2019 – that allowed students to hear from and ask questions of 12 diverse candidates during the presidential primary.
Georgetown faculty also joined in opportunities to educate and discuss voting rights and the historic nature of voting during a pandemic and the nomination of the first woman of color to run a presidential ticket of a major party.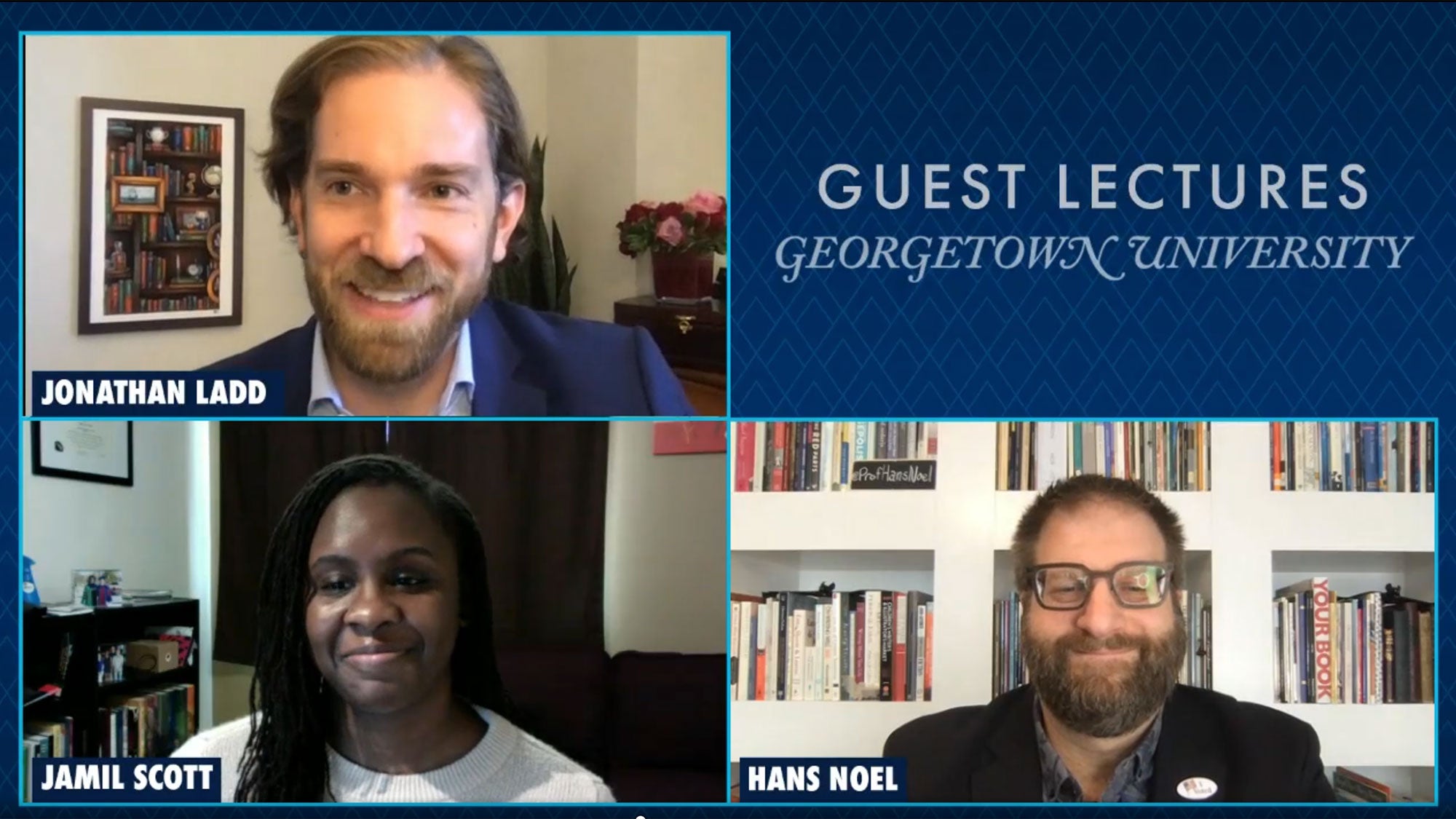 Government professors Jamil Scott and Hans Noel and McCourt School of Public Policy professor Jonathan Ladd participated in a series of "Guest Lectures" on Facebook Live and Linkedin. discussing the elections and the presidential and vice-presidential debates.
Georgetown Law also held a virtual panel discussion on voting rights with Dean William Treanor, several faculty members and three alumni – Andrea Young (L'79), executive director of the ACLU in Georgia; Marc Morial (L'83) president and CEO of the National Urban League; and Sylvia Albert (L'06), director of voting and elections at Common Cause.
Partnerships – such as the one between Georgetown and the Andrew Goodman Foundation – are also a part of the university's mission to encourage voting and registration.
Working with the Andrew Goodman Foundation resulted in a voter portal through which students may register for classes to vote from their home state or DC, request an absentee ballot, sign up for election updates, check their registration status and learn more about candidates.
Becoming Active Citizens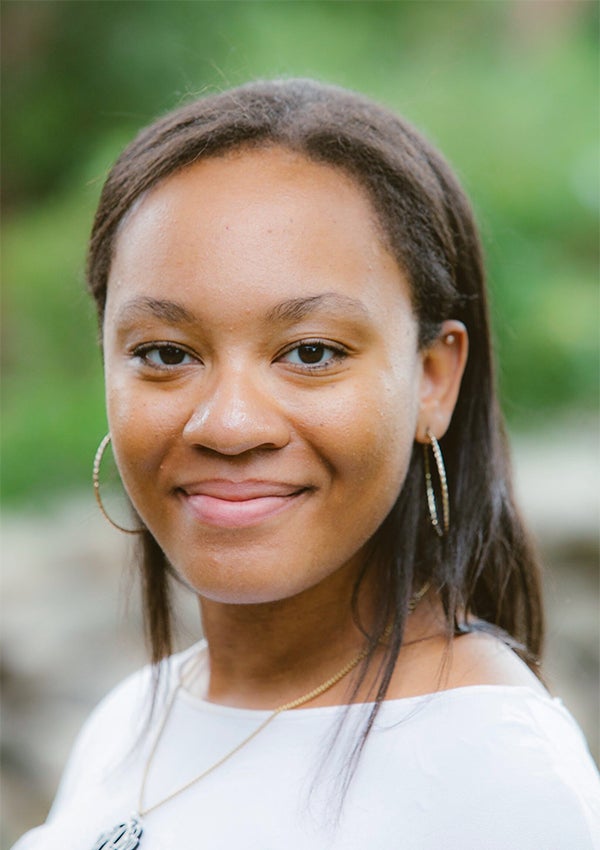 Valencia Richardson (L'20) was a Puffin Democracy Fellow at the Andrew Goodman Foundation between 2018 and 2020 who now serves as a Legal Fellow for the Campaign Legal Center.
"College students, particularly undergraduate students, face the life-changing event of leaving home at the same time they become eligible to vote," Richardson says. "As Georgetown facilitates the process of educating students and sending them off into the world, it is equally important to facilitate the process of becoming an informed, active citizen."
"At a place like Georgetown – which brings students from all 50 states – the university's efforts are all the more imperative, as students start to navigate issues of voter accessibility, including voter identification and absentee voting," she adds. "Efforts like GU Votes and the voter registration portal get students in the habit of voting, and are extremely important in forming an engaged citizenry."
Big East Efforts
Student-athletes at Georgetown are also involved with educating their peers about voting.
On Voter Registration Day, the Big East Student-Athlete Advisory Committee (SAAC) kicked off a voter registration challenge, part of an overall goal to increase civic awareness among student-athletes.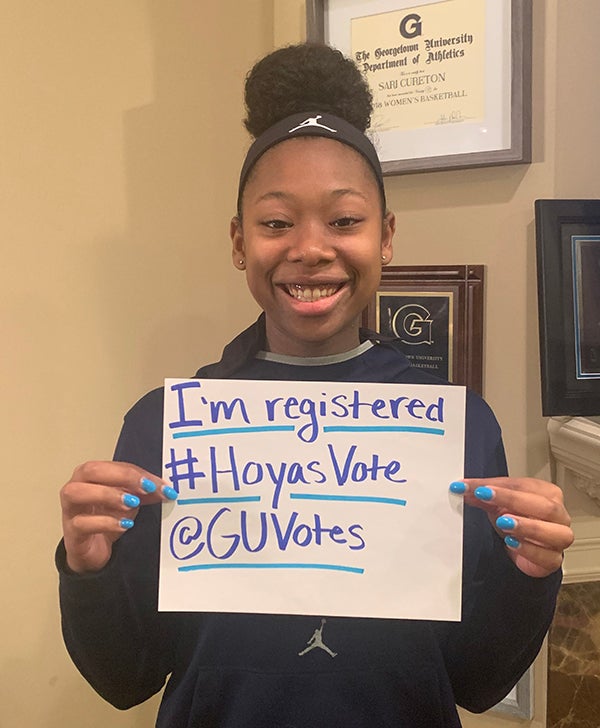 Basketball player Sari Cureton (SFS'21) and soccer player Maya Fernandez-Powell (SFS'21) represented Georgetown in the SAAC challenge.
"Over the summer all of the representatives throughout the conference got together to discuss what initiatives would be impactful," says Cureton, an international politics major from Farmington, Michigan. "We decided that voting would be the one that would be most important for this fall. Our vote is our voice, and we wanted to empower as many people as possible to use their voice."
Spirit of Georgetown's Mission
Fernandez-Powell (SFS'22) of Portland, Oregon, says it was important to make sure her fellow Hoyas were registered to vote and is glad the university has taken an active role in voter education.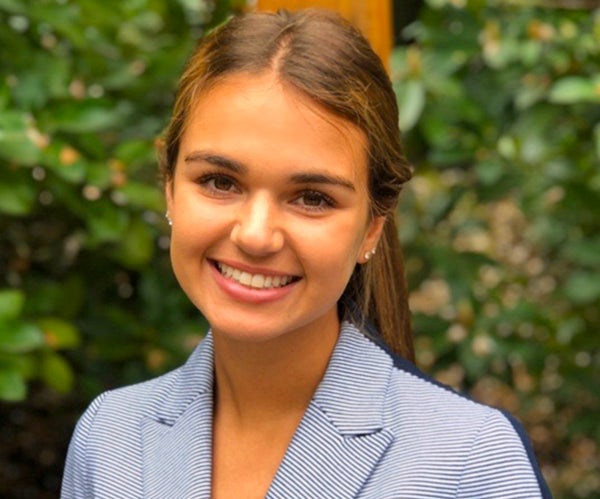 "As someone who is passionate about voter registration and getting as many people to vote, I wanted to play my part in ensuring Hoya student-athletes are ready to vote," explains the regional and comparative studies major. "I am really encouraged to see that Georgetown is taking an active role in educating the university community about how to register and vote safely."
"As a community that strives to prepare students to be active and responsible participants in civic life, I think this is an incredibly important effort in the spirit of Georgetown's mission," she adds.