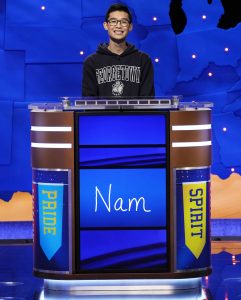 Vu, 21, competed in the Jeopardy! National College Championship representing Georgetown, the latest Hoya to appear on the game show. His episode—and outcome—airs on Wednesday, Feb. 16 on ABC.
"We'll see if I outdid my brother," he says.
Vu, a senior studying environmental biology, leveraged his academics and trivia skills to compete against 35 fellow undergraduates from colleges and universities across the U.S. for the $250,000 grand prize.
"It's an advantage to be from such a place of academic rigor and where my classmates are constantly pushing me to be better," he says. "Hopefully I can make the university proud and make all of my friends proud."
Jeopardy! Calls on M Street
Vu's trivia knowledge started long before the classroom. He and his parents used to watch Jeopardy! during dinner, and he participated in his high school's Quiz-bowl-style trivia competitions, traveling across his home state of New Jersey to compete. 
Vu was drawn to Georgetown for its environmental policy program and continued to play online trivia while enrolled at the university. On a whim, in fall 2020, he took the online Jeopardy! test. Shortly after, he was invited to take another test and then audition—mock-game-show style with the music and all.
Six months later, Vu was walking along M Street when he got a call: Would he like to appear on the game show? He ran from the crowded street into an alley.
"I was genuinely surprised," he said. "I had kind of forgotten about it. I was excited but didn't want to get ahead of myself."
How Do You Prepare for Jeopardy?
Vu had just two weeks to prepare for the show. He was in the midst of midterms, and didn't want to cram too much extra information in. He also could not tell most Georgetown faculty, staff and students about the taping.
Vu read the Bible, stowed away fun facts about Georgetown—that it was the oldest, Catholic, Jesuit college in the U.S.; that The Exorcist was filmed there—and brushed up on his strong suits: geography, literature and classical music. He also tapped his brother for strategies and advice, which included clicking the buzzer if he was 70% confident in his answer and staying focused and aggressive throughout.
While Vu couldn't reveal the questions, he said he knew a few answers because of Georgetown—and that the university's analytical thinking and word associations helped him probe for answers within a clue.
Buzzing in Live From the Podium
The weekend before Thanksgiving, Vu flew to Los Angeles and stepped onto the Jeopardy! stage.
"That was a really striking moment," he says. "When I watched my brother, I wondered what it would be like to be on that stage. And now, here I was on that stage."
Over the next four days, Vu filmed promos and competed. Overall, he says he is pleased with his performance.