Georgetown student Jim Coury (SFS'15) wins the 2013 Jeopardy! College Championship tournament.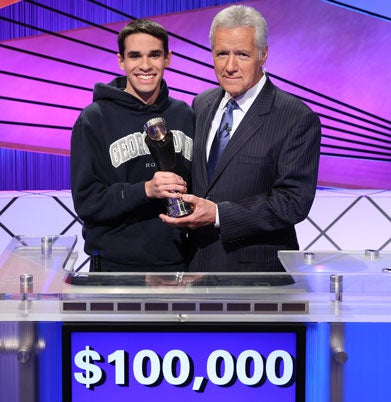 Jim Coury (SFS'15) wins $100,000 and an automatic bid to the Tournament of Champions. Photo courtesy of Jeopardy Productions, Inc.
Georgetown's Jim Coury (SFS'15) has won the Jeopardy! College Championship tournament.
On the episode that airs tonight, Courey claims the $100,000 grand prize.
"Winning $100,000 was a crazy experience that took a very long time to sink in," Coury said. "I was really focused on answering the questions and winning the game, so I sort of forgot about the prize until Alex Trebek mentioned it at the end. Then, I started shaking with excitement and relief."
The School of Foreign Service student plans to use the money to pay for his education and travel for the first time to the Middle East.
Coury, an international political economy major from Olmstead, Ohio, credited his studies at Georgetown for some of his success in the tournament.
"My major helped a lot with geography and current affairs categories, although I never did get the economics category I was hoping for," said Coury. "Of course, there were also pop culture and word play categories that you can't really prepare for by going to class."
Coury also earned an automatic chance to compete in the Jeopardy! Tournament of Champions. The latter tournament is among all champion players, not just college students.
Fantastic Experience
"The whole experience was fantastic, and I would do it over again in a heartbeat," says Coury. "I was so excited to be able to represent Georgetown on the show against some other great schools, and all my friends here were incredibly encouraging and excited for me."
Coury made his appearance on Jeopardy! on May 7 during the quarterfinals. Trebek says the tournament is similar to March Madness and NCAA football bowl games.
"The College Championship provides a special blend of intense competition and school pride," Trebek said in a statement to the media. "It's the only Jeopardy! tournament where the contestants play for more than personal glory and prize money. They play as representatives of their college and its alumni."
Longtime Jeopardy Fan
Coury says he has wanted to compete on the game show since he was 10 years old.
"I wanted to try out for the tournament because I've always loved watching the show and playing trivia games, so getting on the show has been a dream of mine for quite a long time," he explains.
He took the online audition test for the Jeopardy! kids tournament as well as the one for teens but didn't make it. After a year at Georgetown, the 20-year-old sophomore was successful on his first try for the college tournament.
50 Questions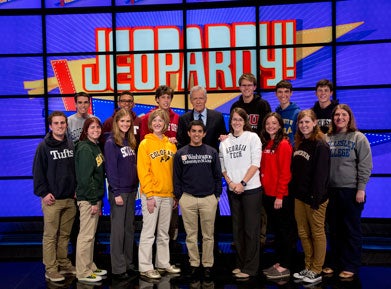 Jim Coury (SFS'15), far left on top row, is shown with Jeopardy! host Alex Trebek, center on top row, and the 14 other contestants who competed last month in Culver City, Calif.
Coury passed the 50-question online test and was selected to attend regional in-person auditions that included a second 50-question test, a mock game play and a brief interview.
He says he was hoping for more questions in his stronger subjects – geography, history and literature.
"I don't know a lot about television and movies, so those were the two subjects I was dreading the most," he says.
A Georgetown Tradition
Coury also expressed a lot of respect for his opponents.
"They were all obviously very intelligent, and they were also all great to spend time with," he says. "Even though we were competing against each other, everyone was always very positive and encouraging."
Coury is the sixth Georgetown student to compete on the game show. Penelope Elizabeth Prior(C'92)competed in the 1990 quarterfinals; Maureen McIvor(C'91)in the 1991 quarterfinals; Adam Center(SFS'00)placed second in 2000; Matt Bushell(SFS'06)in the 2004 quarterfinals; and James Grant (C'09)was a 2008 semifinalist.