Title:

Georgetown Receives $7.3 Million Gift for Global Business Education Expansion
Date Published:
November 22, 2016
The McDonough School of Business receives a $7.3 million gift from the Baratta family to bolster its efforts to educate global-ready leaders by extending more global education opportunities to undergraduates.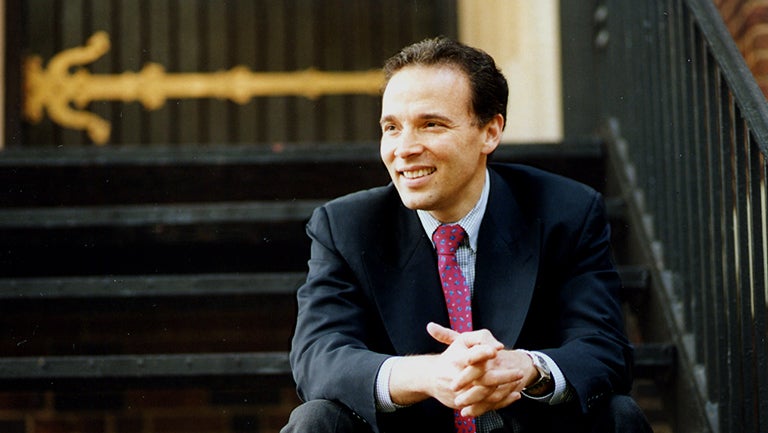 A $7.3 million gift from the Baratta family to Georgetown's McDonough School of Business will bolster the school's efforts to educate global-ready leaders by extending more global education opportunities to undergraduates.
"Today's companies demand global leaders capable of making complex business decisions and able to easily relocate anywhere around the world," explains Ricardo Ernst, director of the school's Global Business Initiative. "We are grateful to the Baratta family for providing the support to ensure our undergraduates have immersive global experiences to broaden their understanding of global business."
Abigail Williams Baratta (F'96) and Joseph Patrick Baratta II (B'93) made their gift to Georgetown McDonough to establish the Baratta Endowed Global Business Education Fund and the Baratta Endowed Chair in Global Business, to which Ernst was recently appointed.
"Ricardo Ernst has been able to effectively utilize Georgetown's academic resources and its location in D.C., a city increasingly at the epicenter of global business issues," says Joseph Baratta, a member of Georgetown's Board of Directors and the McDonough School of Business Board of Advisors. "He is dedicated to making Georgetown McDonough the preeminent program for global business studies."
Global Business Education Fund
The Barattas, longtime supporters of Georgetown McDonough, say they made their investment to expand graduate experiential and immersion programs such as the Global Business Experience to the school's undergraduates.
In the past 20 years, such programs have been available to teams of MBA students, who have traveled to Prague, Rome, Buenos Aires, Lima, São Paulo, Tel Aviv, Istanbul, Beijing, Delhi, Cape Townand many other cities.
The teams work for and learn from public- and private-sector clients, which range from small entrepreneurial companies to global corporations. After returning to campus, students meet to compare how industries operate around the world.
"Our MBA graduates have learned how to anticipate global trends and swiftly adjust to them," Ernst says. "These are the sorts of opportunities that will become available to undergraduates through the new Baratta Global Business Fund."
Broader Perspectives
A few Georgetown McDonough undergraduates already have had the chance to participate in such opportunities, including senior Erik Alfieri.
After a semester researching the confectionery and chocolate industries in Ernst's class, Alfieri and his classmates traveled with Ernst to Barcelona to visit the local sites of six global market leaders, including Lindt, Mars and Haribo.
"Georgetown McDonough's undergraduate program stresses experiential learning and the importance of traveling to understand global business," Alfieri said. "Working in Barcelona took us out of our comfort zones and broadened our perspective of business beyond what we see through an American lens."
Alfieri and his classmates later presented the results of their field research to the industry leaders.
Endowed Chair in Global Business
Ernst, the new Baratta Endowed Chair in Global Business, has been awarded the Outstanding Teacher Award for the Executive MBA program and twice received the Joseph F. Le Moine Award for Graduate and Undergraduate Teaching Excellence at Georgetown.
He also has been listed as a Businessweek magazine "Best Professor." Co-author of Global Operations and Logistics (John Wiley and Sons, 1998) and co-editor of Innovation in Emerging Markets (Palgrave Macmillan, 2016), Ernst also has consulted with several national and international firms, including General Motors, Michelin, Coca-Cola, Wal-Mart, the Pan American Health Organization (PAHO), and the World Bank Group.
In addition to publishing more than 25 articles in top academic journals, he serves as editor-in-chief of the virtual journal Globalization, Competitiveness and Governability, published by Georgetown and Universia.
"As we build our reputation as the premier destination for global business education, Georgetown McDonough continues to offer our students the right balance of knowledge and experiences essential to instilling a global mindset," said Rohan Williamson, interim dean of Georgetown McDonough.
"The work of our Global Business Initiative prepares students to become global-ready leaders, capable of managing people and processes anywhere in the world." Ernst adds, "At Georgetown McDonough, we firmly believe that business has no borders."