A record 49 undergraduate, graduate, doctoral students and alumni were selected for the Fulbright Program, the world's largest international educational exchange program. These Hoyas joined this year's cohort of nearly 2,000 recent graduates and early career professionals and are studying, teaching English and conducting research in 31 countries.
"We are deeply honored by this distinction and are enormously proud of the students and alumni who were selected this past year, continuing our community's long tradition of service in the Fulbright program," Georgetown President John J. DeGioia said.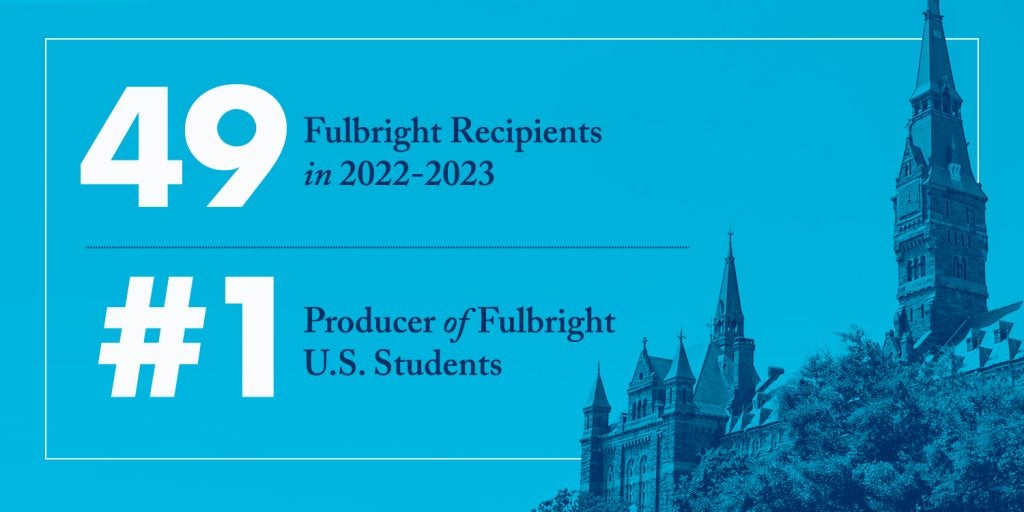 A Record-Setting Year for Fulbrights
Georgetown was named the top producer of applicants selected for the Fulbright U.S. Student Program, and also led in the Fulbright's doctoral category. This is the third time the university has ranked No. 1 in the past five years, including consecutive placements in 2020 and 2021. 
Over the Fulbright Program's history, 543 Hoyas have participated to help foster connections between countries and address global challenges.
The undergraduates, graduates and recent alumni awardees for the 2022-2023 academic year represent the Walsh School of Foreign Service, McDonough School of Business, the College of Arts & Sciences, the former School of Nursing & Health Studies, Biomedical Graduate Education and the School of Continuing Studies. Georgetown students and alumni who accepted the grants are engaging in work and studies across six continents.
"Their contributions, and the work of our faculty and staff to support them, reflects our university community's deep commitment to global engagement," DeGioia says. "I wish to offer my most sincere congratulations to each of these 49 students and alumni and my appreciation for their dedication to our international community."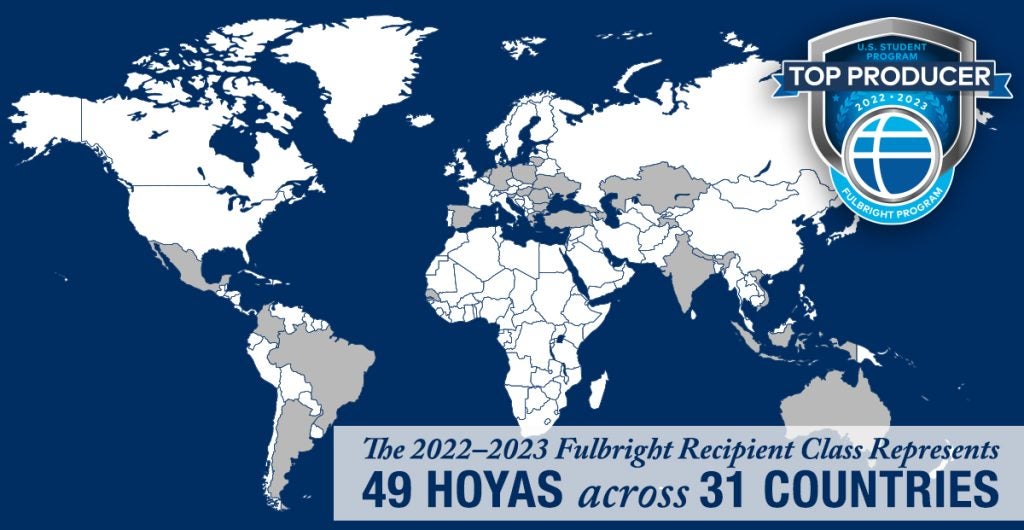 "Recognition for this achievement goes directly to our outstanding students and alumni who applied for a Fulbright on the belief that cultural exchange is fundamental to expanding mutual understanding and striving toward a more peaceful and tolerant world," says Lauren Tuckley, director of Georgetown's Center for Research and Fellowships.

Bringing Hilltop Studies to Classrooms in Poland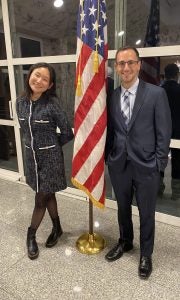 Daniel Breslow (SFS'22), one of this year's Fulbright recipients, is teaching courses in English and writing to undergraduates and adult learners at the University of Białystok in Poland. 
At Georgetown, Breslow majored in Eurasian, Russian and East European Studies (ERES), an immersive, cross-discipline experience that prepared him well for his current classroom, he said. 
"The quality of my ERES background has been proven time and time again in my classroom," he says. "The Fulbright has given me the opportunity to learn from the people and in the places that I studied for four years in the classroom."
During his Fulbright, Breslow has connected with historians, artists and fellow Fulbright scholars in Poland. He was also recently selected to participate in a conference in March organized by the Fulbright Commission in Brussels to learn more about the structure and functions of NATO with three other Georgetown alumni. His Fulbright experience, Breslow said, has informed his interest in pursuing an advanced degree in history or political science, focusing on Central and Eastern Europe.
"Halfway through this experience, I can already say confidently that I have grown more personally and professionally in this five-month period than in any other, and will carry the 'Fulbrighter' designation proudly as a future alumnus of the program," he said. "The senses of self-reliance and self-confidence I have developed are invaluable."