Albright passed away from cancer at age 84, her family shared in a statement.
"We honor the life of Madeleine Albright — a leader who served not only our nation, but our world," says Georgetown President John J. DeGioia. "Since she first joined our faculty in 1982, we have been honored by her leadership in our University community. She has inspired generations of students to pursue careers in public service and diplomacy. We remember her as a distinguished public servant, a groundbreaking leader, a devoted professor, and a seasoned diplomat who has demonstrated her visionary leadership on complex international issues. We express our most sincere condolences to her family and loved ones."
Albright, a diplomat, author, business leader and human rights champion, received the Presidential Medal of Freedom, the nation's highest civilian honor, from President Barack Obama in 2012. At Georgetown, she served as the Michael and Virginia Mortara Endowed Distinguished Professor in the Practice of Diplomacy at the School of Foreign Service – and was a frequent winner of the school's outstanding professor award. Since 1982, Albright, who rarely missed a class despite her global commitments, has inspired more than 2,000 students in human rights advocacy and diplomacy.  
"For nearly 40 years, Madeleine Albright inspired Georgetown School of Foreign Service students not only to understand the world, but to serve the world," says Joel Hellman, dean of the Walsh School of Foreign Service. "For all her accomplishments, she always said that first and foremost she was a professor. We deeply mourn her loss."
A Trailblazing Legacy
Albright leaves behind a trailblazing legacy at Georgetown and in foreign affairs. She served as a member of President Jimmy Carter's National Security Council and White House staff, as the president of the Center for National Policy, and as the U.S. ambassador to the United Nations from 1993 to 1997. 
In 1997, Albright was appointed by President Bill Clinton as the first female Secretary of State and became, at that time, the highest-ranking woman in the history of the U.S. government. As Secretary of State, Albright reinforced the U.S.'s alliances, advocated for democracy and human rights and promoted American trade, business, labor and environmental standards abroad. 
"She leaves an enormous legacy as a longtime champion of our role in promoting a free, just, and equitable society," Dan Porterfield (C'83), president of the Aspen Institute, wrote in a statement about Albright, who served as a lifetime trustee there. "All of us who had the good fortune and grace to know Sec. Albright, or to be in her presence, understood her to be a warm, caring, and people-centered human being as well as a deeply principled and towering public servant."
Albright spoke Czech, French, Polish, Serbo-Croatian and Russian. She was also a seven-time New York Times bestselling author. Her most recent book, Hell and Other Destinations, which she presented in a virtual discussion hosted by Georgetown, was published in April 2020.
At the time of her passing, Albright was the Chair of Albright Stonebridge Group, an investment advisory firm focused on emerging markets. She also chaired the National Democratic Institute, served as the president of the Harry S. Truman Scholarship Foundation, and was an honorary co-chair of the World Refugee Council. In 2021, she was appointed chair of the Defense Policy Board, a group tasked with providing the Secretary of Defense with independent, informed advice and opinion concerning matters of defense policy.
A 40-Year Legacy at Georgetown
Albright has been sharing her expertise with students since she first joined the Georgetown faculty in 1982.
Every year, she taught "America's National Security Tool Box" – a rite of passage for generations of students – which investigated the tools available to today's foreign policy practitioners, and hosted a weekly lunch with small groups of students. Toward the end of the semester, her students put their knowledge to the test in an all-day simulation where they developed a U.S. response to a foreign policy crisis.
"Her deep knowledge of the underlying forces that shape international affairs remained relevant until the very last days of her life and she raised her voice only weeks ago to warn of the tragedy now before us in this brutal war on the European continent," says Hellman. "More than any other faculty member in our 100-year history, Madeleine Albright left her deep mark on the shape of our school. She lived the values we seek to instill. We are forever indebted to her, and we will miss her deeply."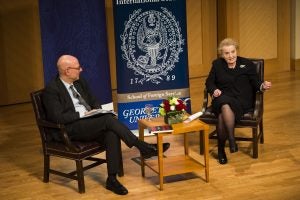 In a former article, alumna Aislinn McNiece (SFS'18) said that Albright cared "deeply about her students' academic, professional and personal growth." When the class did a simulation of an international crisis, she said Albright spent an entire weekend with students guiding them through the hands-on experience.
Another alumna, Camille Bismonte (C'21), has been working at Albright's strategic advisory firm since graduating last year from Georgetown. Bismonte said the former U.S. Secretary of State has deeply influenced her career path.
"Madeleine Albright was a force of nature and paved the way for women in the foreign policy space," Bismonte says. "She always made time to connect with individuals like me at our firm, regardless of our positions. When I had a one-on-one with her, I asked her what advice she would give me as I was fresh out of college, and she told me her famous quote that 'there's a special place in hell for women who don't support other women.' We should be so lucky to have even a fraction of the life she's lived. I wouldn't be where I am today if not for her leading the way."
Albright, a long-time champion of women's rights, said at a 2020 SFS event that she was optimistic about the future of the U.S. and the world because of the SFS students she teaches. 
"We are depending on the next generation," Albright said. "I think they are an extraordinary group of young people who are living in a very different world than they were expecting to and they are showing flexibility, curiosity and, I think, a sense of community service."