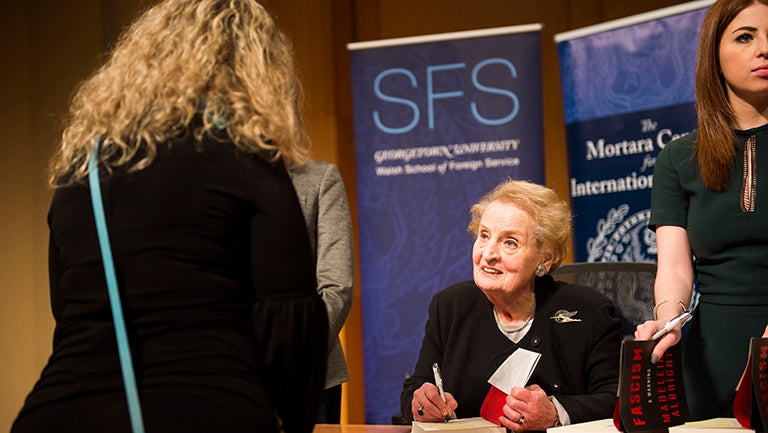 Category:

University News
Title:

Madeleine Albright: Georgetown's Treasured Professor Active as Ever
Date Published:
May 1, 2018
"I was in Madeleine Albright's class," is the single most common response given when School of Foreign Service alumni around the world are asked what they remember most about SFS.
Albright, the former U.S. Secretary of State, has been sharing her expertise with students since she first joined the Georgetown faculty in 1982.
She is now the Michael and Virginia Mortara Endowed Distinguished Professor in the Practice of Diplomacy at the School of Foreign Service.
Recently called a "feminist icon," by the Washington Post, she continues to offer her extremely popular American National Security Tool Box course and hosts a weekly lunch with small groups of students.
'Professorial Brilliance'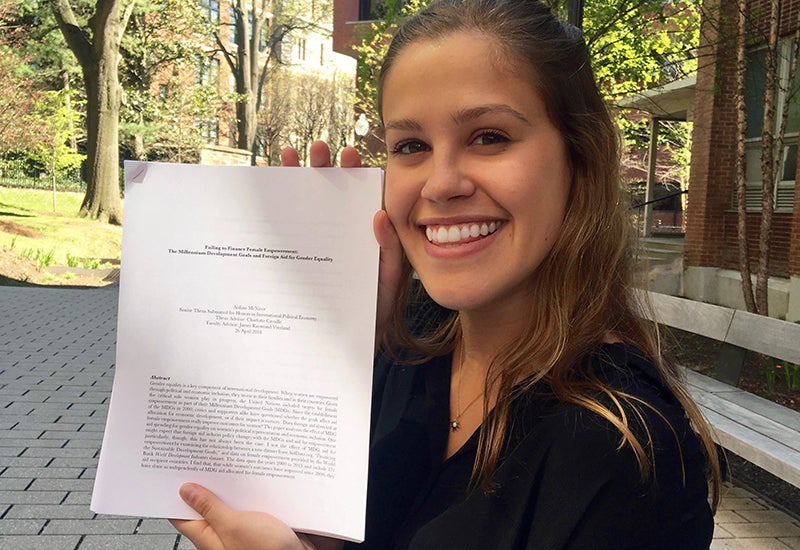 "Professor Albright was one of the reasons I initially came to Georgetown, and I was absolutely thrilled when I got off the waitlist for her national security toolbox course," said Aislinn McNiece (SFS'18), an international political economy major from Lafayette, California. "Taking a class with Professor Albright is a true Georgetown experience – she combines diplomatic experience with professorial brilliance."
McNiece said each of her class meetings covers a different element of the "toolbox" – from intelligence and use of force to sanctions and humanitarian aid.
The first female Secretary of State from 1997 to 2001, Albright served as the U.S. Permanent Representative to the United Nations from 1993 to 1997.
She earlier served as a member of President Jimmy Carter's National Security Council and White House staff.
'Layers of Depth'
Albright, the Michael and Virginia Mortara Endowed Distinguished Professor in the Practice of Diplomacy, is chair of the Albright Stonebridge Group, a global strategy firm, and Albright Capital Management LLC, an investment advisory firm focused on emerging markets.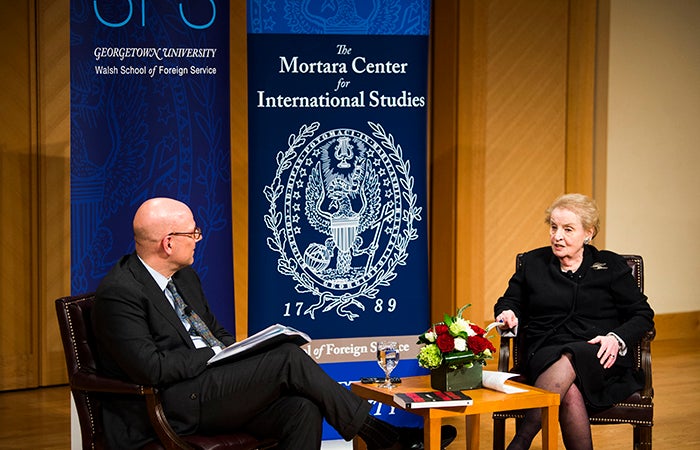 At a recent event, she signed her sixth book, Fascism: A Warning, for students and other Georgetown community members.
She also serves as chair of the board of directors at the National Democratic Initiative (NDI), and participates in the initiative's #NotTheCost, which focuses on stopping violence against women in politics.
"Professor Albright has stories, from her time at the U.N. and the State Department, about the use of these tools in action – especially focusing on the interaction of the tools with each other, with other political personalities and with domestic and international bureaucracies," McNiece explains. "Her stories about international players and events add layers of depth to the course that would be inaccessible to most professors without her caliber of experience."
Albright received the Presidential Medal of Freedom from President Barack Obama in 2012 and is the 2018 recipient of the J. Raymond "Jit" Trainor Award for Excellence in the Conduct of Diplomacy from SFS' Institute for the Study of Diplomacy (ISD).
"Secretary Albright's career of global service, extraordinary scholarship, extraordinary teaching … [and] her excellence in the conduct of diplomacy and service, exemplify the core values of ISD and the work of Jit Trainor," Hellman said when the award was presented this past February.
Optimist Who Worries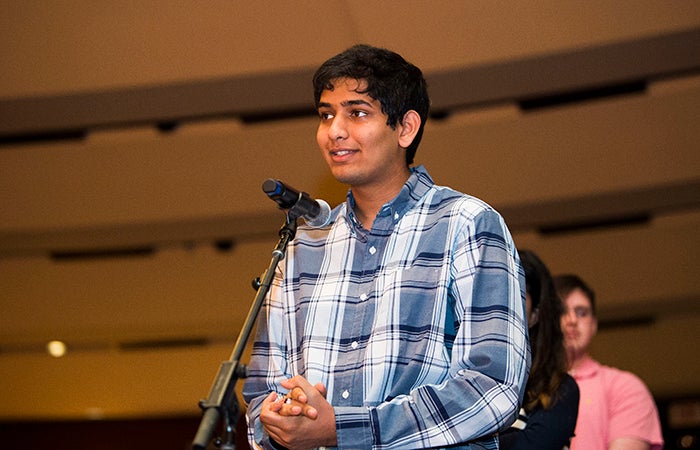 At Georgetown, the former Secretary of State also participates in numerous panel discussions and workshops in addition to conversations about her books, including her sixth, Facism: A Warning (HarperCollins, 2018).
The book looks back at fascism in the 20th century, how that legacy shapes the world today and current fascist threats. Samuel Denney, a second-year, German and European Studies master's student, asked Albright at a recent Georgetown event if she thinks the mistakes of the past can be averted.
"I'm often asked if I'm an optimist or pessimist," said Albright, in conversation with Hellman at the event. "I'm an optimist who worries a lot."
Warning About Fascism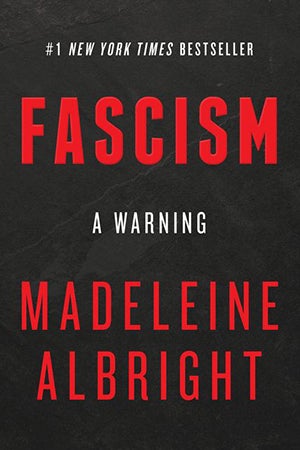 She said she worries people aren't paying enough attention to the "feathers being plucked," referencing a quote by Italian dictator Benito Mussolini about chickens not noticing if they are being plucked one feather at a time.
"The reason I took an historical approach to [my book] is that this isn't brand new," she said. "It's just different for America. So I think we can learn from the historical aspects…" She said some individuals in this country are leaning toward fascism and manipulating democratic institutions "in a way that they are going to undermine democracy …"
Albright also said she was concerned that America wasn't pointing out world leaders' human rights violations the way it has in the past.
Public Servant, Author
Albright's five other books , all New York Times bestsellers, are Madam Secretary: A Memoir (2003); The Mighty and the Almighty: Reflections on America, God, and World Affairs (2006); Memo to the President: How We Can Restore America's Reputation and Leadership (2008); Read My Pins: Stories from a Diplomat's Jewel Box (2009); and Prague Winter: A Personal Story of Remembrance and War, 1937-1948 (2012).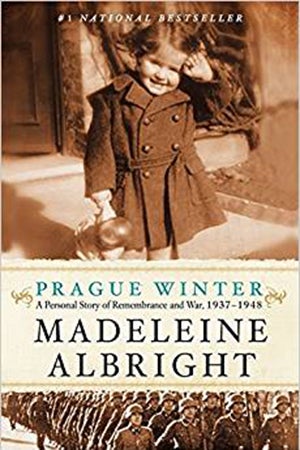 McNiece said that Albright "cares deeply about her students' academic, professional and personal growth." When the class did a simulation of an international crisis, she said Albright spent an entire weekend with students guiding them through the hands-on experience.
Candid, Insightful
"She is candid, insightful, interested in our own experiences, and at times irreverent – like many of the best Georgetown professors, but with the added bonus of having the Secretary of State title attached to her name," McNiece added.
The senior was able to talk about her senior thesis with Albright during one of the class brown bag lunches.
McNiece is researching the effect of the United Nations Development Program foreign aid on female political and economic empowerment.
"We discussed the interaction of these topics, and she gave me some much-appreciated advice on moving forward with my thesis research," explained McNiece, who will work for L.E.K. Consulting in Boston after graduation.
Mutual Admiration
The compliments go both ways.
"I think what's so remarkable about our students, just generally, is many of them have traveled abroad a lot, and don't have that fear of foreigners," Albright noted at the book talk event. "[They] understand that we are really all the recipients of a lot of knowledge as the result of a mixing of different things."