The memorandum represents a pledge by the leaders of Georgetown and the Southern University System to collaborate on activities that could include joint research and curriculum projects, the exchange of faculty and research scholars, faculty training and development, and grants and student pipeline programs.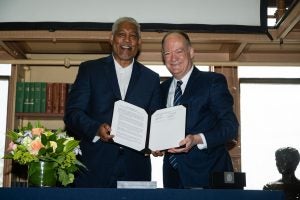 "Southern University has been a terrific partner," says John J. DeGioia, president of Georgetown University. "Over the last few years we have had ongoing conversations with several colleagues at Southern, including John Pierre at the Law Center, Debra Tilson in the International Programs Office and Al Harrell at the Southern Foundation. We are very excited to identify areas of mutual interest and to work as partners as Southern continues its 142-year tradition of excellence."
The Southern University System offers undergraduate, graduate and professional degrees to more than 12,000 students across five campuses in Baton Rouge, New Orleans and Shreveport, Louisiana. 
"This partnership with Georgetown offers yet another avenue of success for our students and faculty," said Ray L. Belton, president of the Southern University System. "With the brain trust comprised of these top institutions of academics and research, the possibilities are limitless."
The two partners signed the memorandum during the Southern University System Foundation's (SUSF) board of trustees retreat on April 22, which was hosted at Georgetown. The retreat, attended by Georgetown and SUSF leaders, included remarks and presentations from U.S. Rep. Troy Carter, who represents Louisiana's second congressional district, and U.S. government leaders in education, policy, transportation and agriculture.
"The programming that is currently underway between Georgetown University and Southern University has made a sizable impact throughout our university communities," says Al Harrell, CEO of SUSF. "We look forward to exploring new lines of research and connecting our students, faculty and constituents to meaningful programs."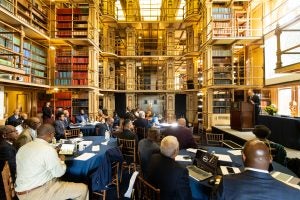 Most recently, Georgetown and SUSF partnered to provide resources to communities in Louisiana impacted by Hurricane Ida. 
In the past, they have partnered on racial justice initiatives. Beginning in 2018, Southern University served as the host location for the series of dialogue sessions with Jesuits, Georgetown leaders and members of the Descendent community whose ancestors were enslaved and sold by the Maryland Province of Jesuits in 1838, some proceeds of which supported Georgetown University. John Sebastian Jones, a member of the Descendent community, co-founded Southern University and was tasked with finding land for its campus.
The dialogue sessions, which sought to explore sustainable actions and partnerships, led to the creation of the Descendents Truth & Reconciliation Foundation, a charitable organization that focuses on racial healing and educational advancement for Descendants. Georgetown and Southern University both serve on the foundation's board of trustees.
Joe Ferrara, Georgetown's vice president and chief of staff, has traveled to Southern University over the last several years and helped develop the partnership. 
"We look forward to continuing and expanding our partnership with Southern University in the months and years ahead," Ferrara says.