Supporting Foundation Efforts
Georgetown provided $1 million in funding over the past year to support the planning and technical work necessary to formally establish the foundation.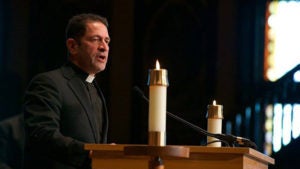 "To meaningfully contribute to repair and to justice, we had to agree, broadly, with Descendants on a path forward," says Ferrara. "Georgetown could not just set a path on its own, and neither could the Jesuits. We needed a process that would enable Descendants to collectively express their voices and lead us together in partnership."
In addition to the work to support the foundation, Georgetown also has committed to contributing $400,000 a year – based on the amount proposed by a student referendum in 2019 – for a reconciliation fund to support work to benefit the Descendant community.
In early 2018, leaders from the Descendant community, the Jesuits and Georgetown approached the W.K. Kellogg Foundation, which brought expertise from its Truth, Racial Healing and Transformation initiative, to support the dialogue process.
Ferrara sits on the board of the new foundation with Joseph Stewart, a leader of the GU272 Foundation Committee, and Rev. Timothy Kesicki, S.J., president of the Jesuit Conference of Canada and the United States. The three leaders worked together with the Kellogg Foundation for assistance in developing an inclusive process on behalf of their respective institutions. Four additional Descendants sit on the Foundation board.
Representatives from each institution began to meet in March 2018 to explore sustainable actions and partnerships. Rosemary Kilkenny, chief diversity officer and vice president of institutional diversity and equity; Adanna J. Johnson, associate vice president for student equity and inclusion; and Rev. David Collins, S.J., associate professor and director of doctoral studies for history, were also among the Georgetown representatives who took part in early dialogue sessions.
Better Collaboration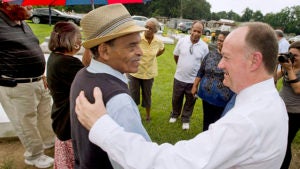 This important milestone is a catalyst for further opportunities to pursue the work of reconciliation. Engagement with the Descendant community began in 2016.
DeGioia and Ferrara made a trip to Louisiana to engage with Descendants in June of 2016 after traveling to Spokane, Washington, to meet Patricia Bayonne Johnson – whose great-great grandparents, Nace and Biby Butler, were among the 272 individuals sold.
A few months later, in September 2016, Georgetown presented the internal report and recommendations of its Working Group on Slavery, Memory, and Reconciliation. It was during this event that Georgetown committed to offering a formal apology for its role in enslavement and additional steps to continue its work on repair.
President DeGioia also announced that Descendants would start receiving the same additional care and consideration during the admission process to Georgetown that is provided to children of alumni, faculty and staff.
The vision for the foundation was also put forth by Descendants during the September 2016 Gaston Hall event, which started an ongoing dialogue process between the university and Descendants.
In 2017, Georgetown welcomed members of the Descendant community to campus for a  Liturgy of Remembrance, Contrition, and Hope and a renaming dedication for two campus buildings – Isaac Hawkins Hall, named for the 272 ancestor, and Anne Marie Becraft Hall, named for a free woman of color who established a nearby school for Black girls in the early 19th century.
During the liturgy, Georgetown and the Society of Jesus apologized for their roles in the 1838 sale of more than 270 enslaved individuals for the university's benefit.
Outreach and Preserving History
Since 2016, Georgetown has recognized DC Emancipation Day and reflected on slavery and its impact with transcription events that have contributed to the narratives found in the Georgetown Slavery Archive. Through the archive, the university has provided outreach and education opportunities to the public and descendants through events, lectures and panel presentations.
There have also been a number of panel discussions focused in the legacies of slavery in addition to honoring the life of Anne Marie Becraft.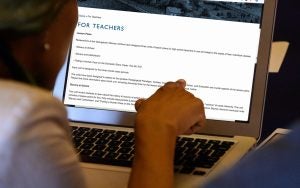 Last year, the university helped restore Holy Rood Cemetery, which includes a number of marked burial sites for free Black people, including family members of Anne Marie Becraft, and unmarked graves of enslaved African Americans.
Georgetown also has ensured that members of the Descendant community receive the same care and consideration in the admissions process as the children of faculty, staff and alumni.
Ferrara says the university is committed to collaborating with the foundation as well as students and other members of the community on memorialization and education initiatives.
"We are working to ensure that steps taken by the university are conducted in partnership with the Descendant community and the Society of Jesus," Ferrara says. "This dialogue will guide our long-term work together and our future work on memorialization as well as new ideas emanating from collaboration with Descendants."