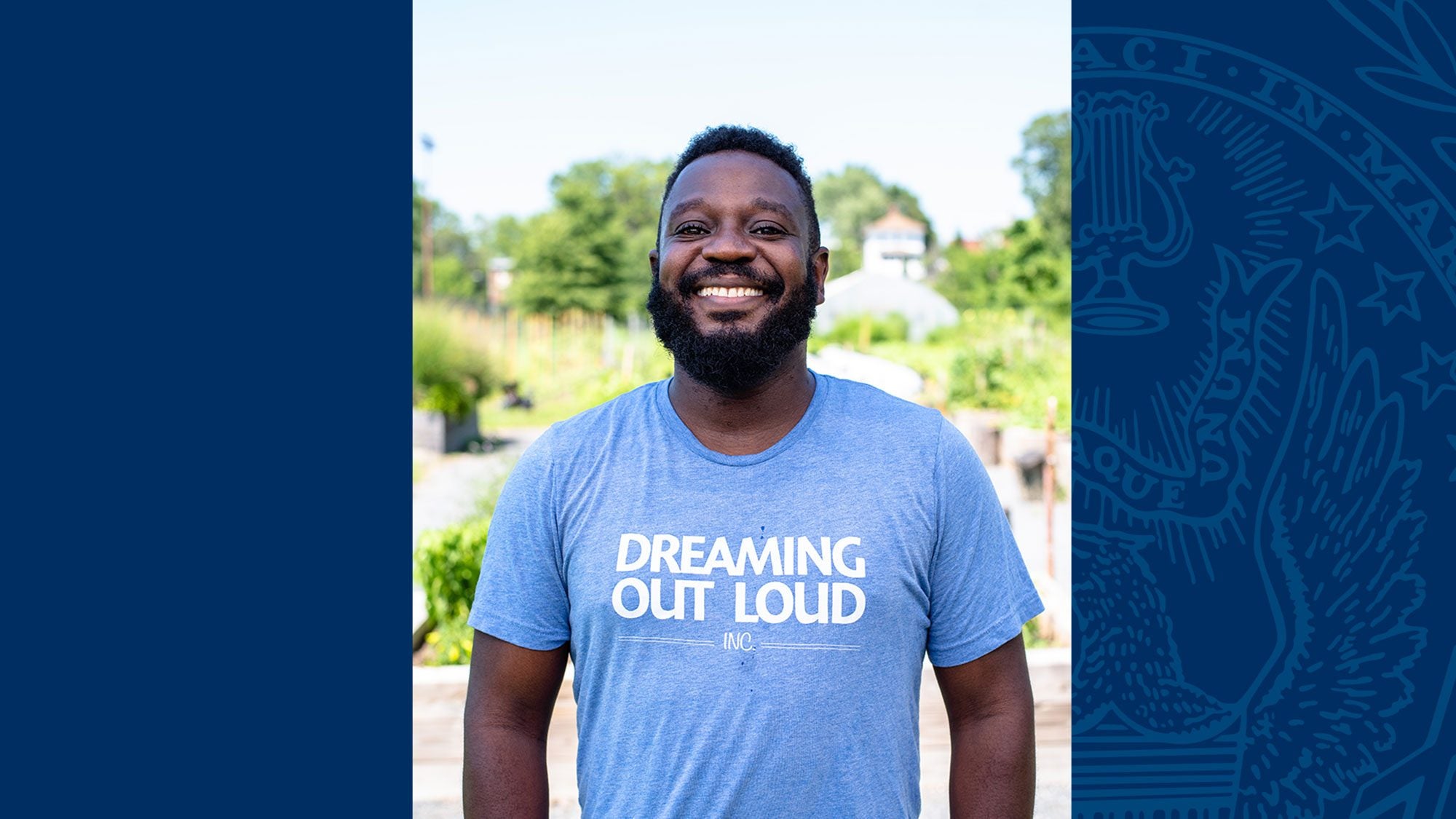 Category:

University News
Title:

Georgetown Awards DC Leader for Making Food Equity More Than a Dream
Date Published:
January 19, 2021
Georgetown honored Christopher Bradshaw, founder and executive director of Dreaming Out Loud – a food justice social enterprise, as Georgetown's 2021 John Thompson Jr. Legacy of a Dream Award recipient Jan. 18 during a virtual celebration on Martin Luther King Jr. Day.
The university presents the Legacy of a Dream Award annually to an inspirational emerging leader in the DC community.
Responding to the Challenge
Dreaming Out Loud runs a two-acre farm and supports community gardens in Wards 6, 7 and 8 to feed low-income communities in Washington, DC. The food equity nonprofit creates economic opportunities through an entrepreneurship incubator while also advocating for food justice and equity policies leading to the development of healthy, equitable food systems.
"On behalf of our entire university community, it's a privilege to recognize Christopher Bradshaw and the depth of his commitment and leadership here in our Washington, DC community," says Georgetown President John J. DeGioia. "His service and dedication to advancing justice – responding to the challenge of food insecurity in our city – has made a meaningful impact on the lives of so many individuals and families, and represents an extraordinary example of the spirit we honor in our John Thompson Jr. Legacy of a Dream Award."
Farming and Community
Bradshaw believes food, farming and social justice were destined to be a part of his life.
He grew up in Morristown, Tennessee, a small town in the Appalachian Mountains where farming was a part of the community landscape.
"Farming and food is nothing new to me. Across the street from my grandmother's house, my Uncle Walt would hobby farm on about an acre of land," Bradshaw recalls. "Folks from the community would drive by and honk their horns to stop by and say hello to my uncle, and he'd just give people produce."
He often joined his uncle on the acre of land, piling up squash mounds and running through the farm space as a child.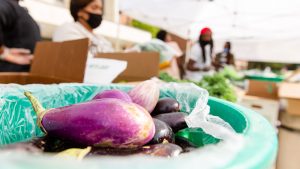 The Power of Organizing
Bradshaw's family eventually moved to Nashville once he hit third grade. It was there he realized the power of organizing for change when his new school deemed the game of tag as dangerous and banned it from the playground.
"In class, we had been learning about the civil rights movement, and we ended up organizing a boycott on the playground," he explains. "It forced the teachers to lift the tag ban."
Bradshaw also attributes that spirit of social justice to his mother, who had worked at the Highland Research and Education Center that trained civil rights protesters and social justice activists during the 1960s and onward.
"The teachers thought our parents would be upset with us for the playground boycott, but they were proud because we organized," he adds.
DC became Bradshaw's home when he left Nashville to attend Howard University, and he established Dreaming Out Loud in 2008.
Creating Economic Opportunity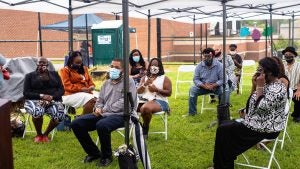 In addition to the two-acre farm at Kelly Miller Middle School and community gardens, Dreaming Out Loud also houses an entrepreneurial incubator, the DREAM Program – DOL's Ready for Entrepreneurship Accelerator Model. The initiative is a 16-week boot camp for Black-owned start-up food businesses.
"Our mission is to create economic opportunity within marginalized communities, by getting to the root of what hampers a healthy, equitable food system," Bradshaw explains. "What that ends up looking like is a vertically integrated farm. If you go through a food entrepreneurship program and then you, an underresourced foodmaker, don't have the money needed to start your business because of the racial wealth gap, you don't have an opportunity for success. It's a must to layer in all the intersectional pieces."
DREAM Program mentor Pinky Reddick and Bradshaw joined forces to organize the Community Kitchen Cooperative, a cooperatively operated, commissary kitchen space supporting caterers and foodmakers of color from and within historically disinvested communities.
"I appreciate Chris for constantly working with me as a small, Black-woman-owned local business," says Reddick, owner and founder of Pinke's E.A.T.S. "He is constantly sending business opportunities my way to help me sustain especially during the hardest times of COVID-19.  I am forever grateful for his organization and our partnerships in the food lane within the District."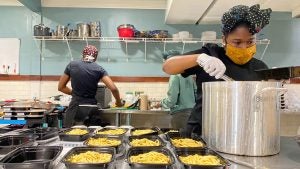 The Pandemic Shift
The COVID-19 pandemic has forced the nonprofit to shift focus.
Prior to the COVID-19 pandemic, District residents experienced limited or no access to food at an estimated rate of 10.6%, but the rate has risen to at least 16 percent this year, according to a report released this fall by the city's Office of Planning. The rate is projected to be even higher among the city's vulnerable populations – the elderly, children, undocumented individuals and people experiencing homelessness.
Dreaming Out Loud partnered last month with the World Central Kitchen and DC Central Kitchen to serve emergency meals to address a series of food access gaps facing residents of DC.
Through the partnership, a mobile feeding initiative will bring nutritious meals and fresh, local produce directly to children, families and seniors to 14 high-need locations in the city through March.
Dreaming Out Loud recruited four food entrepreneurs from DC's underserved neighborhoods to prepare meals as part of this effort – supporting their businesses while reinvesting these resources in their own communities.
Additionally, the nonprofit launched its Black Farm CSA (Community Supported Agriculture) subscription on June 19 – Juneteenth – with delivery available for DC Wards 7 and 8.
"We launched this summer, and we were distributing something like 1,100 shares per week. It actually got up to 1,300 shares at one point – proving that there is a need and desire for fresh produce in the city's low-income areas," he says.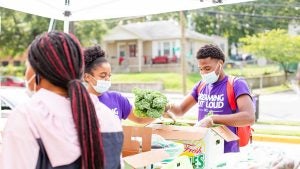 Supporting a Commitment to the City
The Legacy of a Dream Award, part of Georgetown's commitment to helping solve key issues in the city, provides a year of sustained partnership and broader recognition for the organization.
Yuki Kato, assistant professor of sociology and food justice fellow in the Center for Social Justice Research, Teaching and Service, teaches an Environmental and Food Justice Movements course, in which Bradshaw was a guest speaker in 2017.
The Dreaming Out Loud founder took the class on a community garden and neighborhood tour in Southwest DC. Some of Kato's students have even volunteered at the nonprofit's Kelly Miller Urban Farm site.
"He has successfully expanded Dreaming Out Loud into one of the most notable and impactful environmental and food justice advocacy organizations," Kato says. "The way he has led the organization into addressing various issues such as food security and environmental sustainability exemplifies how we think of them from an environmental and food justice scholarship standpoint."
Affecting Food Policy
Bradshaw says just as providing food to communities is key, so is affecting policy to improve the food system.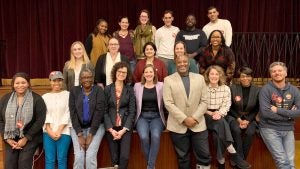 His work on the Food Policy Council's Urban Agriculture Working Group, of which he has served as co-chair since 2016, has led to the creation of a DC Office of Urban Agriculture, an Urban Agriculture Infrastructure Grant Program and the implementation of the DC Urban Farming and Food Security Act.
Ona Balkus, food policy director in the DC Office of Planning, says the contributions Bradshaw has made to the city rest heavily on his leadership and desire to make communities more equitable.
"Chris' thought leadership has led the DC food community to think more critically about the connection between food insecurity, food access and structural racism and the racial wealth gap," Balkus says. "I'm continually inspired by his dedication and vision to addressing the racial wealth gap through the food system and the insights I've gained from our discussions have significantly impacted my own work and focus."
Next year will be the first award since the passing of its namesake, Coach John Thompson Jr. Thompson. The DC native, who died this past August, held a strong commitment to the District, racial justice.