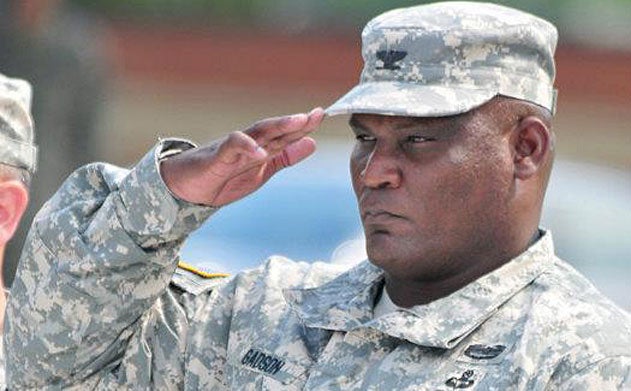 Category:

Alumni, Veteran & Military-Connected Community
Title:

First Double Amputee Army Commander Acts in Battleship Movie
Date Published:
July 23, 2012
The Army's first double amputee to serve as commander of a garrison, a Georgetown graduate, stars in a summer action film.
Col. Gregory Gadson (G'09) is not only the Army's first double amputee to take over as commander of a major installation, he's also one of the actors in Battleship– a recent aliens-are-coming-to-destroy-the-earth movie.
Gadson, who received his master's degree in policy management from the Georgetown Public Policy Institute (GPPI), has faced his own serious battles.
The soldier was serving in Iraq in 2007 when an improvised explosive device hit his vehicle. He lost both legs above the knee and severely injured his arm.
SPIRIT OF SERVICE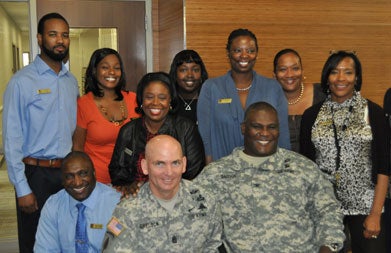 A West Point graduate and football player who has been an honorary co-captain of the New York Giants, he easily could have taken a medical retirement.
Instead he got fitted with the latest prosthetics and chose to stay on active duty. In late June, he assumed command of Fort Belvoir, Va., a 100-year-old garrison of 47,000.
"I like to say I have a spirit of service in my heart," he says when asked what motivates him. "I like being part of a team."
He was thrilled the moment he became garrison commander.
AMAZING JOURNEY
"It's incredibly humbling," he says, "from being wounded and not knowing which way is up and wondering whether or not I could continue to the stay in the Army to taking command is just … it's been an amazing journey."
He became part of the Joint Chiefs of Staff Internship program at Georgetown in 2008, only a year after his injury.
The program is a partnership between the Army and GPPI that brings in about 30 active duty officers to campus to earn their degrees and then work at the Pentagon for two years.
After graduating from the program, Gadson served as director of the U.S. Army Wounded Warrior Program.
BATTLES AND BATTLESHIP
"He was able to reassure personally those newly wounded who are looking down a long road to recovery and to motivate soldiers and civilians alike," said Lt. Gen. Michael Ferriter, according to a June 26 Army News Service article on the change of command ceremony. "So today we know Greg brings his relentless positive attitude, his compassion, drive and commitment to serve every day."
Gadson may also be motivating injured soldiers by playing one in Battleship, which includes actors Rihanna and Liam Neesom.
In the movie, released in the United States in May, the colonel plays a wounded Army vet named Mick who helps save the world from the aliens.
In one scene, Mick and Samantha, played by Brooklyn Decker, get stuck in a vehicle when an alien is fast approaching them.
ATTACKING ALIENS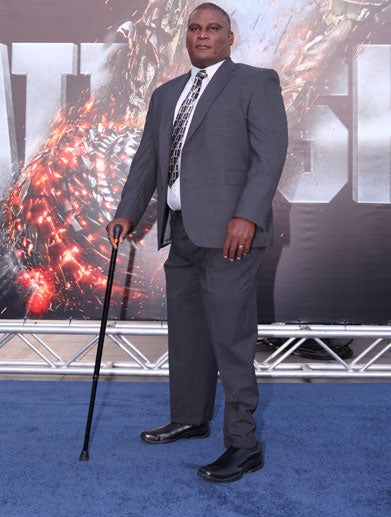 "I got this," Mick tells Samantha. He steps out of the Jeep on his prosthetic legs and bulrushes an oversized cyborg alien, then beats the circuits out of him.
Peter Berg, the movie's director, cast Gadson in the movie after seeing a photo of him in aNational Geographicarticle. Berg also knew about the soldier from his time in the 1980s with the New York Giants.
"He literally one day called me at home and told me about the project, asked me if I was willing to be a part of it," Gadson explains.
He didn't hesitate to say yes.
Without a hint of irony, Gadson calls being in the movie "a significant challenge."
"Acting is certainly not easy, at least it wasn't for me," he says.
HUGE STRIDES
Gadson is eager to show what wounded soldiers can do, in and outside of Hollywood.
"What's been really profound is how our services and legislation have really adjusted [to the needs of injured servicemen and women]," he says. "There have been huge strides made in policy."
He notes that Veteran's Affairs and the Department of Defense now have programs that provide help in terms of compensation, respite and other services for caregivers of injured soldiers.
"People feel for the wounded solider," Gadson says, "but I think there's a lack of understanding and appreciation for the fact that when a solider is wounded, it's really their whole family."
PROUD AND GRATEFUL
He notes that his wife, Kim, had to stop working for three years after he was injured.
"We had to learn how to deal with my mobility challenges," says the father of two teenagers. The VA and DOD programs were not yet in place.
"Some folks are paralyzed," he adds. "They're not going to be able to take care of themselves for the rest of their lives. And we're not putting them in institutions. So a spouse or a parent may have to become a caregiver… and that's a full-time job in some cases."
Gadson says he is proud of and grateful for the way the military medical system has enabled him and other amputees to accomplish.
LIVING AND THRIVING
"We're not just surviving horrific injuries, we can actually have an expected quality of life that's unprecedented," he says. "My story is very public and the vast majority are not public but they're living and thriving like me."
When asking about his future as an actor, he says, "That's up to Hollywood."
"I want to keep my options open, not closing any doors, but I'm not willing to quit my day job either."