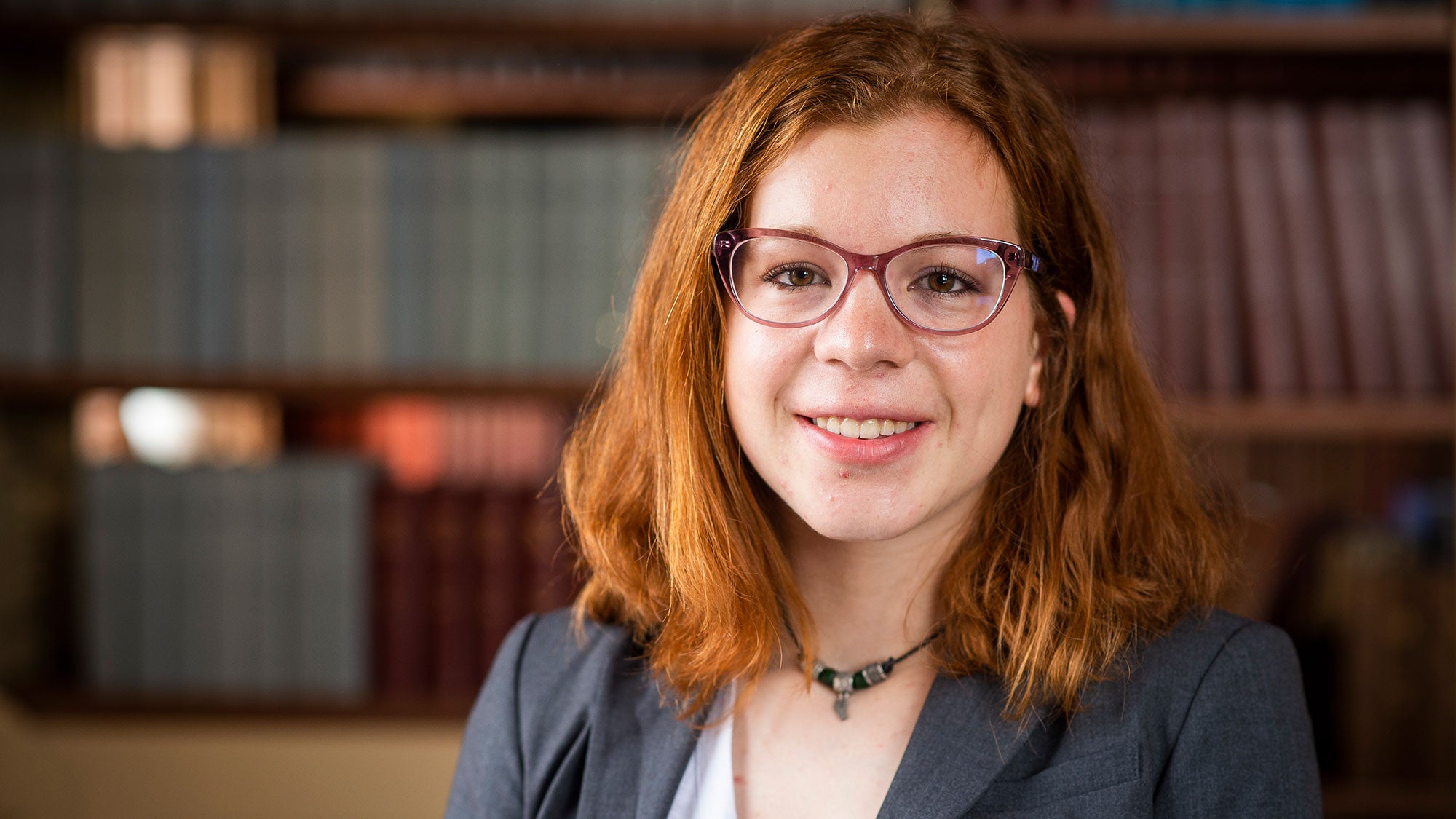 Category:

Student Experience
Title:

Dream Machine: Marshall Scholar Hopes to Use AI to Combat Climate Change
Date Published:
December 9, 2019
Sally Matson (C'20), a Georgetown senior who wants to use machine learning to combat climate change, is one of two Georgetown students named a 2020 Marshall Scholarship recipient. As one of this year's 46 scholars from across the country, she will pursue a master's degree in climate change at the University of East Anglia and a master's degree in machine learning and machine intelligence from the University of Cambridge.
Hometown: Burlington, Vermont
Major/Degrees: Mathematics and computer science

Research:  Matson's current research with mathematics professor Hans Engler aims to quantify methane emissions – a greenhouse gas emitted by industries such as oil, gas, agriculture and waste management – by using satellite data and mathematical models.
"The sources of methane emissions are so spread out that tracking emissions is infeasible with traditional ground-based sensors," Matson explains. "Yet as the climate crisis increases in severity, it is more and more important to have scalable ways to regulate methane."
A Professor's View:

"Ms. Matson is preparing to work in an extremely relevant and exciting scientific area that spans several disciplines," says Engler, who first taught the senior during her first year at Georgetown. "She has made a well-considered decision to devote her talents to mending the world. She is a future leader and her department is proud of her work."
Addressing Climate Change:
"Climate change is impacted by issues ranging from consumer habits, to economic growth, to global politics, to the safety and security of future generations," Matson says. "It's hard to expect an everyday computer scientist to understand the complexities of climate change, and yet, it is necessary if we want to truly use our skills to help."
Why Georgetown?: Matson chose Georgetown because of the excitement she saw in students involved in campus clubs and organizations.
"They really devoted themselves," she recalls from a visit during a GAAP Weekend.  "That was exactly what I wanted –  a school where my learning extended beyond class and a community where people were passionate about the things that they were doing."
Campus and community activities: Involved in many activities on campus, the senior was a founding member of the Women in Tech Living and Learning Community and serves as the director of the IT department for student-run The Corp. She also plays clarinet for the Georgetown Pep Band.
Lab Research: Matson has taken advantage of the numerous research opportunities available to her over her academic career. She's also worked at Google on TensorFlow, one of the world's largest machine learning libraries, that is free to use and enables the work of thousands of researchers and developers across the globe.
"I advanced my skills and knowledge under some of the foremost computer scientists in the world," the Georgetown student says about her summer internship, "and I quickly gained the trust of my teammates to make critical contributions towards TensorFlow's 2.0 release."
She also spent a summer working in the Johns Hopkins Applied Physics Lab, where she researched connectomes, or graphs of the brain at the neuron and synapse level.
Career Goals: After finishing her graduate studies, Matson wants to take her skills in machine learning to DeepMind – a London based artificial intelligence company and Google subsidiary – or some place similar.
"Working at such a place would allow me to contribute skills in machine learning as an engineer, but I could also differentiate myself from others through my understanding of climate change," she says. "I could have a high impact in a setting with extremely talented computer scientists, access to an abundance of resources and a demonstrated desire to fight climate change."
Matson sayays she might also consider continuing at Cambridge at for a Ph.D. in Artificial Intelligence for the Study of Environmental Risks.
"I want to be among a new generation of leaders in the computer science field with this expertise in climate change who can direct the future of work in this domain," she says. "I feel a sense of urgency when thinking about this work that I want to do."
For more information about the Marshall Scholarship and other fellowship opportunities, please visit the Georgetown Office of Fellowships, Awards, and Resources or email gufa@georgetown.edu.