Popular and Experiential Coursework
As part of SHIP, students register for at least five academic credits and live in residence halls to allow for full immersion in campus life and connection with other classmates on the Hilltop.
"SHIP gives the participants an opportunity to fully engage university life. They will get a chance to meet faculty, administrators, and staff, who will educate, mentor, and guide them through this important time in their development," says Rohan Williamson, vice provost for education. "Importantly, they will finally meet one another and build friendships that will last a lifetime."
Students can take some of the most popular courses typically taken by first-year students and sophomores, in addition to one-credit experiential courses exclusively for SHIP students. The courses, offered under three themes – DC as Classroom, the Spirit of Georgetown and Designing Your University Experience – feature combinations of classroom work and experiences that connect students with one another, Georgetown's campus and Washington, DC.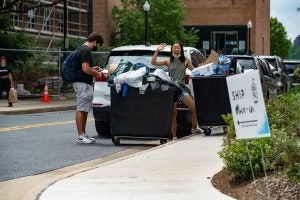 A variety of in-person, online and hybrid course options are available this summer, and many faculty are excited to safely be back in the classroom.
"Social distancing still changes energy levels in the room, but it's awesome to be in the classroom with students again," says professor Mark Giordano, who is teaching Problem of World and Life on the Anacostia River, a one-credit DC as Classroom course that includes boat trips on the river with experts in history, the environment and justice.
"I don't even have words to describe the thrill I felt to be back in the classroom in person," says Eric Langenbacher, teaching professor in the Department of Government, who is teaching the signature course Comparative Political Systems this summer. "I want them to learn in the traditional way, to benefit from the full Georgetown experience, and I want them to also have some fun, making lifelong connections and experiencing the unique Georgetown ethos as women and men for others near the very center of power in the United States."
To help ensure students could participate in SHIP regardless of their ability to pay, Georgetown extended its "need-blind, meet-full-need" admission and financial aid policy to students enrolled in the program this summer.