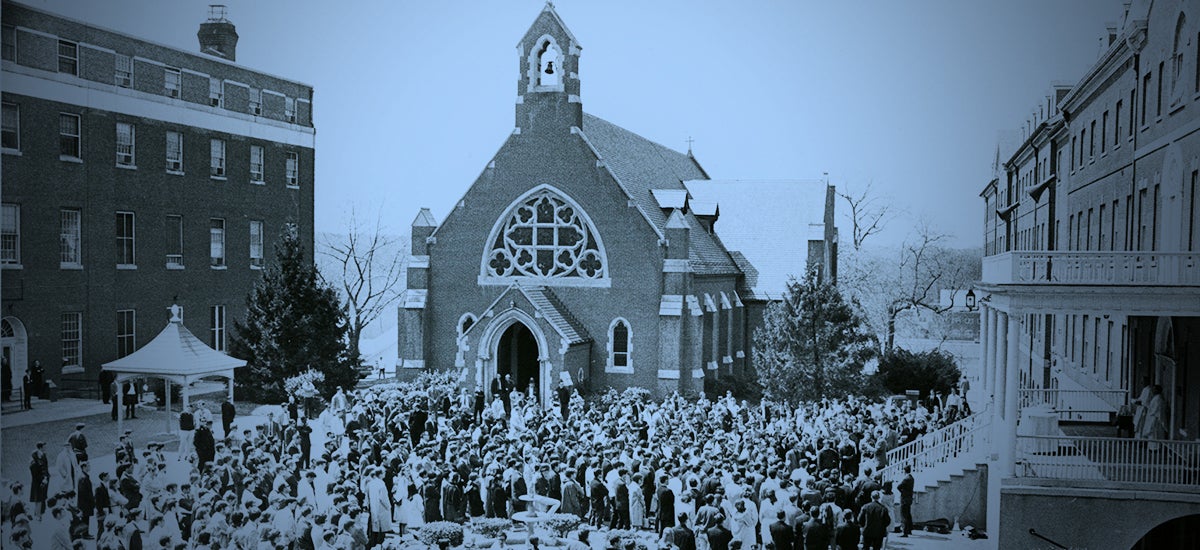 Category:

University News
Title:

Campus Service and Events Commemorate MLK's Lasting Legacy
Date Published:
April 4, 2018
The university commemorates the 50th anniversary of Rev. Martin Luther King Jr.'s death with a semester of events and an April 4 service featuring Georgetown's Distinguished Artist-in Residence, Jason Moran.
The university will present a celebration of Rev. Martin Luther King Jr.'s life tonight as part of its efforts to continue the civil rights icon's legacy after his assassination 50 years ago on April 4, 1968.
The service will feature Jason Moran, Distinguished Artist-in-Residence at Georgetown and composer for the film Selma, and Eric Williams, curator of religion at the Smithsonian's National Museum of African American History and Culture.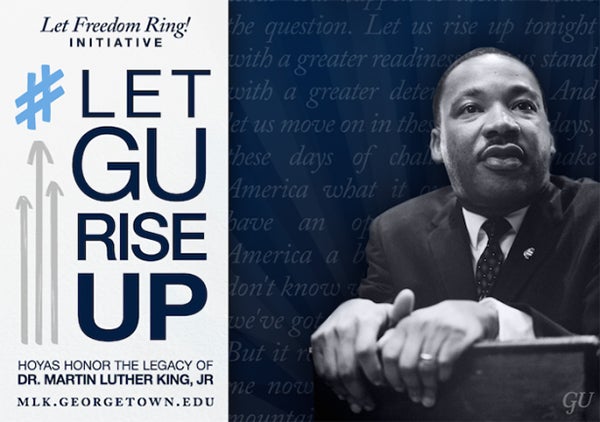 "On this 50th anniversary of Dr. King's assassination, it's not lost on me the significance that a service in honor of his life and legacy is taking place within a city that hurt so much at the news of his passing," says Lauren Smith (C'18), who will deliver a reading of MLK's last speech – "I've Been to the Mountaintop" – during the evening service.
Smith, a senior government and sociology major from Conyers, Georgia, is just one of a number of students participating in tonight's service bringing together the university community and members of the DC community.
Struggles and Progress
Yesterday, history professor Maurice Jackson and Rev. Raymond Kemp of the theology department took part in an off-campus panel discussion with DC officials and business owners. Kemp teaches The Church and the Poor as well as Struggle and Transcendence at Georgetown.
Panelists looked at the city's struggles and progress since the unrest and destruction that erupted in areas such as DC's U Street, which boasted a vibrant business community before the 1968 riots.
"If you keep stepping on people, something's going to blow, and on that day it blew high for four days," recalls Kemp, then a young priest at St. Augustine Church, which is still located in the U Street corridor.
Kemp, who also serves as a special assistant to the president and senior research fellow at Georgetown, is a DC native and heard King deliver his 1963 "I Have a Dream" speech during the March on Washington. He will deliver the invocation during this evening's service.
Lasting Impact
Jackson says news of the civil rights icon's death hit hard DC communities already struggling with unemployment, discrimination and poor living conditions.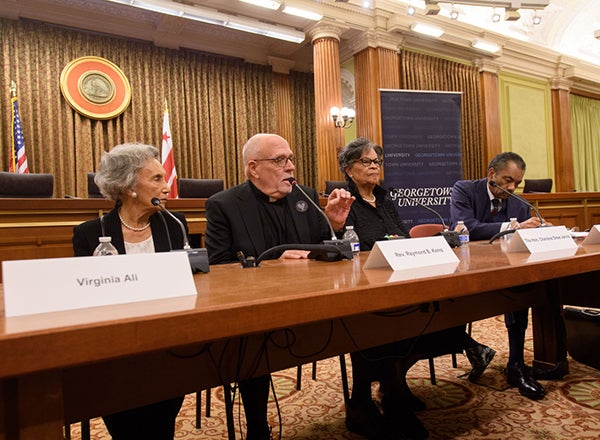 "Many people in these neighborhoods were impacted psychologically, economically and socially," says the DC history scholar and the city's first chair of the Commission on African American Affairs. "There were African Americans who wanted to open businesses as the white shopkeepers left the city, but lines of credit from the banks were not available to them because of discriminatory practices that became known as redlining."
With Georgetown alumna Lisa Rauschart (C'81), Jackson recently worked with Georgetown Day School students on an exhibit featuring photos and content about events related to King's death and the Georgetown community. Rauschart is the chair of Georgetown Day's history department.
The exhibit shows the impact of the riots on the city, members of the Georgetown community gathering for Mass outside Dahlgren Chapel the day after King's assassination and the numerous Georgetown law faculty and students who worked on the criminal cases of people arrested during the riots.
The display will be featured on the first floor of Healy Hall through April 6.
The unrest in DC also led to more lasting change at Georgetown. The university began to reflect a broader commitment to diversity that same year by establishing the Community Scholars Program (CSP), which also is marking its 50th anniverary milestone.
In its early days, Community Scholars focused outreach to students from local DC Public Schools. Over the last 50 years, the program has expanded to provide support and guidance for first-generation and low-income students from all over the country.
"This 50th anniversary commemorating MLK offers a period of not only reflection, but of rededication," Jackson says.
Jackson edited a report last year on employment, population and housing trends in DC, and commissioned another report in 2016 on health disparities in the city.
Intense Relevance
"The significance of Dr. Martin Luther King's assassination cannot be overstated," says Heidi Tseu, director of local government affairs at Georgetown. "It represents a point in history with intense contemporary relevance to every member of our greater community."
Tseu and Rev. Brandon Harris, Protestant chaplain for Georgetown Law, served as chairs for the MLK 50thanniversary commemoration committee.
This week's panel discussion and service follow a semester of events honoring King's legacy that included programming guided by King's April 3, 1968 "Mountaintop" speech.
Georgetown faculty and staff also incorporated the speech into their curricula and campus programs.
"I hope that in reflecting on Dr. King's legacy," Smith says, "that everyone present will be inspired to find ways we can all work towards making his dream a reality."