Title:

World-Renowned Jazz Pianist Who Composed Music for Selma Film to be Georgetown Distinguished Artist in Residence
Date Published:
September 14, 2017
Internationally acclaimed pianist Jason Moran, who wrote music for the film Selma and who serves as artistic director for jazz at the John F. Kennedy Center for Performing Arts, has joined Georgetown as Distinguished Artist in Residence.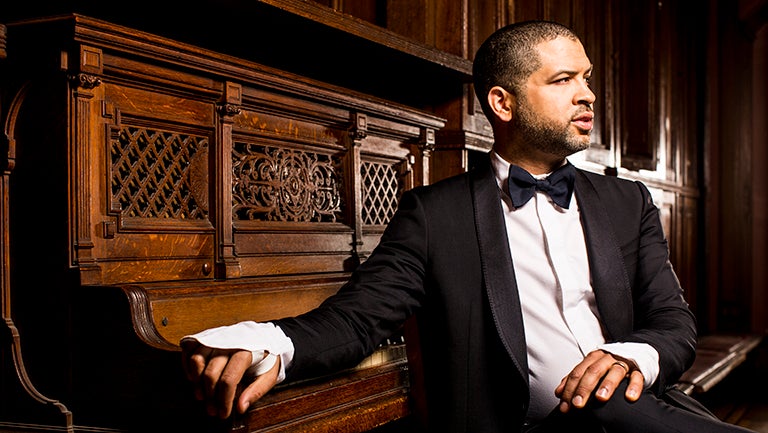 Jason Moran, the internationally acclaimed pianist who wrote music for the film Selma and who serves as artistic director for jazz at the John F. Kennedy Center for Performing Arts, has joined Georgetown as Distinguished Artist in Residence.
Moran, who won the MacArthur Foundation "Genius" award in 2010, will explore and share his interests, insights and perspectives at the university on the intersection of art, culture and society through events and collaborations.
In his new capacity, he will give lectures, conduct workshops and bring guests he has worked with in many creative forms to campus through the university'smusic program.
A graduate of the Manhattan School of Music who has taught at Yale, the New England Conservatory of Music and several other institutions, Moran also composed the music to the documentary on racism and mass incarceration, 13th.
Unveiling Layers
"I look forward to working with Georgetown students and staff to unveil the many layers that coat my process as a musician and composer," says Moran, a Houston native who now lives in New York. "Working jointly with the Kennedy Center, these sessions will hopefully allow a discourse away from the stage that will aid the students in their own studies. I'm happy to become part of the Hoya family."
The artist is known for his unusual compositions combining avant-garde jazz, classical, hip-hop and other styles and for his unique multimedia events.
"Jason Moran is one of the most innovative cultural figures in the country today," says Maurice Jackson, a Georgetown history and African American studies professor and affiliated professor of performing arts for jazz.
"He has a unique ability to look at music and see its impact on society, how music reflects and informs society, and how various forms of art – music, dance, sculpture, painting, literature and even skateboarding – can be combined to create new works of expression," he adds. "We are extremely fortunate to have him join us at Georgetown."
Multimedia Events
The author of nine albums with his jazz trio, The Bandwagon, Moran recently played original music with the trio while artist Julie Mehretu, another MacArthur Foundation "Genius" award winner, created large paintings on the walls of a decommissioned church in Harlem.
In September 2015, Moran co-curated a festival at the Kennedy Center called "Finding a Line: Skateboarding, Music and Media," in which he played with his trio and improvised and complemented skateboarders on a ramp created on the front plaza.
Cuba Skate, a nonprofit helping skateboarders obtain the equipment they need in Cuba, sponsored one of the events. Jackson's son, Miles, co-founded the nonprofit and serves as its executive director.
Talented Performer
"Jason is a talented performer, composer, and innovator who has contributed to our national discourse in significant ways," says Georgetown President John J. DeGioia. "We are deeply grateful for the opportunity to welcome him into our community as a Distinguished Artist in Residence."
The elder Jackson, a longtime jazz scholar and enthusiast whose stepfather played tenor sax and welcomed the likes of Nat King Coleand Ella Fitzgerald into his home, has known Moran for several years and played a crucial role in bringing him to Georgetown.
"Before he became artistic director for jazz at the Kennedy Center, I had seen him play at the center with Charles Lloyd and perform in New York," Jackson explains. "Over time we started talking. He wanted to know more about jazz in D.C. and I've done a lot of research in this area and gone to jazz concerts here for decades."
When DeGioia asked him to suggest the names of some leading thinkers and innovators to bring to the campus, Moran immediately came to mind.
Mutual Scholarship
Jackson wrote the liner notes to two jazz albums by Charlie Haden and Hank Jones, both of whom he brought to Georgetown twice.
The Georgetown professor also co-edited with Blair Ruble a special jazz issue in the spring 2014 Washington History, a publication of the Historical Society of Washington, D.C.
That publication is being broadened into a book titled, DC Jazz: Stories of Jazz Music in Washington, DC, which will be published in the spring of 2018 by Georgetown University Press and is dedicated to two jazz legends with deep roots in DC saxophonist Roger "Buck" Hill, 1927–2017, and pianist Geri Allen, 1957-2017. Moran contributed the introduction to the book.