Chemistry doctoral candidate Orlando Stewart (G'22), who conducts research that could one day enhance TVs, cell phones and solar cells, hopes to teach the next generation of scientists.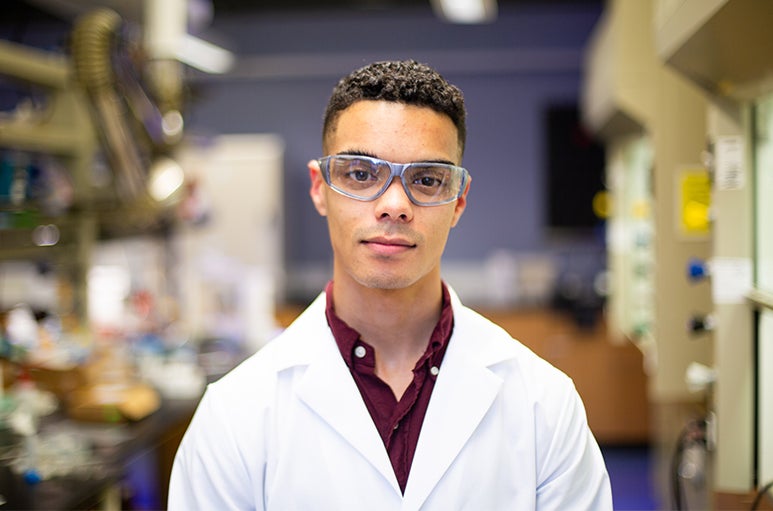 Chemistry doctoral candidate Orlando Stewart (G'22), who conducts research that could one day enhance TVs, cell phones and solar cells, is one of eight students on campus who has been awarded the Patrick Healy Graduate Fellowship. The annual fellowship, designed to recruit and retain students underrepresented in doctoral programs, is awarded to four outstanding students who want to pursue careers in academia.
Degree pursuing: Ph.D. in Chemistry (Second Year)
Undergraduate degree: University of Mary Washington, 2015
Residence: Stafford, Virginia
Research: Stewart works in chemistry professor Sarah Stoll's lab, where he examines ways to enhance the luminescent, magnetic, optical and electronic properties of materials.
"I look at how changing the functionality of certain ions or molecules attached to a metal atom affects the overall properties of the bulk product," he explains. "If we have a material with really good luminescent properties, it could end up enhancing TVs or cell phones. If it's highly magnetic, it may beused in solid-state semiconductor technologies or possibly spintronic devices such as transistors, microchips and solar cells."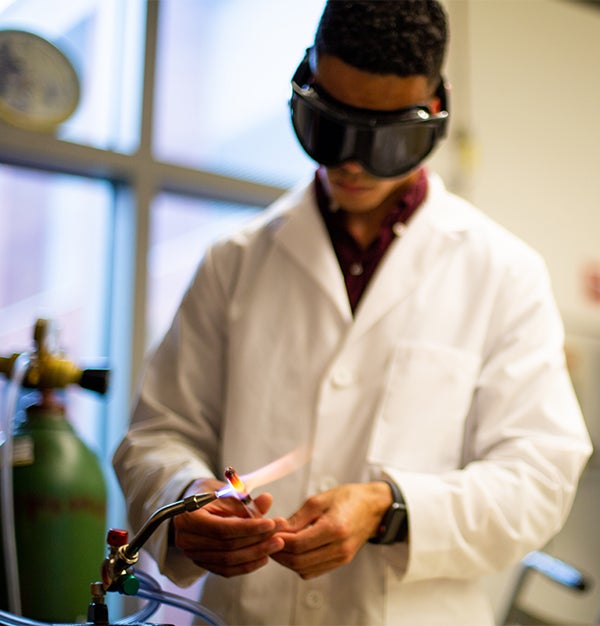 Chemistry:
"Chemistry allows you to try to understand the world around you, and it finds itself in every other discipline in some way, shape or form."
A professor's view: "Orlando is an independent, thoughtful scientist," says Stoll. "The excitement of discovery has been high, as Orlando has a talent for growing crystals and making unexpected compounds."
Why he chose Georgetown: "Mary Washington's a small liberal arts school. I knew the entire chemistry department, and there were only six of us in the department who graduated together. I wanted a similar feel for my graduate studies."
Georgetown's current faculty and the research conducted at the university played strongly among his selection criteria.
Stoll's lab, in addition to its research, focuses on community outreach through Project SEED, which helps high school students who historically lack exposure to scientific careers.
"I really liked that members of her lab go to help students in areas with very little resources to go toward teaching the sciences," Stewart says. "It's one of the reasons I chose Georgetown. You get to see the impact you can make in the lives of young people."
Campus community: "One thing the program definitely stresses is that sense of community – sticking together and making it through the grueling hours of study and research."
Stewart frequently attends Graduate Student Organization of Chemistry (GSOC) events, dinners and cookouts designed to strengthen the connection among the graduate students in his program.
"It's almost like a family away from home," he says.
Life before Georgetown: Stewart worked for a pharmaceutical company in Richmond, Virginia, after graduating from college, but quickly decided it wasn't the path he wanted to take. Teaching high school science in Stafford, he soon realized he wanted to impart his early joy of science to others.
"Growing up, I never saw a teacher that looked like me or never really saw anyone in science who looked like me. I've always wanted to be that person for a younger generation, and I believe the Patrick Healy Graduate Fellowship is trying to make that impact."