A six-hour phone call with a suicidal friend and a commitment to helping veterans and military service members motivated U.S. Army Maj. Christopher Mercado (G'16) to create mobile app technology connecting the military community to peer support, wellness and mental health resources.
Profession: Co-founder and partnership director of Objective Zero Foundation; executive officer to the Deputy Commanding General, Combined Arms Center –Training
Hometown: Sioux Falls, South Dakota
Currently Resides: Fort Leavenworth, Kansas
Degree: Master's in security studies, School of Foreign Service
Undergraduate Degree: Bachelor's in justice and leadership studies, University of South Dakota
Objective Zero Foundation: The Objective Zero Foundation operates to combat suicide by the "simple act of listening." Though not a substitute for professional help, trained volunteers and ambassadors are available for veterans and service members to talk, text or video chat through the app in times of need.
The U.S. military's suicide rate among active-duty service members has climbed over the past five years, according to a report released by the Pentagon last month, and more than 500 service members took their lives in 2018. According to the National Veteran Suicide Prevention Report, there are 17 veteran suicides per day.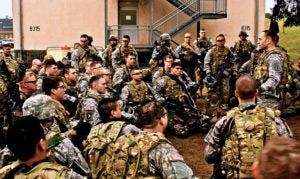 Creating Objective Zero: 
Mercado, who has served 22 years in the Army, conceived the idea for the app shortly after beginning classes at Georgetown in 2014.
He developed Objective Zero with a few of his Georgetown classmates – Ryan Pereira (G'17), Blake Bassett (G'16), and Amy Eastman (G'16).
Around the same time, he came into contact with a friend in distress.
"One of my former squad leaders was struggling with his transition out of the military. What I saw on social media concerned me, and I wanted to intervene," the alumnus recalls. "I called him and asked him if he was thinking about hurting himself. He told me if his gun had been loaded that he would not be on the phone with me."
Mercado and his friend, Justin Miller, talked for six hours. They caught up, laughed and tried to make sense of life occurrences.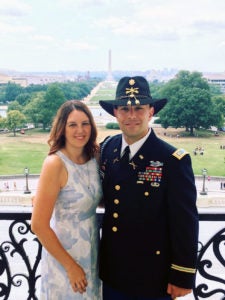 "I asked him later if he still was thinking about hurting himself," Mercado says. "He said, 'No, I feel better.' "
Mercado and Miller became Objective Zero co-founders along with Kayla Bassett and Mercado's wife Betsey.
Honors: 2019 Gold Edison Award; Fast Company Top 100 Most Creative People in Business for 2018; 2017 Army Times Soldier of the Year
A Professor's View: Elizabeth Stanley, associate professor of security studies, recalls Mercado being a "committed and compassionate leader" who focused on helping fellow service members in pain.
"A successful suicide occurs when three elements are present at the same time – when someone feels a sense of isolation and a sense of being a burden to others and has acquired the capacity to inflict lethal self-harm," explains Stanley, a scholar and expert on stress, trauma and resilience. "The Objective Zero app, which lets someone in pain see a network of people they can reach out to immediately, helps to dispel that first element – the sense of isolation."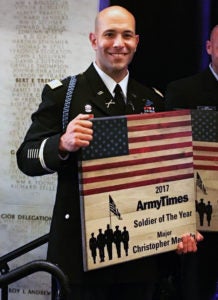 Why Georgetown:
"I knew I wanted to come to Georgetown in 2006 when I learned about the security studies program in the School of Foreign Service," Mercado says. "It was a one-of-a-kind program that immediately caught my attention, and I tried to find a way to make my Army career and education at Georgetown overlap. "I was given the opportunity by the Army to take two years of time to go pursue my master's and accomplish that dream."
Studying in the Security Studies Program: Mercado says the Hands-On Conventional Technology course he took at Georgetown helped him think about "unconventional technologies" that helped him develop his app.
"One of the interesting lessons that I took from that class was that it's not necessarily new or innovative, groundbreaking technologies that can be the most effective, but sometimes it's the creative application of existing technologies or the re-imagining of existing technologies," he says.
He looks back fondly at his experience in the security studies program.
"The two years I spent at Georgetown were the best," Mercado says. I made some of the most amazing friends."
"The very first day of class I sat there as we introduced ourselves in class and listened to all of the amazing backgrounds and experiences that my classmates had," he recalls. "In the Mortara Center's student lounge, I would listen to my classmates in conversation about China in one corner, cyber and electronic warfare in another and counterinsurgency in another corner. It was really fantastic."
Related Content