Wookjae Jung (SFS'15), a former Korean Air Force officer, has been selected as a Schwarzman Scholar, winning one of the most selective postgraduate scholarships in the world.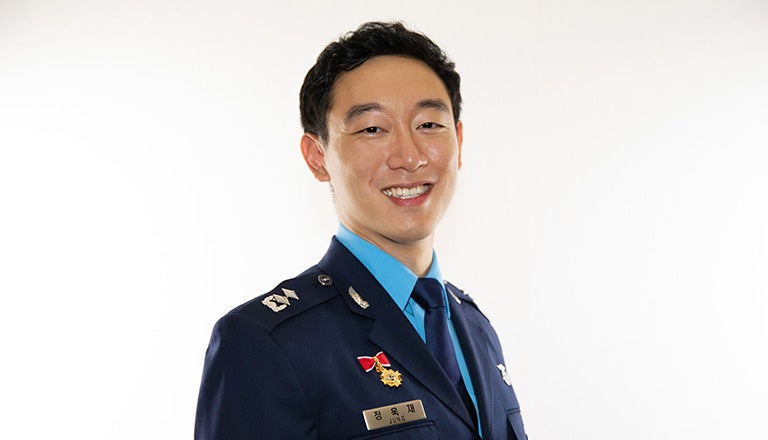 The scholarship pays for a one-year master's degree in global affairs at Tsinghua University's Schwarzman College in Beijing, China.
He is one of only 147 students worldwide who received the scholarship.
Security = Cooperation
Jung, a native of Seoul, South Korea, served as a Korean Air Force interpreting officer in the Office of the Defense Minister after graduating from Georgetown.
"I used to envision security as a distinctly military topic regarding competition with other nations," says Jung, who worked on strengthening multilateral cooperation on North Korea and transnational security issues while engaging foreign defense ministers and multilateral bodies. "Ironically, the military experience was what made me understand this was not the case, and that security ideally means cooperation."
"I wish to continue doing that kind of work, presenting new solutions that will bring actors together towards an optimal social goal," he adds.
Though he was born in Seoul, Jung later spent a year in Tokyo, Japan, and he lived in Singapore from sixth grade through high school.
"It was during this time I was exposed to both English and Chinese-speaking cultures, sparking my interest in both," Jung says.
'Obvious Strength'
He says Georgetown's School of Foreign Service (SFS), where he majored in international political economy, was "a natural choice" for him.
"I chose Georgetown for its obvious strength in international relations curriculum as well as the liberal arts-style curriculum that exposed me to a more diverse set of academic disciplines," he explains.
Jung took a particular interest at SFS in the interaction between politics and trade. His favorite class was Research Topics: International Political Economy.
"This class exposed me to the cutting-edge research in political economy both in methodology and theory," Jung says. "I learned how leading academics were approaching topics and how to understand factors and express them in reliable quantitative methods."
Outside of class, Jung enjoyed being part of Ritmo y Sabor, Georgetown's Latin dance group.
After completing his studies in Beijing, Jung hopes to work in venture capital, developing solutions that allow for cooperation between countries.
"I believe that the strongest incentive for countries to work together is an economic one," he says. "As long as there is a way to offer a well-aligned economic goal for everyone to work together and solve world challenges, we can ensure security and prosperity at the same time."
Schwarzman Scholarship
The Schwarzman Scholars Class of 2020, selected from more than 2,800 applicants, begins their studies in August 2019. Beyond academic work, scholars also will have access to internships, mentoring, engagement with international leaders and opportunities to travel throughout China.
Jung is the third SFS graduate and the fourth Georgetown alumni member to be selected for the competitive postgraduate fellowship, following Jose Miguel Luna (SFS'15), Zachary Kay (SFS'16) and Zezhou Cai (G'18).
For more information about the Schwarzman Scholarship and other academic and professional development fellowship opportunities for students and alumni, please visit the Georgetown Office of Fellowships, Awards, and Resources at gofar.georgetown.edu or email gufa@georgetown.edu.