These 54 Hoyas represent the largest number of finalists of any school, according to the PMF's 2023 list. They also represent seven schools at Georgetown — the School of Foreign Service, McCourt School of Public Policy, Georgetown Law Center, School of Business, School of Continuing Studies, College of Arts & Sciences and Graduate School of Arts & Sciences — with more than half of the students pursuing a degree in international relations, security studies and public policy.
"The PMF program looks for forward-thinking yet collaborative servant leaders who are deeply committed to the good of our country," says Elizabeth Boesen, assistant director for Public Service Initiatives in the School of Foreign Service (SFS), who coaches SFS applicants to the PMF program. "I believe that Georgetown offers our nation's best environment for developing these qualities, as well as a profound and rigorous understanding of the historical, present and future contexts of the United States in the world."
A record number of 10,000 applicants applied for the two-year program, and 850 finalists were chosen. Finalists will now begin applying for positions in federal agencies, in which they'll receive hands-on training and rotational assignments to prepare for a career in public service.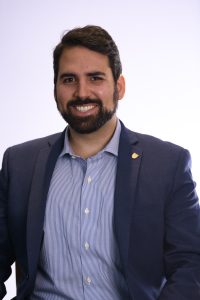 Public Service Ambitions in Venezuela
Carlos Chacón (MSFS'23), one of this year's finalists, hopes to leverage his PMF experience to join the civil service at the U.S. State Department or another agency focused on international or economic development. Chacón, who's earning his Master of Science in Foreign Service, also brings his own experience training students for leadership roles in Venezuela.
In 2014, Chacón was a high school teacher in Venezuela when nationwide student demonstrations against the government broke out. Chacón's students asked him to teach them public speaking and nonviolent forms of protest. He began offering workshops, and noticed a broader need to teach students leadership skills in response to the Venezuelan regime. Chacón decided to co-found a company, Kratos, and over six years, coached more than 650 students across Venezuela, Colombia, Peru and the U.S. 
"I'm very proud of that because these students were growing up in a country that was under a dictatorship, but they were so motivated to see a change in their country that they prepared more than anyone else," he says. "Seeing how you can really shape the lives of people was very meaningful and inspiring. I identified that all leaders should have a teacher component, in which they show people their potential and encourage and inspire them to reach that potential."
The experience of growing up in Venezuela, coupled with his background in Jesuit education and focus on serving others, fueled Chacón's interest in public service. In 2021, he received the McHenry Fellowship from SFS, which covers full tuition and fees for exceptionally qualified graduate students, and set his sights on Georgetown. 
"I knew that Georgetown SFS was the best school for international affairs. But what really made a difference was the service component. I felt that this was like coming home," he says. "I had an opportunity to go to Oxford. But I came here, and these have been two of the happiest years of my life."