Michele Swers, an American government professor at Georgetown and an expert on women in Congress, talks about women in the midterm elections.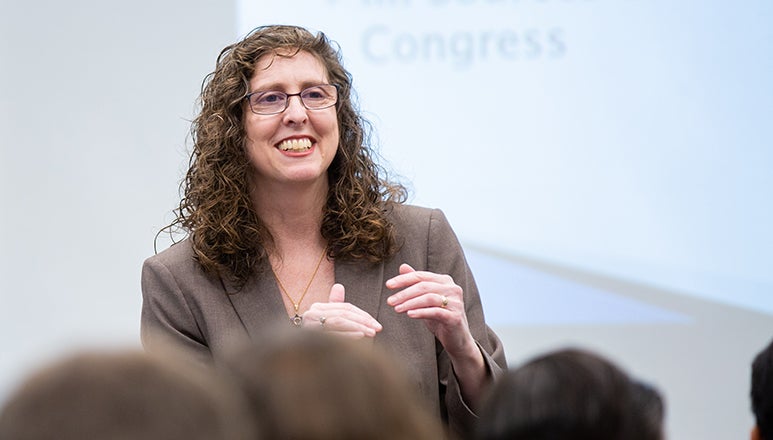 Michele Swers, an American government professor and expert on women in Congress, is the author of The Difference Women Make: The Policy Impact of Women in Congress as well asWomen in the Club: Gender and Policy Making in the Senate. Swers is working on a new book examining differences in the policy views and support coalitions of Republican men and women in Congress.
Is 2018 another Year of the Woman?
Yes and no. In 1992, the midterm election became known as the Year of the Woman. But in 1992 and 2018, it's the Year of the Democratic Woman. Before 1992, there were very few women in Congress, but a relatively equal number of women from each party. The number of women in Congress has been growing on the Democrats' side since 1992, but it's been fairly stagnant on the Republican side. Many of the current women who were elected were propelled by the activism of women. College-educated women in suburban districts were particularly energized by their opposition to President Trump, his tone and some of his policies. Women increased their participation in campaigns and more women donated to candidates than in previous midterm election years.
What's the effect of more women in the House?
A large freshman class with so many new women will bring new energy to the Democratic Caucus and could help Nancy Pelosi secure her grip on the Speakership. With the number of women elected last night, the House Democratic caucus now moves above its current 30 percent. And with Democrats taking control of the House, women also will wield more political power.
Women are also now poised to ascend to some important committee chairmanships, including Rep. Nita Lowey (D-New York), who would chair the Appropriations Committee, and Rep. Maxine Waters (D-California), who will likely lead the Financial Services Committee. Women also may wield at least 33 subcommittee gavels.
Are the kinds of women elected different from before?
There were two kinds of female Democrats elected last night. New liberal Democratic women, many of whom are more racially and ethnically diverse, such as the first Latina women elected in Texas – Sylvia Garcia and Veronica Escobar – and the very well-known Alexandria Ocasio-Cortez in New York. There are also women who are more moderate who were elected in Republican-leaning districts such as Abby Finkenauer in Iowa, Lizzie Pannill Fletcher in Texas and Abigail Spanberger in Virginia. These women will have a greater challenge keeping their seats in a presidential year and will want to develop a more moderate policy record that is independent from the party.
What about the Senate?
Progress on women in Congress remains slow in the Senate. Moderate Democrats in red states were swept out, including Claire McCaskill in Missouri and Heidi Heitkamp in North Dakota. But with the election of Democrat Jacky Rosen, Nevada joins California, Washington, Minnesota and New Hampshire in having an all-female Senate delegation. Generally in the Senate and the House we are seeing moderate Democrats and Republicans losing and the party caucuses becoming more polarized.
How did female conservatives fare?
Marsha Blackburn in Tennessee adds to the ranks of conservative women in the Senate, and the likely election of Martha McSally in the Arizona Senate race will add another female military veteran to the mix. There will probably be fewer Republican women in the House because the newly elected women, like Young Kim in California and Carol Miller in West Virginia, will not counterbalance the losses and retirements.