This week, Georgetown welcomes more than 1,600 students from all 50 states and 46 countries who will begin their undergraduate careers.
With move-in comes a buzz of activity and excitement as students meet their roommates, set up their dorm rooms and explore campus as Hoyas for the very first time.
As the Class of 2027 descends upon Georgetown to kick off the new year, we asked Hoyas across generations to tell us what they remember from their first day on the Hilltop and what advice they have for this new class. Here's what they said.
Gail Gillis-Louis (C'75), Harbin Hall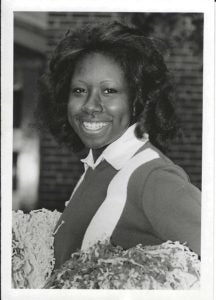 Move-In Memory:
I lived in Harbin Hall all four years. Since I lived locally it was really not a stressful time for me. I brought what I needed most immediately, which was a good thing because I had never shared a room. I had a lot of stuff. Luckily for us, my roommate and I were both from the DMV.
My parents helped me move in as did my roommate's parents. A surprise came later that day in the form of a family friend's son who was like a big brother to me. He was in the Air Force and had been stationed overseas. I had not seen him in what seemed like forever, and he arrived in his dress uniform with gifts.
Move-in was going to be the easy part. I hoped that my roommate would be nice. I had looked forward to the freedom that came with living on campus, but not so much the cafeteria food, doing laundry or navigating the campus. I always tried to remember my dad's rule of "on time is 15 minutes early." I was also very aware that there were very few people who looked like me.
Advice for New Students:
I would tell the first years to expect to be a little bit homesick. Walk around the campus and get your bearings. Meet the neighbors. Unpack enough to function the first few days with your parents, and you can always organize it later.
Don't stretch out the goodbyes. Your parents will be back and you have Thanksgiving and Christmas to look forward to. Stretch your wings.
Eileen Nguyen (SFS'11), Village C West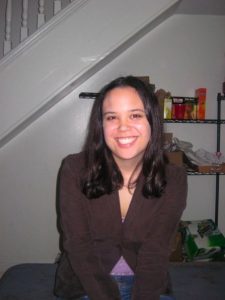 Move-In Memory:
I was really excited to move in and meet my roommate. We had chatted a little before and coordinated who was bringing what, but I didn't know her yet. I drove down with my parents and moved into Village C West. We didn't stop for lunch on the drive down, and we wanted to make a dent in unpacking before we gave up for the day, so I remember being extremely hungry when we finally went to get something to eat.
We went to Daily Grill on Wisconsin Avenue — which ended up being where we went for lunch before my graduation — and got burgers. I remember wondering if it had really been an amazing burger, or if I had just been that hungry.
I was nervous when I arrived but also really excited. I had been hoping to come to Georgetown since the summer before freshman year of high school, so it was definitely something I was happy about, but I was also worried about making friends. I'd lived in the same place since I was five years old, so it had been a long time since I'd started classes without any of my friends.
Advice for New Students:
I would tell the Class of 2027 to remember that you have so much time! You don't have to find your best friend, win a prestigious internship, graduate summa cum laude, be president of a club and secure a Rhodes Scholarship all in your first week. Take some time to enjoy getting to know new people, learning your way around campus and setting up your habits for the rest of the year.
Alvaro Alvarez (SFS'99), New South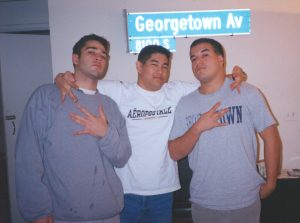 Move-In Memory:
I had spent a few weeks before starting Georgetown with my family in Mexico, where I picked up a waterborne parasite. Needless to say that having that on top of the extreme heat and humidity made moving in somewhat difficult.
I was amazed at how beautiful campus was, and seeing blue and gray balloons adorning Key Bridge on the way in was a nice touch. I remember being surprised at how many students had their parents there to help move them in. That said, my roommate's parents were incredibly kind and took my roommate and me to dinner.
Advice for New Students:
Avoid the bookstore in the first few days if you can, revel in the wonderful mix of personalities and accents that surround you and memorize the "Fight Song" as fast as you can!
Renato Llontop Calosi (SFS'24), Village C West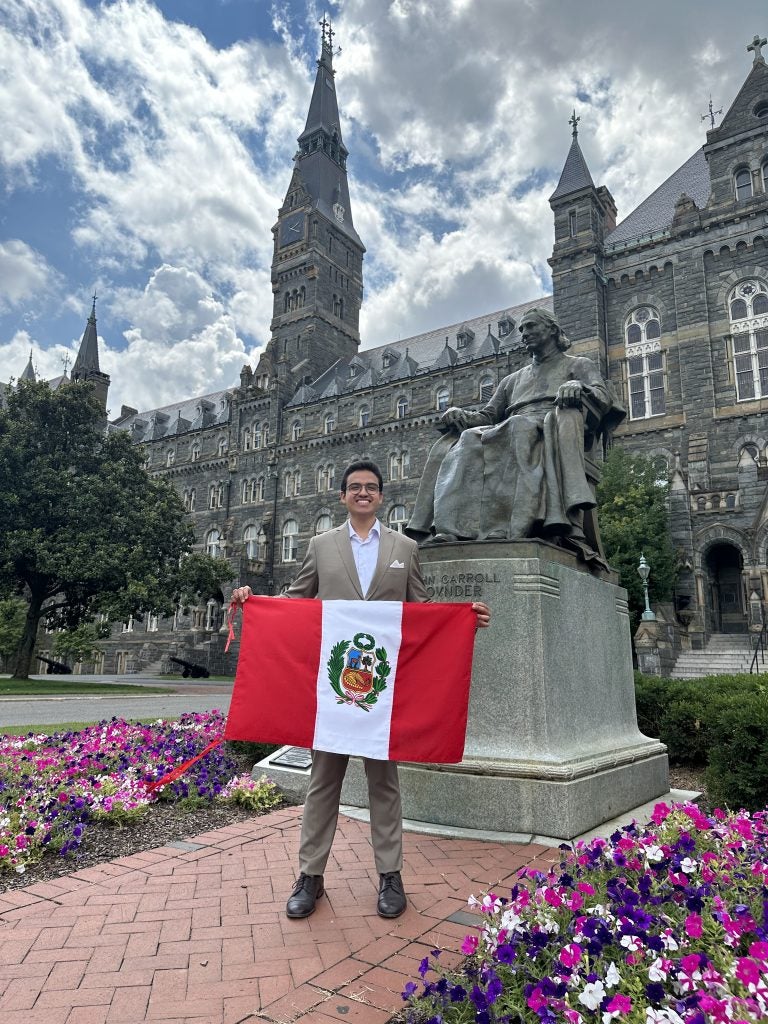 Move-In Memory:
My first time on campus was for the Summer Hilltop Immersion Program (SHIP), and I lived in Village C West. What I loved the most about living in a traditional campus dorm was the opportunity to get to know my fellow floormates through community activities organized by our RA. Until this day, I'm still in touch with all of them.
As an international student, I felt a combination of nervousness and excitement. I've never lived far from home for more than 15 days, but as soon as I walked into campus, there was something in the atmosphere that made Georgetown feel like home. Every person I've interacted with has always been interested in getting to know each other, and I very much appreciate that gesture.
Something that surprised me was the number of people willing to help during move-in. From NSO to Residential Living members, believe me, there are a great many people willing to contribute to making your move-in experience as smooth as possible.
Advice for New Students:
Don't stress about all the things you have to bring with you. Each year you get more stuff than you actually came in with — I always remember when my senior friend Claudio gave me a TV when he moved out. Your roommates, floormates and fellow Hoyas are here for you, and throughout the year, you will experience different moments that will allow you to find your community. Georgetown is also a place for gaining independence and maturity, but remember that great power comes with great responsibility.