Five Georgetown students, including two undergraduates, won first place in the Migrants and Refugees category at VHacks, an event at the Vatican that seeks to use technological innovation to address global problems.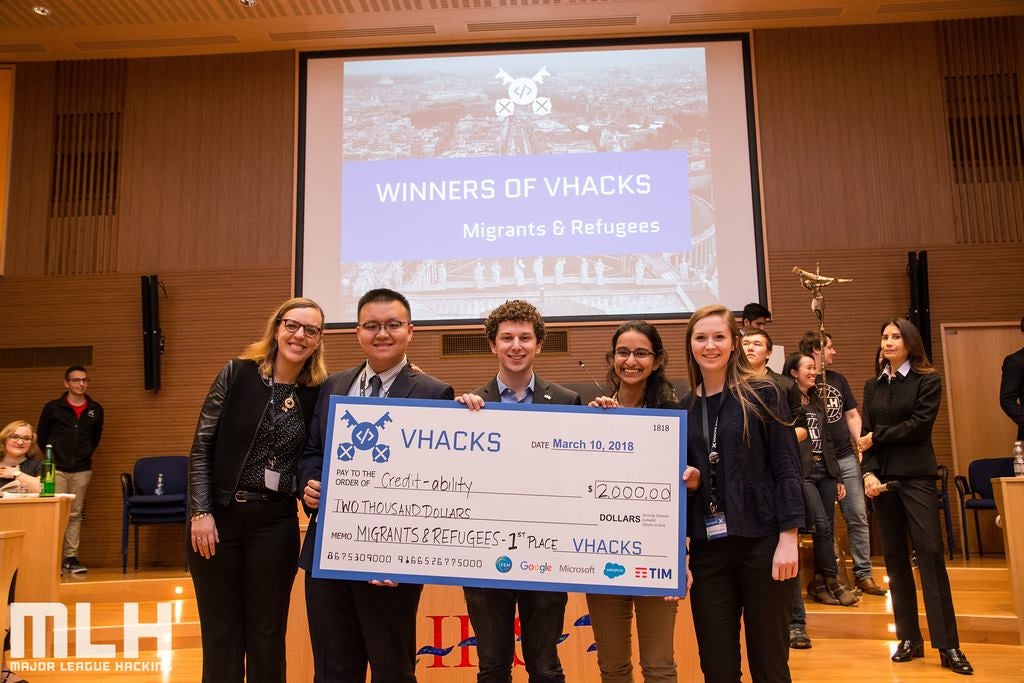 A five-member team of Georgetown students won first place last week in the Migrants and Refugees category at VHacks, a Vatican event seeking technological innovation to overcome social barriers and address global problems.
Roisin McLoughlin (C'19), Jake Glass (SFS'20), Lucy Obus (C'11, G'18), Rushika Shekhar (G'18) and Yanchen Wang (G'19) won $2,000 at March 8-11 event in Rome for their project pitch, Credit/Ability, a mobile website designed to help refugees obtain long-term housing.
The website offers a place for refugees to input their often short-term employment, income and payment histories since they've been in their host country.
Credit/Ability then uses the information to compute a credibility score. If the score is high enough, Credit/Ability works with organizational backers to provide a lease guarantee that puts refugees on the same footing as others looking for long-term housing.
Thrilling Experience
"It was thrilling to experience VHacks, and to know that around me another 119 students were collectively focused on the confluence of technology and social impact," says Obus, of Princeton, N.J., a theater and performance and American studies double major now pursuing a degree in the university's Communication, Culture and Technology (CCT) Masters Program. "Pope Francis' call to action was just that, a call, and we're now trying to answer that call."
Migrants and refugees were the subject of Pope Francis' message on the Vatican's World Day of Peace on Jan. 1.
"In a spirit of compassion, let us embrace all those fleeing from war and hunger, or forced by discrimination, persecution, poverty and environmental degradation to leave their homelands," he said at the time. "We know that it is not enough to open our hearts to the suffering of others. Much more remains to be done before our brothers and sisters can once again live peacefully in a safe home."
Feasible, Viable, Sustainable
Obus says the team made a deliberate decision to build something that was "feasible, viable, and sustainable, that might not be flashy but hopefully adopted by a faith-based institution or small NGO."
She said the idea developed after meeting resilient refugees at the Sacred Heart Basilica Community Center in Rome.
"We are really proud of the product and excited by the potential it has moving forward," Obus explains. "Our team is regrouping to think about how to leverage the prize money and interest from outside partners to build it into something real."
University-wide Effort
The other members of the team are also excited about the win.
McLoughlin is a government and computer science double major from San Francisco, and Glass, of Los Gatos, California, is in the Science, Technology and International Affairs program at the School of Foreign Service.
Originally from Singapore, Shekhar is in the Global Human Development (GHD) Program, and Wang, who hails from Beijing, China, is in the Master of Science in Analytics Program at Georgetown.
Sending the team to Rome was a university-wide effort, including support from the university library's Maker Hub, GHD, the computer science department, the Massive Data Institute, the Georgetown Entrepreneurship Initiative, the Center for Social Justice, the Global Social Enterprise Initiative, the Beeck Center for Social Impact and Innovation, the Berkley Center for Religion, Peace and World Affairs and CCT.