Title:

University Efforts to Address Sexual Misconduct, Gender Equality Presented at U.N. HeForShe Summit
Date Published:
October 1, 2018
Georgetown President John J. DeGioia joined heads of state, CEOs and other university presidents from around the world at the HeForShe Summit Sept. 26 during the United Nations General Assembly in New York City, where they explored emerging solutions in the fight for global gender equality.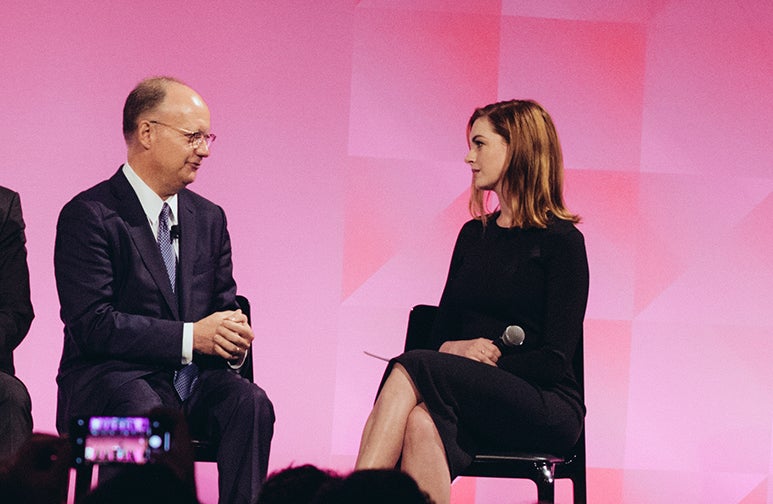 Georgetown President John J. DeGioia joined heads of state, CEOs and other university presidents from around the world in exploring emerging solutions in the fight for global gender equality at the Sept. 26HeForShe Summit, which took place during the United Nations General Assembly in New York City.
Since 2016, Georgetown has participated as a founding university IMPACT Champion in the HeForShe Campaign, a U.N. Women movement to engage men and boys and others in the fight for gender equality.
"From equal pay to safety of women and men on campuses, the accounts from our Champions detail with honesty and self-knowledge their individual journeys in leading transformative change within their organizations and communities," said Phumzile Mlambo-Ngcuka, under-secretary-general and executivedirector of U.N. Women, during her opening remarks.
The summit comprised panels and speeches from heads of state, corporate leaders and university presidents who discussed the progress toward achieving the institutional commitments made by the 30 global HeForShe Champions.
Addressing Sexual Misconduct
During a panel on gender-based violence, moderated by actress and U.N. Women Global Goodwill Ambassador Anne Hathaway, DeGioia focused on Georgetown's HeForShe commitment to make the university campus a safe, respectful place for all community members.
To that end, DeGioia has provided additional financial and human resources to augment the infrastructure for addressing these issues.
"Our first purpose is the formation of young people, and the way that we do that by building communities," DeGioia said. "We recognized … we were failing at providing the kind of community that would serve all of our students, especially our women."
To address the issue, Georgetown conducted a sexual misconduct climate survey in 2016.
The results of the survey led to the establishment of a task force that made 11 recommendations, many of which have been implemented.
They include mandatory bystander education training for all first year-students since Fall 2017 and additional staff, includingan additionalclinician in health servicesand a training and education specialist.
"We've hired a full team of people to help ensure the community that we're building can sustain the kind of sense of urgency addressing these needs," DeGioia explained.
Emerging Solutions Report
The summit also marked the launch of the HeForShe Emerging Solutions Report, which details the progress of each Champion's commitments. In the report, Georgetown focused on its commitment to creating a culture where women thrive, through the efforts of the Georgetown Women's Alliance (GWA).
Since its launch in 2015, membership in GWA has grown from 70 to more than 1,500 women. There also has been a 162 percent increase in participation in the GWA Mentorship Program, which helps mid-career Georgetown mentees receive professional and career development advice from more senior Georgetown colleagues.
"The GWA Mentorship Program has allowed us to deepen our commitment to women staff and faculty members, providing additional resources to enable them to further develop their talents and skills and share them with our community," DeGioia explains in the report.
HeForShe at Georgetown
Georgetown's third HeForShe commitment is to advance the role of women globally through the Georgetown Institute for Women, Peace and Security (GIWPS), whose work was the focus of DeGioia's remarks at last year's summit.
In addition to these institutional commitments, the university has launched a student fellowship program, through which students support offices that promote gender equity on campus. These entities include GWA, GIWPS, the Gender+ Justice Initiative, the Office of Institutional Diversity, Equity and Affirmative Action and the Women's and Gender Studies Program.
The university also supports a HoyasForShe Student Engagement Fund, which provides funding for student-run events that align with the mission of HeForShe, as well as an online portal to showcase HeForShe-related events and programs at Georgetown.