Tracing Family History
Paul Rochford (C'20) participated in the transcription event. He transcribed a bill of sale for enslaved individuals from Rev. Thomas Mulledy, S.J., a former president of Georgetown and provincial of the Maryland Jesuits,  to Henry Johnson, a Louisiana plantation owner. He also worked on a request of a mortgage acquittance from Jesse Batey, another Louisiana plantation owner, to Mulledy.
The senior history major worked with the university's Slavery, Memory, and Reconciliation initiative this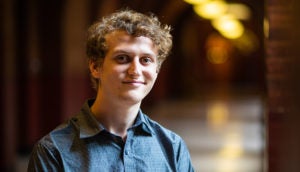 past summer with Rothman, Barraza Mendoza and Booth Special Collections to trace the family history of Louisa Mahoney Mason, one of the more than 270 enslaved individuals sold in 1838.
"Uncovering the stories and history of the people the Jesuits enslaved is necessary and a step in the right direction to repairing a broken and whitewashed historical narrative," Rochford says. "I am forever impressed and inspired by the work professor Rothman and Elsa Barraza Mendoza have done – transcribing hundreds of documents for the Georgetown Slavery Archive and even organizing activism projects dealing with their archival findings."
Historical Link
Dr. Letitia Clark, a descendant of the Queen family enslaved by the Maryland Jesuits, says this year's weeklong virtual event provided a more accessible opportunity for her to participate in transcribing and reviewing documents than last year's one-day event.
Clark, medical director of MedStar Georgetown University Hospital's outpatient radiology practice and a professor in the School of Medicine, has worked at the university since 1983.
She and her daughter, Kristin Hart (B'04), who graduated from Georgetown's McDonough School of Business, didn't realize the university's historical link to her family until 2016.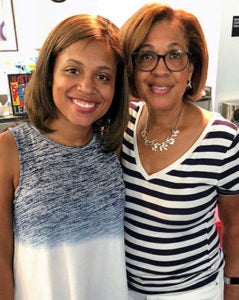 Revealing a Story
"Soon after I learned about the university's ties to slavery, I discovered that my family had an Ancestry DNA match with some of the 272 enslaved individuals sold by the Maryland Jesuits to Louisiana plantation owners," Clark explains.
Though Clark is a descendant of the Queen family that stayed behind in Maryland, she says she feels a connection to the entire history of the Jesuit and Georgetown historical ties to slavery.
"It's the least I can do when I think of all that my ancestors went through," she says. "It's a privilege to reveal a small part of their story."
Slavery, Memory, and Reconciliation
Rothman says it has been gratifying to have members of the descendant community involved in the transcription process.
He says the work is reflective of the university's Slavery, Memory, and Reconciliation efforts.
"Including members of the Georgetown community and the descendant community in transcribing these documents allows everyone who wishes to participate to join together in the process of creating new historical knowledge," he says. "That's part of what reconciliation means."