Jessica Ballou, a clinical psychologist with over 15 years of experience in higher education, has joined Georgetown as the new director of Student Outreach & Support (SOS). She began her role on January 17.
At SOS, Ballou will work with colleagues across Georgetown to facilitate outreach, intervention and care plans for students experiencing a crisis or distress that may be impacting their social, personal or academic stability. Alongside her team, she will serve students who are returning from a medical leave of absence, transitioning out of acute psychiatric care, grappling with difficult issues or events in the community or back home, or other circumstances that affect their well-being. Peers, deans and others on campus who are concerned about a student's health, safety or wellness can also refer students to SOS.
"I think the name says it all," Ballou said. "We are here to give students the support and structure and care they need in order to continue being a student and be successful. We are here to empower students and care for their individual needs and experiences in a warm, inclusive and welcoming space."
Ballou has worked in higher education her whole career, most recently serving as the associate director for substance abuse prevention and mental health at Fordham University for seven years. Previously, she oversaw a peer-led substance abuse prevention and outreach program at Virginia Tech and completed her predoctoral and postdoctoral training in clinical psychology as a counselor in the University of San Francisco's counseling center. 

In this Q&A, Ballou shares how her work in substance abuse prevention and mental health informs her current position, her stint in the Peace Corps, and the one thing she wants you to know about SOS.
What do you want people to know about you? 
Jessica: I come from a wide variety of higher ed experiences. I did my advanced training for my doctorate in the counseling center at the University of San Francisco. I then moved to Virginia Tech's Alcohol and Substance Abuse Prevention Office, and then to Fordham, where I worked in residential life and did similar work to what SOS is doing. So I think I have this perspective of the college student experience and the student affairs experiences within different areas of the university.
I also did a stint in the Peace Corps. After I finished my doctorate, I spent three years in Bulgaria working in community and youth development. I wanted to get myself out into the world and expand my own. It was an eye-opening experience. It helped me grow as a person, and it also helped me understand people a little bit differently. As similar as we are, we're also all very different depending on our environment.
When you're completely out of your element and in a new place, you have to adjust and acculturate — whether it's internationally or even as a college student coming to campus for the first time. You have to learn new things, learn to be more independent and learn resilience. That's a lot of what adjusting to college or graduate school is: learning a different way of being and who you are in that new environment. At SOS, we're here to help students succeed in the Georgetown community when needed throughout their undergraduate or graduate careers, whether they are adjusting to this new role in life or just need some help along the way.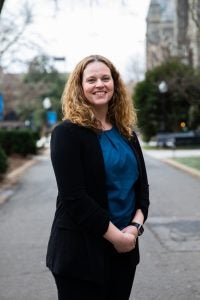 What drew you to this position at Georgetown?
Jessica: What stood out to me was that there is a whole office dedicated to student outreach and support. I appreciate being part of a team that collaborates to better support our students. I think that's really important, and not all universities dedicate a team to focus on this work the way Georgetown does.

I also have a background in working at Jesuit universities and a knowledge of Jesuit values. I think those values make an impact in how we work as a staff with students but also in students' experience at a university like this.

It's a great team here. I felt a good fit when I was here for my interview. Those pieces made Georgetown feel like the right place for me.
How does your previous experience inform your new position?
Jessica: At the University of San Francisco, I worked with students mandated for substance abuse sessions after alcohol-related conduct violations. It gave me the knowledge I needed to use a harm reduction approach to college student drinking at Virginia Tech. There, I worked to make sure that our students were safe and protected. Working with outreach, prevention and harm reduction, you're educating students on how to be safer and do things in a way that will reduce consequences and risk. It's such an important piece of the higher ed experience.