This story is part of a Georgetown Faces, a storytelling series that celebrates the beloved figures, unsung heroes and dedicated Hoyas who make our campus special.
Elizabeth Grimm (G'10) is a recognizable face on campus for many students not only because she teaches international relations, but because she's also a neighbor.
As a part of the Faculty-in-Residence (FiR) program, Grimm lives in McCarthy Hall with her husband, adjunct lecturer Jacques Arsenault (C'01, G'07), and their three children. The FiR program enables seven faculty members to live alongside undergraduate students, enhancing the intellectual environment and engaging in the day-to-day lives of Georgetown's residential communities.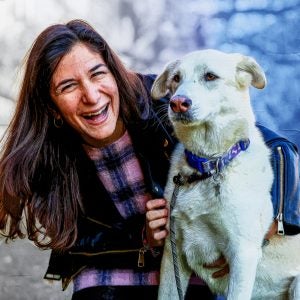 Grimm, a teaching professor in the School of Foreign Service's Center for Security Studies, is an expert on international relations, security, terrorism and intelligence.
Hailing from what she calls "the greatest city in America," Pittsburgh, Pennsylvania, Grimm found her way to Georgetown as a Ph.D. candidate in the Department of Government.
"I was delighted to teach in a place that was so formative to my thinking about the world and our place in it," Grimm said.
But while many students know Grimm, it's her three-legged companion Crouton who steals the show – a beloved fixture on the university's Hilltop campus.
Find out what Grimm really thinks about living in a college residence hall with her family and the story of how her family adopted Crouton.
Living in a college dorm with my family is: an incredible experience. I see my role as a faculty-in-residence as fostering a deeper sense of community on campus by providing a safe space for conversation, creating curricular linkages and providing food to share. It is very rewarding to work with the resident assistants, community directors, residential ministers and other faculty-in-residence.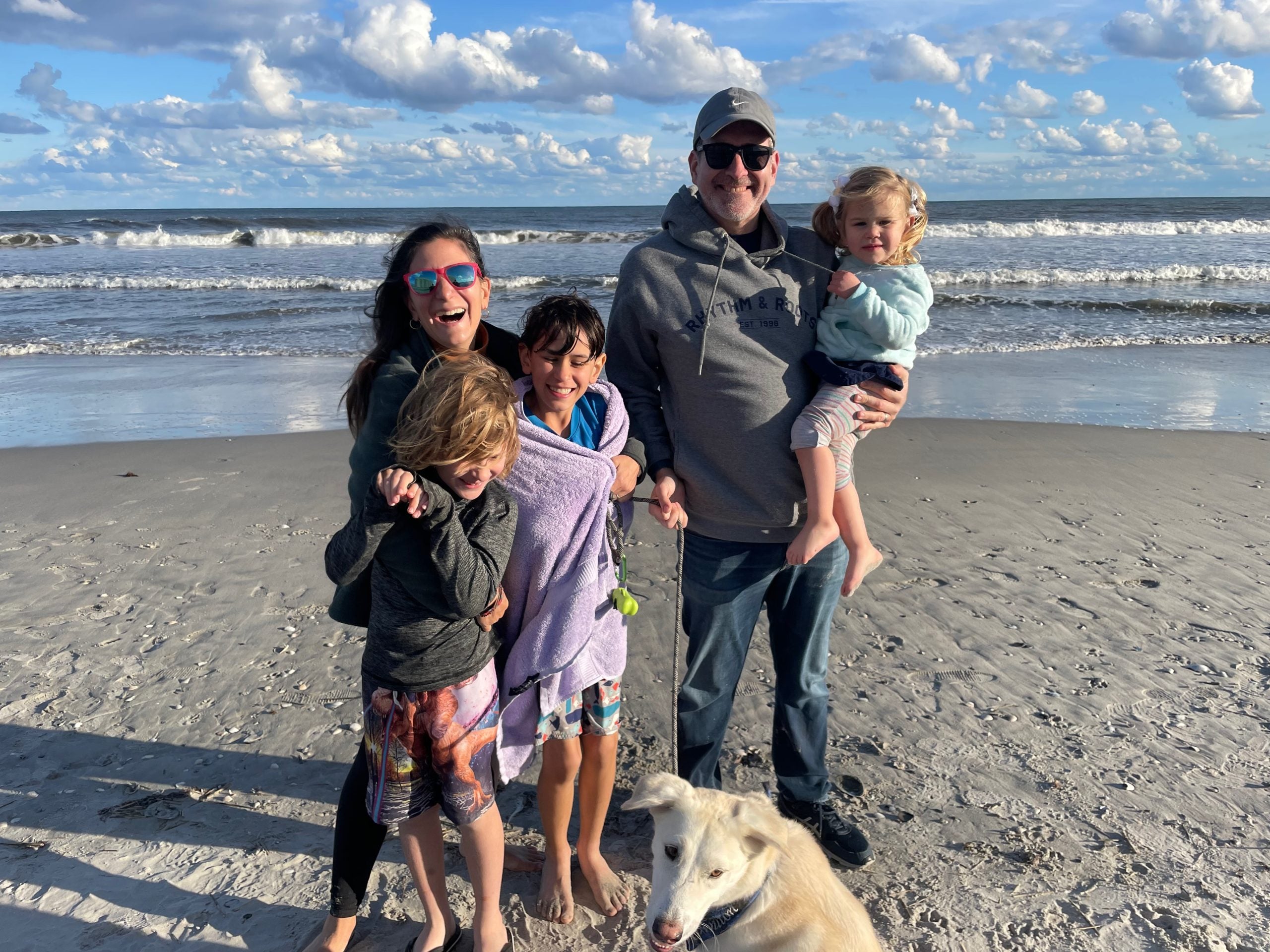 I love to host: weekly coffee/tea hours, family dinners, cupcake decorating competitions, pumpkin painting events and hot chocolate study breaks. My kids also love to hold lemonade stands and to go reverse trick-or-treating in McCarthy, putting on costumes and passing out candy. I also host ice cream socials, tea times and faculty chats. So many of my events revolve around food and discussion!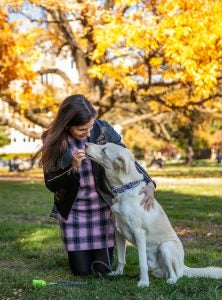 Crouton joined our family: when we adopted him through Worthy Dog Rescue, an amazing rescue group based in Northern Virginia. About six years ago, he was dropped off anonymously at a shelter in Harris County, Texas, with a gunshot wound in his right rear leg. A guardian angel paid for him to have an amputation that saved his life, and after making the trip to Virginia and a foster family, he came into our lives in the winter of 2019.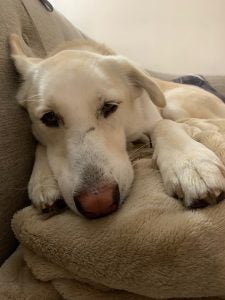 A funny personality trait of Crouton is: that he is terrible at fetch. If you throw a ball to him, he will often just look at you and wonder what he is supposed to do. Unlike other dogs as well, he will only beg for meat and will never consume any other food that might drop to the floor. Consistent with the shepherd in him, he does not like the water and will run very quickly to avoid the waves at the shore. But, true to the husky side of him, his instincts kick in during the winter months and he loves being outside in snow. 
Something I always keep on my desk: at home are notes and drawings from my children. In my office, I keep my Dolly Parton mug and mouse pad that features a picture of Crouton.
I keep coming back to Georgetown because: I cannot imagine a better place in the world to teach international relations and to learn from my students and colleagues. 
One word to describe Georgetown: Home.