Five decades ago, the innocuously named "M Street Steps" served as a convenient shortcut for Hoyas heading to the Car Barn and making their way between M and Prospect Street.
Fifty years later, they are fondly — or perhaps even infamously — known as the Exorcist Steps in honor of The Exorcist, the 1973 film that tells the tale of a mother portrayed by Ellen Burstyn trying to free her young daughter from demonic possession with the help of two Catholic priests. The iconic film is also a part of Georgetown's history, as many scenes were filmed on and around campus with the help of some 300 Hoyas who served as extras in the film.
This month, moviegoers can relive the thrill by watching The Exorcist: Believer, the sequel to one of the most iconic horror films of all time. On the film's 50th anniversary, we went back through the Georgetown University Library's archives to remember how The Exorcist came together — and how scores of Georgetown students, faculty and staff played an important role.
The Making of The Exorcist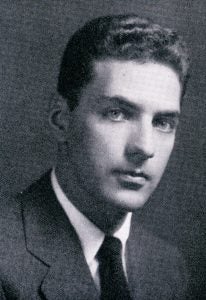 In 1949, William Peter Blatty (C'50) was a student working toward his English degree at Georgetown. He read coverage in the Washington Post about a real-life exorcism performed on a 14-year-old boy just miles away from the Hilltop in Prince George's County, Maryland.
Inspired by what he had read two decades earlier, Blatty published his novel The Exorcist in 1971. He would then go on to adapt his book for the big screen and served as the producer in the movie directed by William Friedkin that would go on to earn nominations for 10 Academy Awards, winning the Academy Award for Best Screenplay in 1974. 
In the fall of 1972, scenes for The Exorcist were filmed on Georgetown's campus and in the surrounding neighborhood.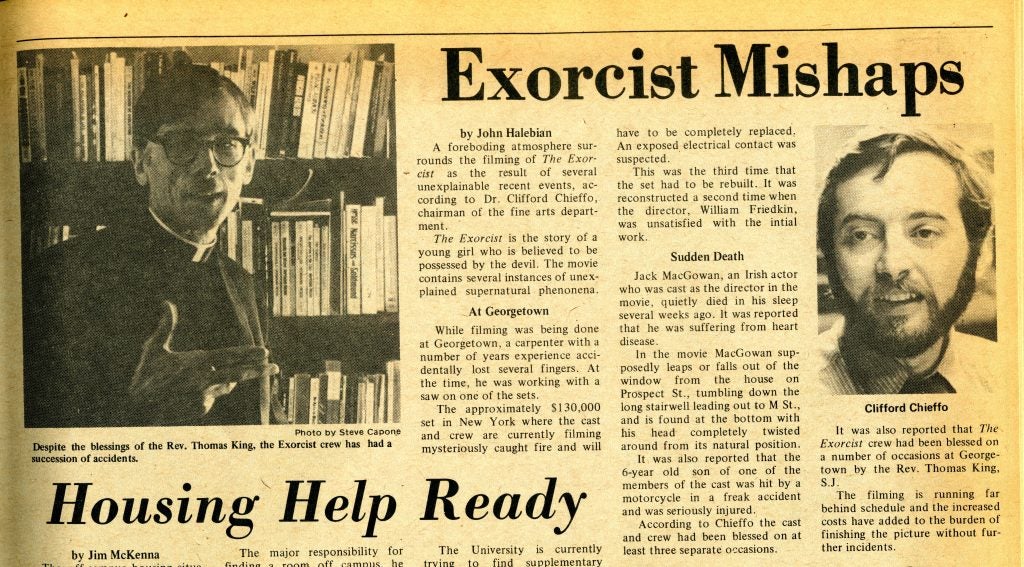 Throughout the production, a series of accidents — including a carpenter who lost several fingers while working on the set —  even led Rev. Thomas King, S.J., then a professor of theology at Georgetown, to bless the production several times. The set itself had to be rebuilt multiple times, including after it mysteriously caught fire. Actor Jack MacGowan, who portrays Burke Dennings in the film, also passed away in his sleep not long after completing the work on the film.