It's officially the scariest time of the year — no, I'm not talking about finals season, I'm talking about Halloween! While the scariest monsters may just be the ones grading our exams, Georgetown offers tons of great opportunities to celebrate Halloween and get into the spooky spirit. As a first-year, I've spent the past two weeks learning all about Halloween in Georgetown to give you a definitive guide to the best Halloween traditions on the Hillop
Haunted Healy
For the past 40 years on the Saturday before Halloween, the Georgetown Programming Board (GPB) has hosted Haunted Healy, where they turn the second floor of Healy Hall into a haunted house. Student volunteers dress as all sorts of scary creatures, chasing students and creating nightmares for years to come. Haunted Healy may be based on somewhat of a fact — the upper floors of Healy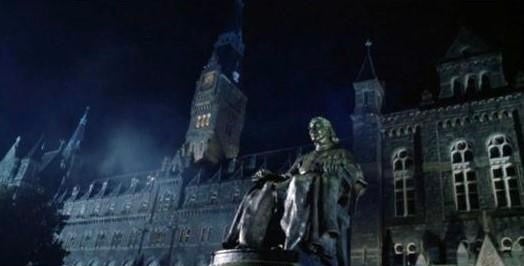 have been a prime spot for ghost sightings. Urban legend claims that the reason the floors are sealed off today is because an exorcism — the exorcism — took place upstairs. Whether real or fake ghosts are your forte, Haunted Healy gives an opportunity to truly be frightened this Halloween. 
The Exorcist Screening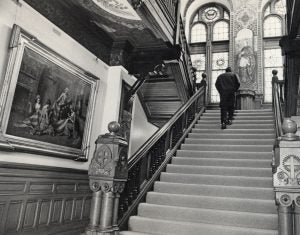 In case you've been asleep since 1973, you may not know that the classic horror film The Exorcist was filmed in and around Georgetown's campus. William Peter Blatty (C'50) was inspired to write the novel after reading about an exorcism that took place in Mount Rainier during his time at Georgetown. When adapting the book for the screen, he chose Georgetown to be the setting for what would become one of the scariest movies of all time. 
As such, every year GPB hosts a late-night screening of The Exorcist on Copley Lawn the night before Halloween to get students in the spirit. This year GPB collaborated with the Georgetown Farmers Market and the Georgetown Entertainment and Media Alliance to offer a night market during the screening, offering churros, popcorn, pizza and warm apple cider. I have to admit that I'm a scaredy pants and can't handle scary movies, much less when I have to live on the set. While I didn't watch the movie, I made sure to stop by the night market to grab apple cider and Wisemiller's cookies!
The Healy Howl
The Healy Howl is one of Georgetown's scariest and strangest traditions. After the screening of The Exorcist on Copley Lawn, students make their way to the Jesuit graveyard to howl at the moon as the clock strikes midnight and it officially becomes Halloween. If you think it sounds weird, you're not alone — the Healy Howl ranked number 1 on Niche's ranking of the most outrageous traditions at U.S. colleges. This year's Healy Howl was widely attended, with students from all years and schools coming together like werewolves. As someone with some pent-up emotions, the Healy Howl was also a great opportunity for my own personal catharsis and to truly just scream into the void à la Phoebe Bridgers. 
Trick-or-Treating at the Embassies
One of the benefits of being in DC is being close to embassies, consulates, monuments and more! That benefit is especially great when it means free candy! Trick-or-treating at different embassies has been a tradition for Georgetown students for years and provides a great way to get free food and experience different cultures. This year I visited the embassies of Indonesia, Slovenia, and Lesotho. My friends and I were treated to candies and a great way for us to break the Georgetown bubble!
My first Halloween at Georgetown was filled with traditions, ones that I hope to adopt as my own over the next four years. Hopefully you'll be able to try out all that Georgetown and DC have to offer in coming years — I know I will!