Tomás Álvarez Belón, the 2017 McTighe Prize recipient, will share his brush with death with the incoming class of first-year students during New Student Convocation on Aug. 27 and urge them to reflect daily about their purpose.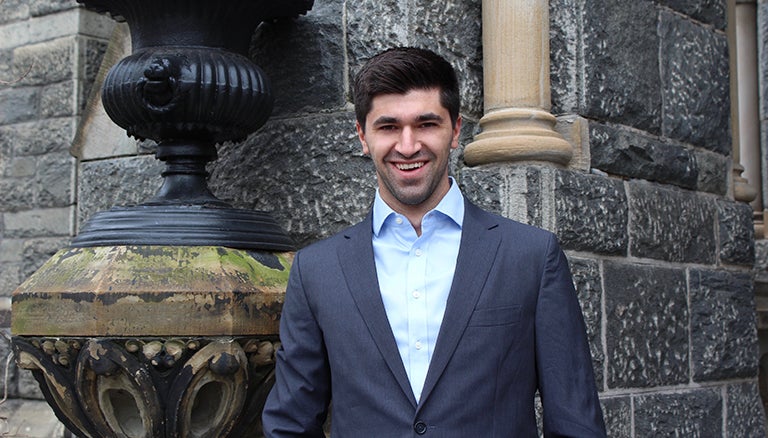 When Tomás Álvarez Belón (SFS'18) learned his family was safe in Barcelona after the Aug. 17 terrorist attack, he was reminded how tragedy can sometimes bring clarifying moments of purpose.
"It is a tragic moment that can only be met with courageous love," says the senior science, technology and international affairs (STIA) major in the School of Foreign Service.
The 21-year-old says the sentiment comes from both the growth and development he's embraced at Georgetown and his own experience with tragic moments.
Surviving a Tsunami
As this year's McTighe Prize recipient, Álvarez Belón will address the incoming class of first-year students during New Student Convocation on Aug. 27 and share his family's brush with death during the 2004 Indian Ocean earthquake and tsunami that claimed more than 230,000 lives in 14 different countries.
Álvarez Belón and his family were spending the Christmas holiday in Thailand when the tsunami hit on Dec. 26 and separated him, his mother, father and two brothers for days before they all were reunited. The Georgetown student recalls the heroic efforts he saw during the disaster.
"My father was among the many people that risked their lives to save others," he says. "It has always prompted me to ask what I want to do with my life, and I have been fortunate to have the hundreds of altruistic, sacrificing people I saw as an example to live up to."
Power of Reflection
Such experiences have led Álvarez Belón to reflect on his relationship with life, death and family, and formed his belief that individuals should recognize their own sense of purpose and keep it at the forefront of their daily lives.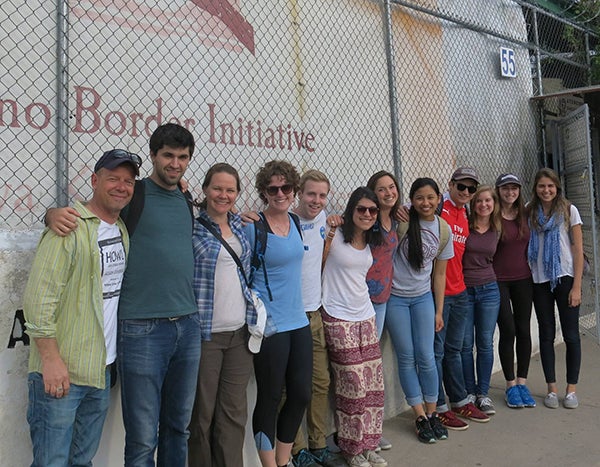 "I hope to highlight the transformative power that discernment and reflection can have on our lives here on campus," he says about his address to incoming students. "The message is simple. You cannot wait for moments of calm to reflect. Instead, we must carve out opportunities in our quotidian lives to think about our purpose and shape our actions around that."
Social entrepreneurship and global immersion have been a significant part of Álvarez Belón's own quest to identify his own sense of purpose.
He has participated in the university's Kino Border Immersion program, an alternative spring break collaboration between the Georgetown's Center for Social Justice, Research, Teaching and Service and Campus Ministry. The program works to build understanding of immigration and the surrounding issues through interactions with a wide range of community members in the Arizona border region.
"I learned as much about the complexity of immigration and humanizing others' experiences as much as about my spirituality and how I want to live a life that I consider worthy," he adds.
Changing the World
The SFS student, who is concentrating in business, growth and development, also is the current CEO of Georgetown Global Consultants, a student-run organization providing consultation and research to microfinance institutions and nongovernmental organizations in developing countries.
"I have had the privilege of working with a phenomenal staff to transform a small microfinance consulting club into a large and respected institution that helps clients on five continents," he says. "Leading a staff of 30 Hoyas is challenging because we all expect so much from each other."
Álvarez Belón says he came to Georgetown for a global experience and because he wants to change the world.
"I knew that the combination of the SFS core and the Jesuit education would provide me with the best preparation possible to advance my career and work on who I want to become," he says. "I have had phenomenal mentors that I have admired, and … I pride myself on trying to play a similar role for the underclassmen that I meet."