Why Georgetown?:
"I wanted to be in a place that would teach me what I needed to be successful but also inspire to make a difference in the world," he says. "Georgetown is exactly that place."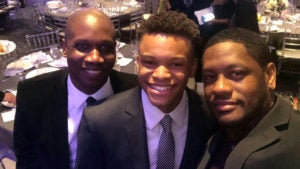 Being a Student-Athlete: The rising junior considers his varsity track career to be one of the most transformative aspects of his time on campus.
"Aside from encouraging me to be more efficient with my time and focused on my physical well-being, competing at the varsity level has taught me a lot about people," he says. "Having a period of the day where I'm training and trying to support my teammates while we push ourselves just about to our breaking point teaches you a lot about what motivates others."
Increasing Awareness: As a participant in the Georgetown Scholars Program, Laney knows the importance of having access to and knowing what campus resources are available to all students. He hopes to create informal and formal initiatives for underrepresented and low-income students at Georgetown through networking circles, access to career resources and advice, as well as academic support. Laney wants to partner with some of the student organizations in which he is involved and other cultural clubs to promote diversity and inclusion and to increase participation in student organizations by people of color at Georgetown.
What's After Georgetown?: Josiah hopes to go into public service to address issues in housing, welfare systems and security faced by low-income communities in the United States.
Favorite Study Spot: Sellinger Lounge, where he says he can be both studious and social. When the weather is nice, you can find him outside on the Leavey Center esplanade.