Title:

Report Warns City Must Do More to Prepare African American Population For New Jobs
Date Published:
October 12, 2017
A new Georgetown report released this morning at the city's municipal building in Washington warns that the District of Columbia is not doing enough to prepare African Americans for newly created jobs through 2020.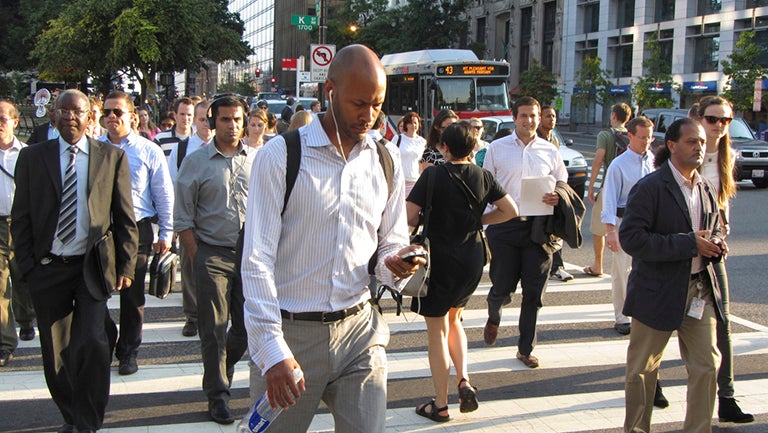 The District of Columbia is not doing enough to prepare African Americans for newly created jobs through 2020, according to a Georgetown report released this morning at the city's municipal building in Washington.
The report, "African American Employment, Population & Housing Trends in Washington, D.C."shows that while more than half of all new jobs in D.C. between 2010 and 2020 required or will require at least a bachelor's degree, only 12.3 percent of the African American population in 2014 were college graduates.
"We need more than a stop-gap or Band-Aid approach to solve this problem," says report editor Maurice Jackson, a Georgetown history professor and inaugural chair of the city's Commission on African American Affairs when the study began. "The city needs to enact policies and better support programs that will ensure that African American residents, who provide invaluable contributions to life in the nation's capital, have equal economic and educational opportunities and incentives to stay in the District. Affordable housing must be constructed."
Graduate students at the university's McCourt School of Public Policy conducted a significant portion of the research for the report, working with Jackson.
He and Micah Jensen, an assistant teaching professor at the school, served as project advisors.
Presentation, Panel Discussion
Jackson presented the report this morning after D.C. council chair Phil Mendelson and council members Brandon Todd and Vincent Gray made remarks.
The Georgetown professor also participated in a panel discussion, moderated by Chris Murphy, the university's vice president for government relations and community engagement.
Joining Jackson on the panel were Kermit Kaleba of the National Skills Coalition;Lecester Johnson of Academy of Hope; Ed Lazere of the DC Fiscal Policy Institute; and Courtney Snowden, deputy mayor for greater economic opportunity.
Countering Projections
The new report found that the majority of the 67,000 jobs in D.C. between 2010 and 2020 are professional and business services and education and health services requiring a bachelor's degree.
To counter the projected education and skills gaps, the report makes a number of recommendations, which include:
Creating city partnerships with growing industries that can provide on-the-job training.
Strengthening the Project Empowerment program so employers pay participant wages and D.C. government reimburses a fixed percentage, giving employers an incentive to invest in workers.
Establishing recognized apprenticeships with industries such as information technology, health care, transportation, hospitality, financial services and government that may not require a bachelor's degree.
Increasing support for city agencies involved in workforce development, including the Department of Employment Services, the Workforce Investment Council and the Youth Investment Council.
Partnering with new and emerging industries.
Supporting public-private partnerships and increasing employment opportunities for African American residents.
Gone and Not Returning
The report also lamented the gentrification of many neighborhoods in the city.
"The shrinking African American population illustrates that many hardworking African Americans, even those with modest means, have been forced to respond to these depressed socioeconomic conditions by leaving D.C.," the report notes. "Once these residents leave, they usually do not return, due to insufficient job prospects and affordable housing."
Last year, the Commission on African American Affairs received a report on health disparities in the District, requested by Jackson and carried out by Christopher King, an assistant professor at the university's School of Nursing & Health Studies (NHS).
That report, which showed huge disparities between blacks and whites in the city, also found that African American families were 3.5 times more likely than white families to live below the poverty line.
"These reports are the result of many hours of research and interdisciplinary collaboration, and offer deep insight into the many complex issues that face African Americans in the city," said Jackson, who has served on both the Slavery, Memory, and Reconciliation Working Group and the Racial Justice Working Group at Georgetown. "Our hope is that they contribute to the discussion and offer meaningful ideas to help halt the flow of African Americans out of D.C. and make life better for those who remain."