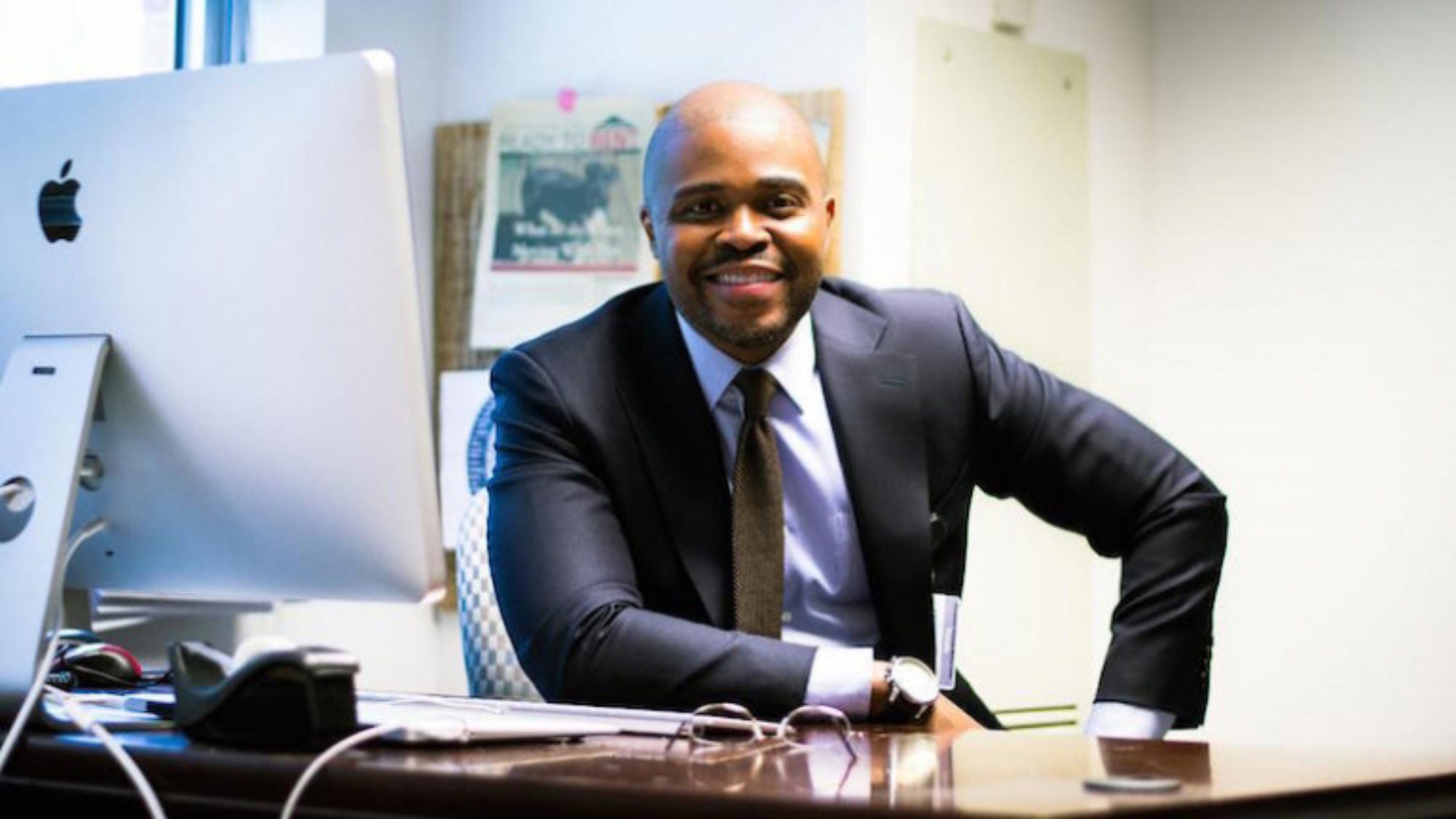 Category:

Government & Community Engagement
Title:

Report Shows Huge DC Health Disparities, Makes Recommendations
Date Published:
June 28, 2016
A new Georgetown report that will be submitted to the District of Columbia Commission on African American Affairs reveals sobering statistics about health disparities in the city.
"We have to think about the root causes of these racial differences in health outcomes," explains Christopher King, the assistant professor at the School of Nursing & Health Studies (NHS) who developed the report along with history professor Maurice Jackson and NHS students.
African Americans in Washington, DC, are six times more likely than whites to die from diabetes-related complications, according to a new Georgetown report on health disparities being submitted to a mayoral commission.
That sobering statistic is only one of numerous health disparities pointed out in the report, requested by Georgetown history professor Maurice Jackson, chair of the District of Columbia Commission on African American Affairs, and carried out by Christopher King, an assistant professor at the university's School of Nursing & Health Studies (NHS).
The report, which also will be submitted to DC Mayor Muriel Bowser, includes the fact that African American men live 15 fewer years than their white counterparts and are three times more likely to die of prostate cancer.
African American families are also 3.5 times more likely to live below the poverty line.
Socioeconomic Drivers
Not surprisingly, the greatest health disparities take place in the southeastern part of the city, where African Americans make up approximately 90 percent of the population.
"We have to think about the root causes of these racial differences in health outcomes," explains King, author of numerous scholarly articles on health equity and disparities. "Historically, we've placed more emphasis on the health care system as a means of addressing the problem and less emphasis on complex social factors."
"So in addition to health outcomes, this report focuses on the socioeconomic conditions that drive health," he adds.
Those drivers include stark differences in unemployment rates (19 percent in African American majority Ward 7 versus 3.4 percent in majority white Ward 3), median household income ($40,000 for blacks versus $115,000 for whites) and education (less than 25 percent of blacks 25 and older hold bachelor's degrees versus 50 percent for all residents).
'Significant Report'
While access to culturally tailored, high-quality health care is important, the report presents a number of recommendations that address social, economic, political and environmental factors. They include:
• Employ a racial equity approach when conducting community health needs assessments
• Support collaborative efforts between employers and training institutions to offer pipeline workforce development and jobs skills training programs
• Provide incentives to attract new businesses to historically marginalized neighborhoods • Enforce local hiring mandates for city-funded projects
• Develop, support or reinforce policies to ensure the availability of affordable housing across all eight wards of the city
"Historically, our culture has had a medical focus on health disparities and relied on the health care sector to close the gap," King explains. "But improvements have been marginal. An expanded ecosystem of players must be at the table."
NHS Dean Patricia Cloonan praised the report, and notes that her school works to "translate Georgetown's Jesuit values into action in the important domain of health."
"Leading efforts to develop this significant report on critical health disparities in DC spotlights our commitment to community-based engagement and promoting health equity," she says. "Professor King and his team, including our students, have done a great job in underscoring areas of focus and offering key recommendations."
Changing the Conversation
King says the city is making significant progress in integrating and streamlining systems of care and that efforts are underway to more formally include social determinants of health in patient care.
But these accomplishments represent only a small part of total health, he explains.
"We can have the best health care in the world, but if we don't live in communities that make it easy to make healthy choices, we're less likely to see an improvement in health," King says, "We need to change the conversation and view policies, practices and resource appropriations across the city through a health equity lens."
"This will require theengagement of unconventional players, such as employers, city planners, urban designers, real estate developers, architects and policymakers," he adds.
Retail, Food Deserts
"Neighborhoods in Southeast are disproportionately burdened by a higher volume of liquor stores and other retailers with products or services that compromise health and upward socioeconomic mobility," King says.
He says that problem could be managed by policies that limit the number of such businesses by geographic boundaries.
So-called "food deserts" where many African Americans in the city lack access to healthy food, could be addressed by having the city offer incentives to businesses that offer affordable healthy food, according to the report's recommendations.
Health and Gentrification
Both Jackson and King say gentrification has made a major impact on the health and welfare of the city's African American population.
According to the U.S. Census, the black population in the District decreased by 36,100, between 2000 and 2010, while the white population increased by 59,341.
"A lot of people think that these were poor African Americans moving out, but they were actually middle-class people because the poor people had nowhere to go," Jackson says.
He adds that the African American population in Washington, DC, is less than 50 percent for the first time since 1957. The U.S. Census states that in 2015, the black population was 48.3 percent versus 44 percent for the white population. In 1970, the latter population was at 71 percent versus 27 percent for whites.
King says many African Americans who remain in the city are experiencing increased stress and financial hardship as the cost of living continues to rise.
This form of "survival stress" can increase risks for or exacerbate chronic disease conditions, he says.
Cultural Identity
"Native Washingtonians also recognize how their communities are changing, and that results in a loss of cultural identity," King says, noting that some African Americans have been forced to leave the area even though their families have lived in the city for generations. "This dynamic can have a profound effect on mental health and civic engagement."
As the city continues to change, he says efforts are needed to improve social and structural conditions east of the river while allowing residents to remain in their homes and communities.
"With all the wonderful progress happening in the city, the question is, 'How can African American neighborhoods benefit without its residents being displaced?' " King says. "The city is prosperous – so everyone in the city should feel the effects of that. When everyone's lives are improved, that's when we'll see an improvement in the health of the African American population."
Reaching Out
Later this summer, two reports that address disparities in housing and economics will be released. Graduate students at Georgetown's McCourt School of Public Policy, under the direction of the school's Micah Jensen and Jackson, developed the reports.
Jackson and King see the health disparities report as a first step toward addressing a wholistic set of disparities and hope it will be an important wake-up call to city officials and residents.
"Let the people of Washington look at this," Jackson says. "And let's encourage the young white people who are moving to the city to reach out to those who have a little less, and not see them as people who are unwilling, but as a people who have always struggled, and who have as much dignity as they do."
He is confident that the problems can be solved. "We just have to have the willingness to work together," he adds. "The burning issues of gentrification and the overall social, economic and health disparities must be addressed by constant attention and by realizing there is a problem and just dealing with it."