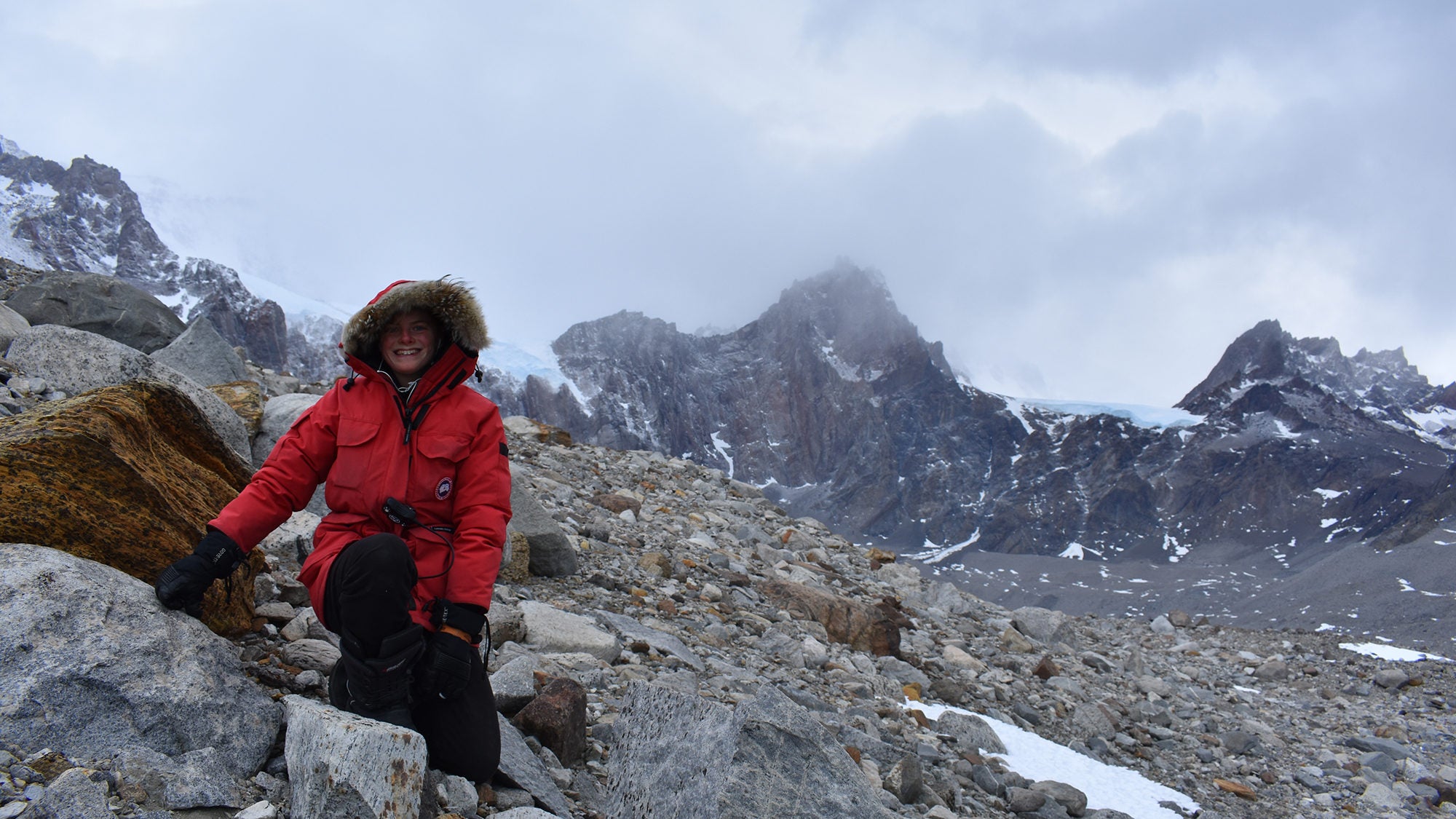 Category:

Discovery & Impact
Title:

Recent Alumna Focuses on Environmental Impacts, Polar Research
Date Published:
April 16, 2020
Mia Vanderwilt (SFS'19) has studied snow hydrology in Alaska, fisheries in Iceland and soil microbiomes in Antarctic permafrost. The 2020 Rhodes Scholarship finalist's childhood in the Pacific Northwest and love of the outdoors spurred her interests in alpine and polar fieldwork and studies of climate policy while at Georgetown, where she was a research assistant in Georgetown biology and School of Foreign Service professor Sarah Johnson's lab.
Hometown: Seattle
Major/Degrees: Bachelor's in science, technology and international affairs; concentration in environment and energy, School of Foreign Service
Research: Vanderwilt first explored environmental policy and diplomacy at the Krogh Global Governance Lab, a partnership between the SFS and the U.S. Department of State. Her research – focused on extrapolating national priorities from documents submitted to the 2015 Paris Climate Agreement – was presented to the State Department's International Organizations Bureau.
As part of Georgetown's India Innovation Lab, she researched policy programs to mitigate the financial impacts of drought, later traveling to Maharashtra, India, to conduct an assessment of the state's water conservation and drought mitigation measures.
Following a semester studying climate models and modeling fisheries in Iceland and Greenland, Vanderwilt joined the Juneau Icefield Research Project in Alaska, to participate in a two-month, 80-mile backcountry ski traverse to record mass balance and density profile of glaciers in Alaska and Canada.
Positions: After graduation, Vanderwilt continued work as a research assistant in Johnson's Biosignatures Lab. Her study of environmental contaminants in Antarctic soil microbiomes was supported by Georgetown's Environmental Initiative Impact Program. The Georgetown alumna had previously spent two months in East Antarctica for the lab in pursuit of novel extremophiles – hardy microbes adapted to extreme environments – researching microbiota in seasonally wetted permafrost.
"These ecosystems are highly sensitive to changes in climatic and chemical conditions," she explains, about her current research. "The introduction of non-native microbes may alter the structure and function of these communities and drive loss in biodiversity. Without a firm understanding of the geographic and temporal extent of human environmental impacts, microorganisms and the ecosystem services they provide may be inadequately addressed by existing environmental protections."
Future Goals: Vanderwilt has worked on polar microbiology research of both astrobiological and environmental significance. She eventually hopes to influence conservation policy and strategy while maintaining her research in microbiology and ecosystem health. This fall, Vanderwilt will join the University Colorado Boulder's Environmental Studies Program and the Institute of Arctic and Alpine Research to conduct further polar research.
Professors' View:
"Mia is an explorer in the truest sense of the word," says Johnson, with whom Vanderwilt did polar research as an undergraduate. "She has a capacious mind and a deep passion for understanding not only the science of the polar regions but also the political and diplomatic necessity of action in response to climate change. She is one of the most creative students I've ever had the pleasure of teaching and mentoring."
"Mia exemplifies the liberal arts ideal, that exploration in one discipline contributes to insights in others," says Joseph M. Murphy, the Tagliabue Professor of Interfaith Studies and Dialogue in the theology department.
Why Georgetown?
"The sense that my beloved childhood playground was under threat led me to the School of Foreign Service at the height of the Paris climate negotiations, when environmental diplomacy seemed a possible panacea," Vanderwilt says. "I was particularly drawn to Georgetown's opportunities in the specific conjunction of conservation science and environmental policy, and I appreciate the university's dedication to research and its commitment to encourage its students to both study and participate in research programs."
Campus and community activities: At Georgetown, Vanderwilt was involved in the Georgetown EcoAction and the Georgetown Energy Club, where she volunteered at bimonthly cleanup efforts and assisted Georgetown faculty in expanding student opportunities for water conservation and sustainable energy.
Awards and Fellowships: In addition to Vanderwilt's Georgetown Environmental Initiative Impact Grant; her Georgetown recognitions include the Charles Weiss Medal; the Academic Excellence in Science, Technology and International Affairs award; a Dean's Fund Grant; and an Improving the Human Condition Grant. She was also a Krogh Scholar and served as a Lisa J. Raines Summer Research Fellow.
How curriculum influences your career:
By incorporating STEM courses and a Centennial Lab into her foreign service curriculum, Vanderwilt formed an intensive schedule that allowed her to create change and commit to research long before graduation.
"At this juncture in my studies, I recognize the need to incorporate broader frameworks for conceptualizing biodiversity and conservation as I look towards a career in research," she says. "I am increasingly interested not only in how the microbes I study shape and are shaped by their environments, but also how these questions should factor into policies of conservation and resource management."
For more information about the Rhodes Scholarship and other fellowship opportunities, please visit the Georgetown Office of Fellowships, Awards, and Resources or email gufa@georgetown.edu.