Title:

Georgetown Alumna, Rhodes Finalist Hopes to Research Cyber-Threat Evolution
Date Published:
November 21, 2017
Georgetown alumna Rachel Azafrani's (SFS'17) interest in the evolution of cyber threats and her work with Internet data sources earn her the distinction of being among the 2018 Rhodes finalists.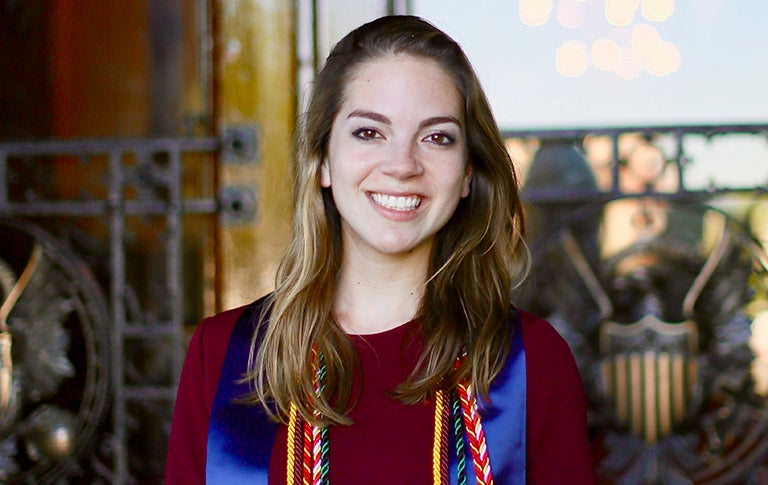 – The research interests of Georgetown alumna Rachel Azafrani (SFS'17) in the evolution of cyber threats and the Internet recently earned her a spot as a Rhodes Scholarship finalist.
Though Azafrani, 22, did not win the Rhodes, she hopes to find another scholarship for a graduate degree at the University of Oxford focusing on the Internet and global governance and diplomacy.
Now a subject matter expert on Internet data sources and instructor in cybersecurity methods, she eventually hopes to pursue a legal career workingwith U.S. agencies and international organizations to mold cyber policy toward transparency.
The Demands of Cybersecurity
After earning a master's degree,Azafrani hopes to attend law school for national security and cybersecurity law.
The Georgetown alumna from Rolling Hills Estate, California, has been interested in computers and technology for a long time.
"I grew up with computer games, and my appreciation for the machines grew with me," she says. "People and their livelihoods replaced my fictional characters and their journeys."
While at Georgetown, Azafrani's studies focused on the political theory of cybersecurity.
"Cyber threats continuously metamorphose," she says. "I want to research the current international frameworks governing cyberwarfare. Evaluating their strengths and deficiencies, I want to concentrate on their effects in developing countries where cybersecurity policy is often nonexistent."
Work in Africa
As an undergraduate, Azafrani spent a year abroad studying contemporary sub-Saharan Africa at Sciences Po Lyon in France.
The following summer, she conducted independent research in Liberia, where she launched a social-networking mobile app for youth wanting to participate in development opportunities.
"I secured the necessary grants and found a place that valued young leadership in post-Ebola Liberia," she explains."I traveled around Liberia, forming a network that spanned six counties. I trained dozens of students on the app, built partnerships with the Sustainable Development Network and U.N. country offices to sustain the project."
Collaborating with various organizations helped accelerate the app's reach. She was inspired to take the appglobal, but realized the challenges the technology presented.
"The division of intellectual property caused tension over how and where the app could be used," she says. "I was not prepared to challenge them, but found direction in my defeat."
Complex Thinking
Azafrani was awarded at Georgetown for her academic achievement as a 1789 Scholar. She also was a fellow in the highly selective Carroll Fellows Initiative and a member of the Georgetown Scholarship Program (GSP) board.
English professor John Glavin, director of the Office of Fellowships, Awards and Research for Undergraduates, says Azafrani "demonstrates complex thinking and risk-taking in truly spectacular ways."
"The app she created makes her quite outstanding," Glavin wrote in his recommendation of her for the Rhodes Scholarship. "She not only has very smart things to say about her research, she has lived it."
Azafrani was one of six members of Georgetown's all-female group of Rhodes finalists for this year's prestigious scholarship including four in the United States, one in Bermuda and another in China.
Georgetown has produced 25 Rhodes scholars, including President Bill Clinton (SFS'68).