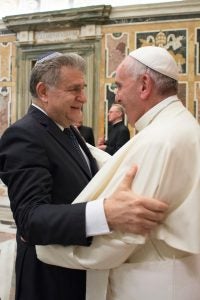 The Argentine native, who taught courses in Georgetown's Center for Jewish Civilization (CJC) about his decades-long friendship with Pope Francis and interfaith engagement in 2021 and 2022, will serve as the senior research fellow for Jewish Studies and Jewish-Christian Relations at the university.
"We have cherished our past experiences with Rabbi Skorka, and we are truly honored to welcome him into this new role in our community and for the continued opportunity we have to engage his insights as a scholar of Jewish Studies and his perspectives as an international leader in interfaith engagement," Georgetown President John J. DeGioia says. 
At Georgetown, Rabbi Skorka will contribute to research on Jewish Studies, Jewish-Christian relations and antisemitism. He will be working on a book that charts the Jewish understanding of antisemitism throughout the centuries and will participate in events on Jewish-Christian relations at the university and abroad, co-teach a course in the spring semester for the CJC, and facilitate opportunities for interfaith dialogue on-campus. He will also work to strengthen Jewish life at Georgetown.
Bruce Hoffman, a professor in the Walsh School of Foreign Service and director of the CJC, said he and his colleagues had been hoping Rabbi Skorka could join the university full time since he visited campus twice in the past decade and taught courses for CJC.  
"Georgetown is extremely fortunate to have yet another rabbi on campus and as part of our faculty," says Hoffman. "Our students will benefit tremendously from Rabbi Skorka's deep knowledge of the Talmud, his warmth and engaging manner. We, at the CJC, will also benefit from his wisdom and daily engagement and are thrilled to have him here with us."
"I am very happy to be received by the Georgetown community," Rabbi Skorka says. "We have a unique opportunity in history in which Jews and Catholics and Christians can do relevant work together to mark a turning point. I hope that my presence at Georgetown University will help enhance this interfaith dialogue."
Jewish-Christian Relations
Rabbi Skora has been focused on furthering interfaith dialogue ever since he first became a rabbi in Buenos Aires, Argentina.
After graduating with dual degrees in Jewish studies and chemical sciences from Buenos Aires University in 1973 — and becoming ordained a rabbi that same year — Rabbi Skorka remembers inviting a Catholic priest to deliver a speech to his first congregation. A phrase the Catholic priest said stuck with him.
"He said with antisemitism, like any other hate, you build an ignorance [toward the other] when you don't know the other. You can satanize the other because you are not seeing that the other is a human being," Rabbi Skorka says. "You have to learn through your own experiences and through all kinds of encounters with the other, with people from other religions. I understood that this was the way."
From then on, Rabbi Skorka says he became a "worker for dialogue."
He continued to facilitate interfaith encounters between Jewish and Catholic communities as rabbi of the Benei Tikva Congregation in Buenos Aires for 42 years and as rector of the Latin-American Rabbinical Seminary for nearly 20 years.
He also found a partner in Pope Francis, then archbishop of Buenos Aires, to model the importance and value of interfaith dialogue.
Dialogue With Pope Francis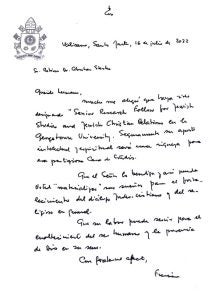 In July 2022, Rabbi Skorka received a congratulatory note from Pope Francis, who he has co-authored a book with, on his new appointment at Georgetown.
"I am very pleased that you have been appointed 'Senior Research Fellow for Jewish Studies and Jewish Christian Relations at Georgetown University,'" Pope Francis wrote on July 16, 2022. "Surely your intellectual and spiritual contribution will be a wealth for this prestigious House of Studies. May the Lord bless you so that you can 'materialize' your dreams for the strengthening of Judeo-Christian and religious dialogue at large."
Rabbi Skorka first met Pope Francis years earlier, when he had been appointed coadjutor archbishop of Buenos Aires in 1997. The two joked about their favorite soccer teams, and Rabbi Skorka invited him to speak at his synagogue. He remembers Pope Francis asking him for feedback on his speech before he delivered it.
They wrote a book together called "Sobre el Cielo y la Tierra" about their discussions on religious and social issues, which was published in 2010, three years before Jorge Bergoglio became Pope. In the years following, Rabbi Skorka and Pope Francis filmed a series of conversations on interfaith topics — 31 to date.
They have since continued their friendship.
In 2014, Rabbi Skorka joined Pope Francis on his pilgrimage to the Holy Land and helped facilitate a meeting between the Pope and the presidents of Israel and Palestine, notably when the two leaders were not officially speaking. He joined Pope Francis for the Global Conference on Human Fraternity hosted by the United Arab Emirates in 2019, a historic meeting among global religious leaders.
"When you have the strongest voices in the world — and not only one leader but many leaders — who demonstrate the respect they have for their human brother, that is the way to transform our difficult present reality," Rabbi Skorka says.
Continuing Interfaith Dialogue at Georgetown
Rabbi Skorka first came to Georgetown in 2013 to speak about Pope Francis and the Jewish community of Argentina, and he returned in 2018 to participate in The Future of Interreligious Dialogue, an international conference focused on intercultural and interfaith understanding co-sponsored by Georgetown and the Pontifical Council for Interreligious Dialogue.