Title:

Professor: McDonald's Franchises Mixed Blessing for Black Communities
Date Published:
January 23, 2017
African Americans benefitted and suffered from fast food's infiltration into their communities since the late 1960s, according to Georgetown history professor Marcia Chatelain, who holds an NEH grant for a book project on the topic.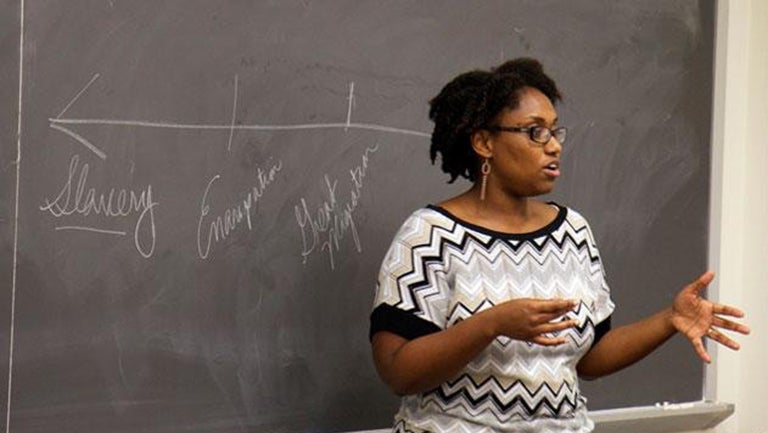 African Americans have both benefitted and suffered from fast food's infiltration into their communities since the late 1960s, according to research by a Georgetown history professor.
Marcia Chatelain, an associate professor of history, recently received a grant from the National Endowment for the Humanities to pursue a book project called From Sit-In to Drive-Thru: Black America in the Age of Fast Food.
She just signed a contract for the book with an imprint of W. W. Norton & Company.
"In a moment when the fast food industry is being criticized for the content of what it delivers, I think it is also important to note the cultural and social work that is has done and what it has done for our larger society," says Chatelain, the author of South Side Girls: Growing up in the Great Migration (Duke University Press, 2015).
Sensitive Story
While fast food may play a major role in the extreme health disparities between black and white children coupled with the lack of healthy alternatives in poor communities, the professor points out that McDonald's black-owned franchises also provided jobs, scholarships, Affirmative Action and cultural programs.
"I want to tell story of a health crisis in a sensitive way, and in doing so, I hope people realize that communities do the best with what they have," Chatelain adds. "While we can be critical of a lot of forces of capitalism we also have to be very sensitive in terms of the conditions that give people such limited choices."
The constrained choices that she says emerged as a result of racism, along with the failures of the state and the limits of capitalism, paint people in impoverished areas into corners.
"This is vastly different than having an array of things to choose from," Chatelain says. "I want people to really think twice about the ways that we critique individual choices or critique communities."
BENEFITS AT A PRICE
In the book, she will show that black capitalists in the late 1960s, seeing ownership of a business as a route to self-determination, not only managed McDonald's in African American communitiesbut also eventually replaced some of the traditional roles of the state.
By the late 1980s, she explains, these franchise owners provided job opportunities for African American youth, a corporateaffirmative action program and underwrote black cultural activities.
"These McDonald's owners also funded civil rights initiatives and their stores served as a meeting place for black children, senior citizens and voter registration drives," she explains. "Unfortunately, these benefits came at a high price after fast food became the primary supplier of unhealthy fare and low-wage employment in the nation's most impoverished areas."
The professor will trace how McDonald's unprecedented market saturation reflected shifts in the political, economic and social life of African Americans after the murder of Rev. Martin Luther King Jr. in 1968.
"While there is a significant scholarship on the history of black business, no scholar has heretofore looked at the contributions of black restaurant franchises in establishing philanthropies, shaping electoral politics and amassing black wealth," Chatelain says.
Black McDonald's Operators
The professor's first book led to her second one.
South Side Girls was about African American girls growing up in Chicago, Chatelain's hometown, between 1910 and 1940, years that were part of the Great Migration of blacks from the rural South to other parts of the country.
While doing archival research in Chicago for her first book, she began noticing plaques around the city that mentioned the National Black McDonald's Operators Association as a sponsor.
She recalled that the quiz bowl she participated in high school and other cultural and educational events had been sponsored by the association and began digging deeper to look at how the communities "fueled their self-determination and their institution-building through the mechanism of fast food."
Intellectual Risks
Chatelain is hoping to finish the book in a couple of years and is grateful for the NEH funding and the yearlong sabbatical.
"What's great about the National Endowment for the Humanities is that it's the federal government's commitment to the production of scholarly knowledge and of creative works that are supposed to help advance ideas and the common good," she says.
"I'm also grateful that my colleagues in the history department and the provost have encouraged me to take risks intellectually and have advocated for me as a scholar," Chatelain adds. "These supports give me the opportunity to take time out of the classroom and the service and the pace of Georgetown to quietly reflect on my intellectual work and time to actually sit and write."