As the Class of 2027 settles into Georgetown, a small contingent of Hoyas has been on campus for over a week after spending their first few days immersed in student programming.
Over the summer, Georgetown offers a variety of pre-orientation programs for first-year and transfer students to dig into their interests and to connect with their fellow Hoyas, from studying American politics and acquiring key skills for success in business school to exploring the outdoors in the greater Washington, DC, region.
Learn about the pre-orientation experiences of three students, which included running  a mock gubernatorial campaign, digging into social justice issues and getting an early start on college life.
Fusing Science and Social Justice in CURA
If you ask Martin Neisuler (C'27) what makes him tick, he'll tell you it's the sciences. And to prove it, he has a tattoo of a molecular model of a cancer drug on his left shoulder.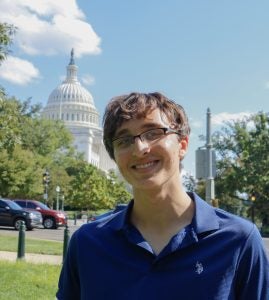 In middle school, when Neisuler started thinking more about what interested him, he ran across a little factoid that shifted his entire perspective on what he wanted to do with his life: a new drug that treats chronic myeloid leukemia with a 95% success rate. Amazed by the power of medicine and the endless possibilities of biology, Neisuler decided to go all in on science – and on his tattoo, too.
"It was such a change in my mindset that I decided from that point that I had to go into oncology and start learning and actually putting in effort and trying at school," said Neisuler, who intends to major in biochemistry. "I got this tattoo to commemorate the chemical that got me to put my money where my mouth was."
It's no surprise then that when Neisuler learned of the CURA pre-orientation program, he jumped on board.
Organized by the School of Health and designed for Hoyas interested in pursuing a career in health care, CURA offers students a week filled with meeting health care workers, conversing with leaders in medicine and law and learning about social justice issues through direct service in local communities in DC.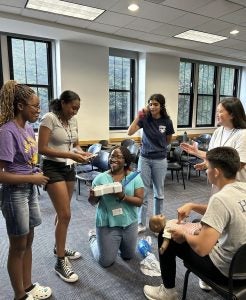 In the mornings, Neisuler and the rest of the CURA participants engaged in career exploration workshops, ice breakers and mentoring sessions with health care professionals. During one session, two students in GERMS demonstrated how to perform CPR, an activity that made Neisuler appreciate being surrounded by people just as interested in health care as he is.
For most of the day, CURA students visited partner organizations in DC that work on social justice issues, including several shelters for disadvantaged women and Martha's Table, where CURA students helped run the organization's farmer's market for needy households.
For Neisuler, the visits allowed him to immediately see opportunities beyond the Georgetown campus.
"The goal of CURA was to expose us right away to all of DC, the good, the bad, the ugly and whatever the city had to offer, and to see it and appreciate it for what it really is," Neisuler said. 
But while science is what drives Neisuler, he also became fascinated by the connections CURA drew between science and social justice and politics. Growing up, moving from country to country with both parents serving as diplomats, Neisuler has always had a penchant for public policy.
"CURA is about fusing science with social justice and politics, and that's something we don't get to see very often," he said. "In the science world, you usually just stick to the science world and don't get to branch out to things like politics, and I love politics."
Coming out of CURA, Neisuler said that he prized the intentional time the program carved out for students to get to know each other and appreciated how Hoyas come to Georgetown with a wide array of interests. Neisuler is looking forward to diving deeper into these interests with his new classmates.
"Here it seems like even the people who aren't devoted to STEM (Science, Technology, Engineering and Mathematics), are still interested in STEM and the more science-focused parts of the CURA program," Neisuler said. "It's still so interdisciplinary, and that's not something I've found at every school."