Andy Marshall (G'22), a Ph.D. candidate in government, compares and contrasts the role of roughly 40 different languages in Kenya and 120 languages in Tanzania as a Fulbright-Scholar to assess the impact on each country's identity, structure and culture.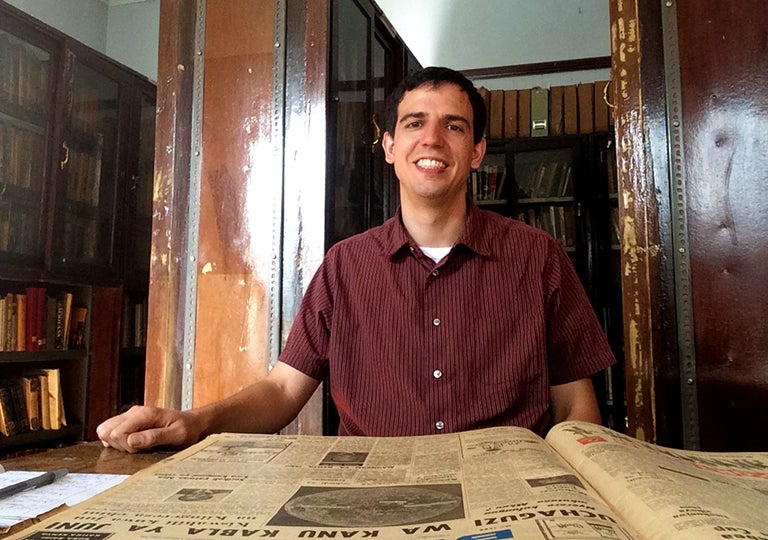 Andy Marshall (G'22) is the recent recipient of a Fulbright-Hays Doctoral Dissertation Research Abroad Fellowship. He's currently in Kenya working on his dissertation research, which examines two linguistically diverse countries in East Africa: Kenya and Tanzania.
Degree Pursuing: Ph.D. in government; focus on comparative government
Undergraduate: Marquette University, 2010
Undergraduate Major: History and international affairs
Master's Degree: International affairs, American University, 2015
Hometown: Phillips, Wisconsin
Research Explained: Marshall is comparing and contrasting the role of official language policies – given the more than 60 languages spoken in Kenya and the more than 120 languages spoken in Tanzania – that contribute to the ways in which each country's citizens understand and identify with their nation.
"It's an open political question as to which language or languages should be used in schools or even taught as a subject in schools," says Marshall, who is proficient in Swahili. "What language should be acceptable in Parliament, for government forms to be printed in and for broadcasting and media reports to be made in? My hypothesis is that the different language policies contribute to different understandings of what it means to be a Kenyan or a Tanzanian."
Choosing His Field: After graduating from Marquette, Andy worked as a Jesuit Volunteer Corps member in Tanzania. He continued to focus on African politics while pursuing his master's degree at American University. After consulting with Georgetown professors, he further clarified his focus on eastern Africa.
"When I went to get my Ph.D., I knew I wanted to do something on African politics," he explains. "I was not planning to do language policy, but as I started talking to Georgetown professors and thinking about important questions for the world and within political science this focus came back around."
A Professor's View: Lahra Smith, associate professor of government and foreign service, is a scholar in African studies and is working with Marshall as his dissertation advisor.
"Andy's research has the great potential to expand our understanding of how political policy choices shape ordinary understandings and political outcomes through comparative research in the East Africa region," Smith says. "The potential for ethnic and national conflict or peace are implicit in these policy choices, and the natural experiment that arises from these two cases provides for an excellent opportunity to study the circumstances and conditions under which policy decisions influence peace and conflict outcomes."
Being a Fulbright-Hays recipient:
"This is an important topic for issues of cultural exchange and mutual understanding within different countries," Marshall says. "The Fulbright-Hays has also given me a chance to work in closer contact with the U.S. government and U.S. embassies than I otherwise would have – they are a great resource."
Why Georgetown?:
"I have a deep appreciation for Jesuit education and it's well-known that Georgetown is the Jesuit flagship for international affairs and international relations programs," he says. "Georgetown's government Ph.D. program is an excellent program. I love the professors, the other students are fantastic and I've enjoyed working in this methodologically pluralistic department."