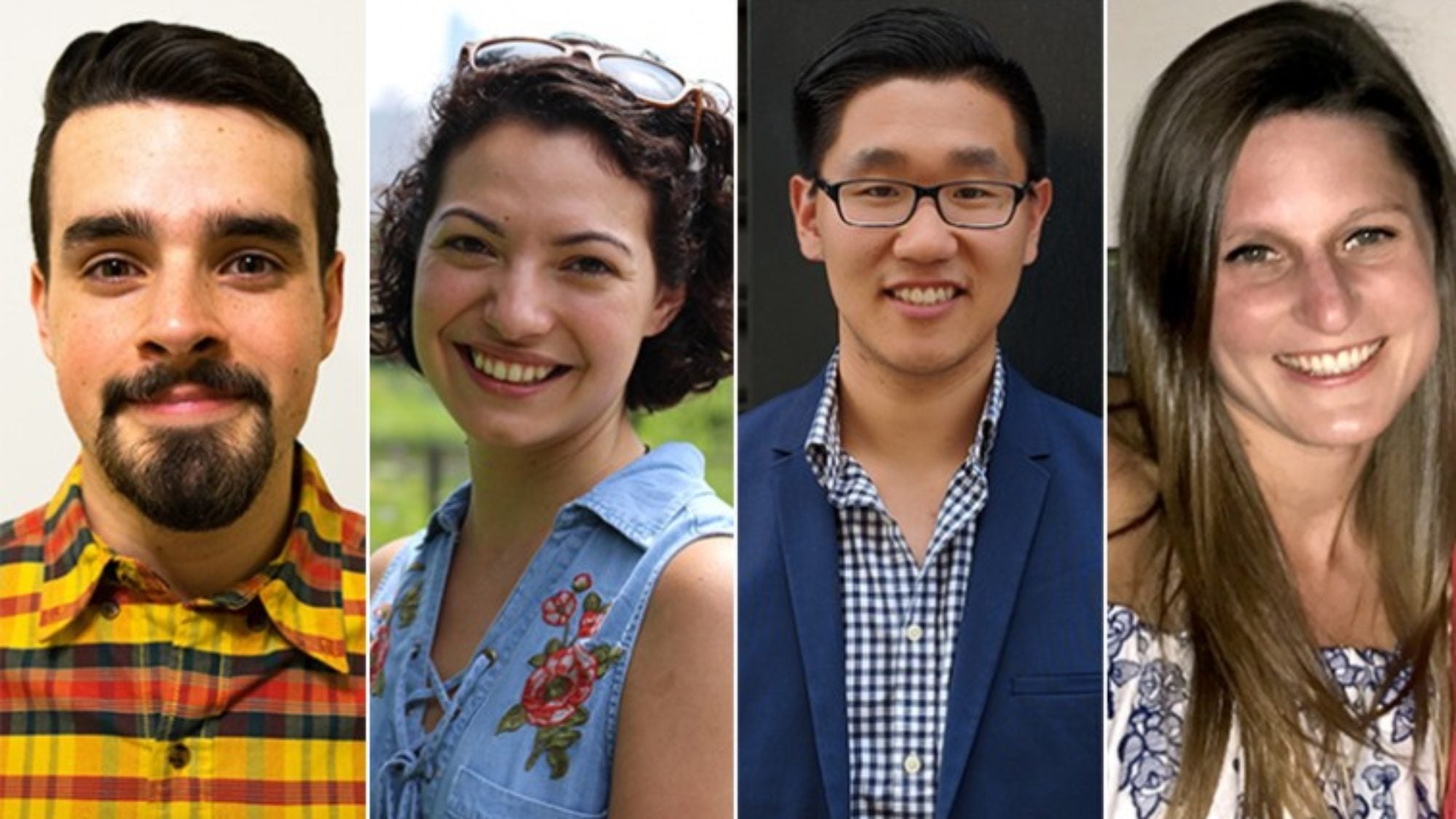 Category:

Student Experience
Title:

NSF Awards Go to Grad Students Researching Cancer, Cognition, Salt Marshes
Date Published:
July 31, 2018
Four Georgetown Ph.D. candidates in psychology, biology and tumor biology receive awards from the National Science Foundation for their potential to contribute to scientific innovation.
– Four Georgetown Ph.D. candidates in psychology, biology and tumor biology have been selected by the National Science Foundation (NSF) for their potential to become lifelong leaders and contributors to scientific innovation and teaching.
Rob Cortes (C'18, G'22),Jewel Lipps (G'21), Shawn Rhoads (G'21) and Shannon White (G'20) each received the prestigious NSF Graduate Research Fellowship, which provides a yearly $34,000 stipend and a $12,000 cost-of-education allowance over the next three years.
Curiosity, Only Limitation
Cortes received his bachelor's degree in psychology from Georgetown this past May, and as a doctoral student in the psychology department, is conducting research in cognitive abilities.
"The high expectations of all my peers and professors drove me to achieve things I never dreamed possible," says Cortes, also a recipient of Georgetown's distinguished Patrick Healy Graduate Fellowship. "The faculty at Georgetown really go the extra mile to foster the intellectual development of their students, and I couldn't be more thankful for that."
The Healy fellowship is awarded to outstanding graduate students each year who are entering Georgetown in an effort to recruit and retain diversity among master's- and doctoral-degree candidates at the university.
Cortes works on creative cognition with psychology professor Adam Green in the Lab for Relational Cognition and has presented work at conferences for the American Psychological Association, Cognitive Neuroscience Society and the Society for the Neuroscience of Creativity.
In Green's lab, he became the first undergraduate certified to operate the functional Magnetic Resonance Imaging (fMRI) scanner, which provides detailed maps of the brain to monitor activity.
"Rob's mixture of enthusiasm and pragmatism characterizes all of his contributions and makes him an extremely valuable member of our research team," says Green. "His zeal for research positively influenced the morale of research assistants, graduate students and the lab as a whole."
Conserving, Restoring Ecosystems
Lipps, who is pursuing her Ph.D. in biology, specializes in the ecological impact of human action and the creation of sustainable environmental policies.
"I chose Georgetown because its Department of Biology seems like an inclusive community of people that support each other," Lipps says. "It'swell connected to scientists in D.C., and it helps grad students consider non-academic science careers."
Before coming to Georgetown, she worked with the Texas branch of the National Audubon Society and most recently completed a two-year research term at the Environmental Protection Agency, where she gathered and synthesized thelatest academic science to betterinform ecological revitalization projects.
Working alongside biology professor Gina Wimp, Lipps conductsresearch on the role of genetic diversity in the increasing number of "dieback" incidents involving large patches of grass suddenly dying in salt marshes.
"Ultimately, I see myself as the scientist making discoveries about conserving biodiversity and restoring ecosystems in human-impacted areas," says Lipps, who received her undergraduate degree in environmental science at Southern Methodist University.
Human Social Connection
Rhoads, who began pursuing his doctorate in psychology this past fall, conducts research in the Laboratory onSocial and Affective Neuroscience, directed by psychology professor Abigail Marsh.
"I'm generally interested in conducting research on human social connection, empathy and altruism," Rhoads explains.
The doctoral student works alongside Marsh, who specializes in the neural and cognitive bases of social and emotional processes.
"Shawn earning this award reflects the originality and potential impact of the research he will be conducting," says Marsh, "as well as his own stellar intellectual achievements, research background and genuine and impressivecommitment to community outreach through community service and advocacy."
Effective Cancer Treatment
White, a doctoral candidate in Georgetown's tumor biology program, gravitated toward cancer research after a loved one was diagnosed with the disease.
"I have always been interested in understanding how things work, and I wanted to apply that to disease research," White explains. "Like many people, cancer has touched my family.I wanted to contribute to the research behind providing more effective treatment strategies for patients."
The doctoral student focuses on understanding the cellular processes in cancer cells that are governed by a frequently dysregulated pathway involved ina specific type of nervous system cancer.
Working in professor Chunling Yi's lab, White's research has been published in the journalDevelopmental Cell.
Three additional Georgetown Ph.D. students received honorable mentions from the NSF, including Richard Dakar (G'20) of the psychology department; Shiva Hassanzadeh-Behbahani (G'21) of the neuroscience department; and Zachory Park (G'21) of the biology department.