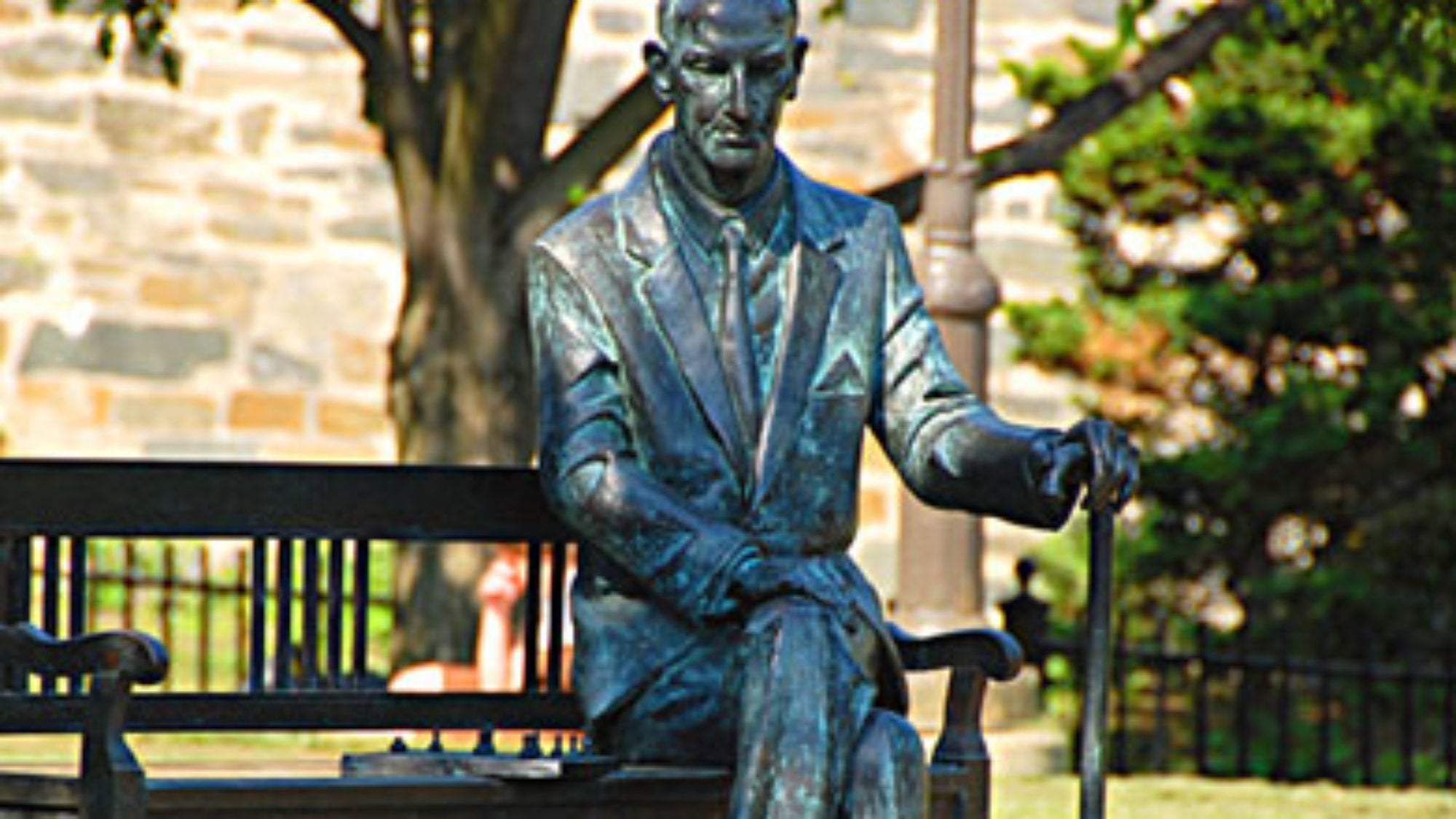 Category:

University News
Title:

Medal of Freedom to be Awarded Posthumously to Jan Karski
Date Published:
April 23, 2012
Jan Karski, the late Georgetown professor and alumnus who risked his life to bring reports of the Holocaust to the free world, will posthumously receive the Presidential Medal of Freedom.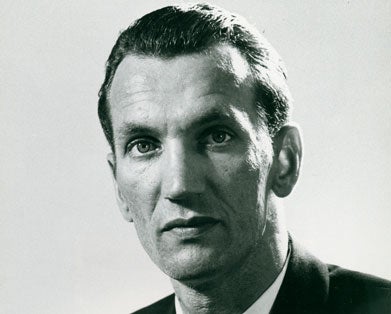 President Barack Obama made the announcement earlier today at the United States Holocaust Memorial Museum.
"We must tell our children about how this evil was allowed to happen," President Obama said at the Holocaust Museum today, "because so many people succumbed to their darkest instincts, because so many others stood silent."
Righteous Among Nations
"But let us also tell our children about the Righteous Among the Nations," Obama continued, "among them was Jan Karski – a young Polish Catholic – who witnessed Jews being put on cattle cars, who saw the killings, and who told the truth, all the way to President Roosevelt himself."
The Medal of Freedom is presented to individuals who have made especially meritorious contributions to the security or national interests of the United States, to world peace, or to cultural or other significant public or private endeavors.
The late professor's medal will be presented at a White House ceremony later this spring.
Karski's Loyal Students
Robert L. Billingsley (F'68) of New York, a former student of Karski, has been a major force with other former students behind this and other honors in the late professor's name.
That includes the establishment in 2009 of a "Jan Karski" corner with a statue of the professor at 37th Street and Madison Ave. in New York City.
The same statute of Karski playing chess, dedicated in 2008, can be found on campus outside of the White-Gravenor building.
Message of Freedom
Billingsley is one of several Georgetown alumni on the steering committee of the Jan Karski Centennial Campaign, established by the Polish History Museum in Warsaw in April 2011.
The campaign is working on events to take place around the country and in Poland in celebrating the centennial of Karski's birth in 1914.
"Karski experienced such darkness and he talked about his memories as his possessions and he lived with them all his life," Billingsley said. "But yet he spent his profession, which was nurtured by Georgetown, educating and enlightening youth to a message of freedom and responsibility in a free society and having the courage to make a difference."
Generations of Legacy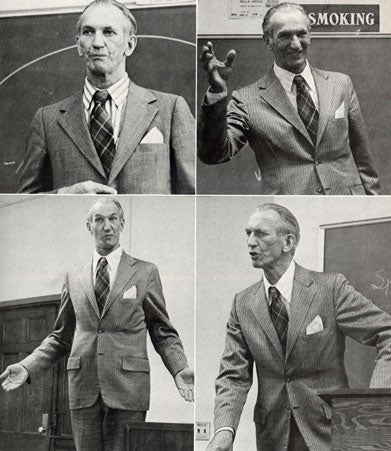 "So he's remarkable for his heroism," he added, "but he is also remarkable for working through the darkness he experienced and channeling it in a place and to an audience so his legacy will live for many generations."
Wanda Urbanska, director of the Jan Karski Centennial Campaign, noted that "This highest of civilian honors in our great land validates the principles that Jan Karski stood for – tolerance and understanding among people of all faiths and the courage to speak the truth in the worst of times."
First Eyewitness Reports
"I am extremely pleased to learn that President Obama has determined to posthumously present the nation's highest civilian honor to the man who has been a hero to all of us at Georgetown for decades," Georgetown president John J. DeGioia says about Jan Karski, the late professor and alumnus who brought reports of the Holocaust to the free world.
At the age of 25, Karski was captured by the Soviets and was headed toward a forced-labor camp, but he jumped from the train and joined the Polish Underground.
He was said to have traveled back and forth across Nazi-dominated Europe during the early years of the war, aided by his mastery of four languages, a photographic memory and extensive training as a diplomat.
A devout Catholic, Karski was among the first to provide eyewitness accounts of the Holocaust to American and British leaders, who had trouble believing that the Nazis were annihilating the Jews.
Nonetheless, Karski persevered, writing articles about the horrors he had witnessed in the Warsaw Ghetto and concentration camp and speaking to countless numbers of Americans.
A Great Hero
Karski earned a doctorate from Georgetown in 1952, became an American citizen in 1954 and taught in the political science department for 40 years. He died in July 2000 at the age of 86.
In 1944, he wrote the semi-autobiographical "Story of a Secret State," which became a Book of the Month Club selection.
Zbigniew Brzezinski, a Polish American who was President Jimmy Carter's National Security Advisor, called Karski's two-volume 1985 book, The Great Power and Poland 1919-1945 (From Versailles to Yalta), "the first comprehensive diplomatic history of Poland and the Great Powers, enriched by informative anecdotes and new material from recently opened archives."
When Karski died, he was universally mourned, particularly by Jews, Catholics and Poles.
"I believe that great heroes like Jan Karski never really die," said Lech Walesa, human rights activist and former president of Poland, from Gdansk the day after the longtime Georgetown professor's death.
Educating Thousands
Billingsley notes that since the university's founding in 1789, it has erected only a few statues, including one of St. Ignatius of Loyola, St. Joseph, the Virgin Mary, founder Archbishop John Carroll and Jan Karski.
Karski earned his doctorate degree from Georgetown in 1952 and taught in the political science department for 40 years. These photos ran in the university's 1977 yearbook.
"As a Jesuit and American university, we show the world the heroes of our tradition," he said. "He educated thousands of students, we all remember him. Father Walsh, the founder of the School of Foreign Service, was his benefactor and got him his job at Georgetown."
Billingsley also notes that his book The Great Power and Poland 1919-1945 is dedicated to former SFS Dean Peter Krogh.
Model and Mentor
Georgetown President John J. DeGioia spoke at the 2009 event in New York City.
"[Karski] was a model and mentor for generations of students," he said, "a man of incredible resolve, integrity and humanity and courage."
Today's announcement brought further praise from DeGioia.
"I am extremely pleased to learn that President Obama has determined to posthumously present the nation's highest civilian honor to the man who has been a hero to all of us at Georgetown for decades," DeGioia said. "Professor Karski stood as a beacon to all who had the privilege of knowing him. His courageous mission during World War II of informing the Allies about the Holocaust and the conditions on the ground in Poland inspired those who studied with him and continues to resonate with a new generation of students."
Uniquely Qualified
Karski also played a role in helping the federal government after he began teaching at Georgetown.
In 1955, the U.S. Department of State sent an urgent message to the university, noting that it was "extremely anxious to obtain the services of a member of your political science department, Dr. Jan Karski…"
"Several of our Foreign Service posts have asked that an American with experience behind the Iron Curtain be sent over to give a first-hand picture of how Communists operate," the department wrote. "… he is uniquely qualified for such a task and [we] would be deeply appreciative if his services could be made available to us."