Title:

Islamic Thought Expert to Become Georgetown University in Qatar's New Dean
Date Published:
June 27, 2017
Ahmad S. Dallal, who previously served as an associate professor and chair of Georgetown's Arabic and Islamic Studies Department from 2003 to 2009, will become the next dean of Georgetown University in Qatar (GU-Q) on Sept. 1.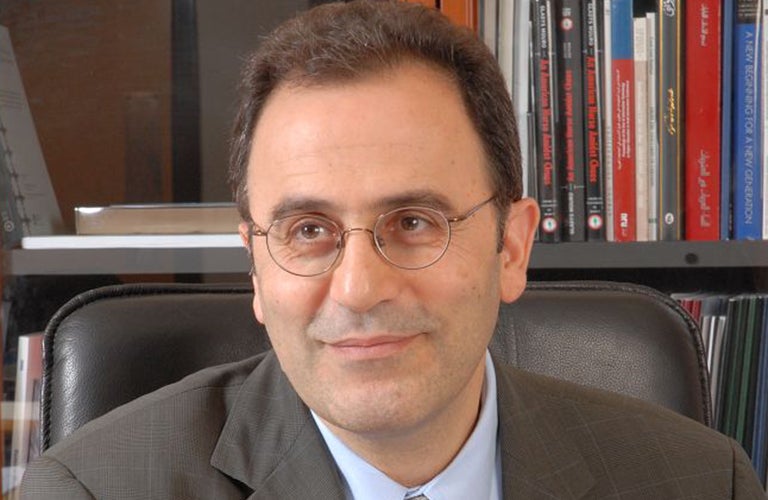 Ahmad S. Dallal, who previously served as an associate professor and chair of Georgetown's Arabic and Islamic Studies Departmentfrom 2003 to 2009, will become the next dean of Georgetown University in Qatar (GU-Q) on Sept. 1.
Dallal, now a history professor and former provost at the American University in Beirut, is an expert in classical and modern Islamic thought as well as the history of science and disciplines of learning in Muslim societies.
"I hope to build on and continue the great work that the former deans have accomplished on two key fronts – anchoring Georgetown Qatar within the larger landscape of higher education in the country and the region," says Dallal, "and maintaining the academic excellence of current programs while exploring possibilities of future program expansion."
Strong Appreciation
Georgetown, in partnership with the Qatar Foundation, has operated Georgetown University in Qatar and the School of Foreign Service's satellite in Doha's Education City since 2005.
The school, dedicated to fulfilling Georgetown's mission of promoting intellectual, ethical and spiritual understanding through serious and sustained discourse among people of different faiths, cultures and beliefs, has since graduated 389 students.
"I have a strong appreciation for what Georgetown stands for in terms of its values," Dallal says, "which include providing a stellar education but also addressing difficult social issues and not shying away from them."
Deep Understanding
Prior to teaching at Georgetown, Dallal taught at Stanford University (2000-2003), Yale University (1994-2000) and Smith College (1991-1994).
Dallal is the author of three books, including Islam, Science, and the Challenge of History (Yale University Press, 2010), and the recently released The Political Theology of ISIS: Prophets, Messiahs, and the Extinction of the Grayzone, (Tadween Publishing, 2017).
The University of North Carolina Press is expected to publish his fourth book, Islam Without Europe: Traditions of Reform in Eighteenth Century Islamic Thought, in the spring of 2018. He also has authored more than 40 articles and essays, many of which focus on the history of science, Islamic revivalist thought and Islamic law.
"It is a pleasure to announce Dr. Dallal as dean of the School of Foreign Service and Georgetown University in Qatar," said President John J. DeGioia. "Dr. Dallal has a deep understanding of our community in Qatar and is sought after for his expert scholarship and leadership abilities – we look forward to the many ways he will strengthen our entire university in the time ahead."
Georgetown's Role in Qatar
Dallal is often asked for his insights on the background and aftermath of Sept. 11, 2001, terrorist attacks and has served as an advisor to the planning committee of the primary exhibition at the National September 11 Memorial & Museum in New York City.
He has also been deeply involved with higher education in Qatar for many years. He serves on GU-Q advisory boards as well as on the board of trustees of the Doha Institute for Graduate Studies.
"I hope my knowledge of Qatar's educational vision and aspirations will help me better position Georgetown and amplify the role that it can play in higher education in Qatar," he says.
Emergency Management
Dallal is particularly pleased that Georgetown is offering various executive programs that cater to national and regional needs. An important example, he says, is the executive master's degree in Emergency Management offered by Georgetown's School of Continuing Studies.
The program, created in 2016, is designed to meet the needs of emergency and disaster management professionals in Gulf Cooperation Council (GCC) countries.
"This program is especially meaningful since Qatar has been providing support for the refugee community in the region, which, as everyone knows, is suffering from endemic conflict and has a very large refugee population," he says. "It makes perfect sense for a university like Georgetown to provide the experience and training that would enhance the impact of this humanitarian effort."
Awards and Education
The incoming dean has been a recipient of several awards, including the Yale University Dwight Terry Lectureship for his work on science and religion in Islam, for which he also was named a Carnegie Scholar.
He received the Kuwait Prize from the Kuwait Foundation for the Advancement of Sciences for this work. He also received a Fellowship on Traditions of Reform in Eighteenth-Century Islamic Thought from the National Endowment for the Humanities.
He holds an M.A., an M.Phil. and a Ph.D. in Islamic Studies from Columbia University and a B.E. in mechanical engineering from the American University of Beirut.